Are you a creative artist looking to bring your work to life in 2D and 3D? Check out our Best Online Bachelor's in Animation Degrees!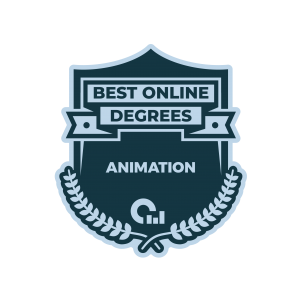 Wondering if this degree is right for you? As a kid, did you make stop motion videos with stuffed animals or dolls? Are you a typography or color theory nerd? An expert in Adobe Creative Suite? Then the answer might be YES!
From cartoons and action-packed movies to video games and more, animators have a huge impact on the visual media we take in today. The industry has come a long way since the early days of shadow play and flip books.
If you're a creative person in awe of digital and visual effects used in movies, computer games, and more, a degree in animation may be perfect for you! You'll be able to tap into the creative side of your brain each and every day. With the rise of technology and people's continued love of film, games, and TV, the need for animators is steadily growing.
What is an Animation degree?
Earning a bachelor's degree in animation will open up many creative doors for graduates. Most animation degrees cover all aspects of multimedia design, including 2D animation and 3D animation, 3D modeling, character animation, graphic design, and more.
Students pursuing an animation degree often work to build a portfolio that they can then share with potential employers. With this degree, you'll be qualified for careers as a game developer, graphic designer, illustrator, web designer, and more. You can work in television and film, or you can even freelance and work for yourself! The options are endless.
What classes will you take in your online animation degree program? Your coursework might include:
Computer animation
Storyboarding
3D Modeling & Animation
Digital art
Game design
Special effects
No matter what you end up studying, you'll definitely come out the other end as an expert in Adobe, digital design, and likely a bevy of other fields, like web design and motion graphics.
How much can you earn with an Animation degree?
Multimedia artists and animators can make upwards of $70,000 per year, according to the Bureau of Labor Statistics. Of course, your salary in your animation career will only rise based on your level of education and years of experience, as well as your skill level. You'll need to create a stellar portfolio of work if you're looking to get hired by the likes of Pixar or Dreamworks. Luckily, jobs in this industry are projected to grow 8 percent from now until 2026.
Like many fields nowadays, a bachelor of science or bachelor of art will significantly up your chances of landing a job and achieving your desired salary level. Landing that art director role has gotten a lot easier too thanks to the availability of online bachelor's degrees. Unsurprisingly, animation degree programs have gone online too. Your digital media career awaits!
What is required for an Animation degree?
Animation program requirements will vary depending upon what type of online program you're applying to. To apply for an online degree, you'll have to have a high school and/or associate's degree. Additionally, even for an bachelor of arts degree, many colleges require applicants to have a portfolio of designs.
Some of the programs below also require internships or final projects. During the course of your studies in this modern field of the visual arts, you'll gain plenty of experience and you'll develop a full portfolio to show potential employers.
Not totally set on animation? Art and Art History degrees can be good a foundation for a master's degree once you've figure out your goals. Check out our master list of the Best Online Humanities Degrees.
What are the best Animation degrees?
OSR uses six data points: three school-wide and three program specific. For school-wide, OSR uses Student Satisfaction, Admission Rates, and the number of programs the school offers online. For program specific, OSR checks the Median Debt of graduates from that program, how many degrees are offered within that program's umbrella department, and what percentage of students at that school graduated from that department.
The six statistics are displayed by each school. The sliding bar under each statistic represents how that school compares to other US institutions. "Not reported" means a school did not release that information to the US Department of Education. A more detailed description of the OSR process can be found on the methodology page.