Mold your passion for physical activity into the beginnings of a rewarding profession with the Best Online Associate's in Sports Medicine.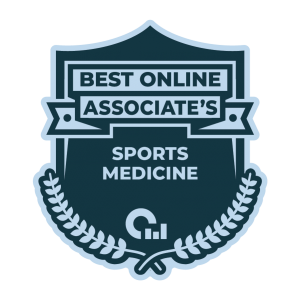 Virtually everyone has played a sport in their lifetime, and many people have dreamt about having a career as a professional athlete. But did you know that you could be just as successful by supporting these athletes?  
If you're an avid sports fan, or if you were actively involved in sports throughout your adolescence, then exploring a secondary education in sports medicine is an excellent way to transform your passion into an exciting, stimulating, and even lucrative career path. 
What Is an Associate's in Sports Medicine?
An associate degree is a two-year program; the coursework provides practical, industry-based training while simultaneously preparing students for further study in the health science sector. If you're unsure about which specialization within the sector you would like to pursue, an associate degree in sports medicine gives you the opportunity to begin your studies and explore related fields of exercise science without committing a large amount of time and money into advanced degree programs.
 If you are interested in further study, it's also a great launching pad into other advanced degree programs, such as a Bachelor's Degree in Sports Medicine.
How Much Can You Earn with an Associate's in Sports Medicine?
An associate degree on its own lends to multiple entry-level positions in the areas of athletic training and physical therapy. The US Bureau of Labor Statistics projects that job opportunities for physical therapy aides and assistants will grow a staggering 26% in the United States in the next 10 years, with starting aids earning $27,000 a year and assistants earning as much as $47,000 annually. 
if you choose to continue your education to a full undergraduate or even master's degree, more positions, such as a primary athletic trainer or lead physical therapist, could offer even higher incomes.
What Is Required for an Associate's in Sports Medicine?
One of the most appealing aspects of an associate degree in sports medicine is that there are generally little to no requirements to enter other than a high school diploma (or a GED), sufficient literacy, and an interest in the field. Associate students in sports medicine will typically take a combination of credit hours in general education and classes relating to their major, including human anatomy, exercise physiology, kinesiology, injury prevention, and sports psychology. 
What Are the Best Online Associate's in Sports Medicine?
OSR uses six data points: three school-wide and three program specific. For school-wide, OSR uses Student Satisfaction, Admission Rates, and the number of programs the school offers online. For program-specific, OSR checks the Median Debt of graduates from that program, how many degrees are offered within that program's umbrella department, and what percentage of students at that school graduated from that department.
The six statistics are displayed by each school. The sliding bar under each statistic represents how that school compares to other US institutions. "Not reported" means a school did not release that information to the US Department of Education. A more detailed description of the OSR process can be found on the methodology page.