Becoming a teacher is a lifelong dream for many, but you'll need one of the best online Bachelor's in Elementary Education to become one.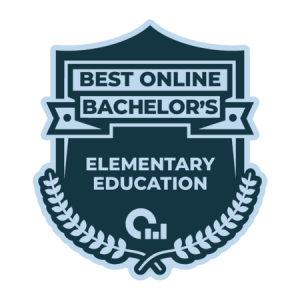 Not only is elementary education one of the most well-respected professions in the nation, but it also comes with a decent salary and gives you the opportunity to change the lives of children of all ages. 
Elementary education degrees are perfect for those who want to be teachers at the earliest levels. But finding the right online elementary education degree can be difficult, especially when you have to calculate the overall cost and schedule flexibility. That's why we at Online Schools Report have done the work for you.
What Is an Elementary Education Degree?
A degree in elementary education prepares future teachers to educate students specifically at the kindergarten through sixth-grade levels. While it may not be necessary to attain this degree to teach, elementary education degrees include classes that prepare you well for lesson planning and handling younger kids over long periods. These programs also tend to be more generalist than specialized according to subject, as elementary teachers have to cover a spread of core topics.
An elementary education degree often includes multiple opportunities for certification depending on your state of residence. Most degree programs also require some level of hands-on experience or teaching practice. For online programs, these experiences can be gained through a public school near your geographic location.
How Much Can You Earn With an Elementary Education Degree?
In most cases, those with elementary education degrees will become elementary and kindergarten teachers, although a few will work in nonprofit organizations. The Bureau of Labor Statistics indicates that kindergarten and elementary school teachers make an average yearly salary of around $57,980.
The growth rate for elementary-level teachers, however, is not growing nearly as fast as other occupations – it's only projected to grow by about 3% over the next ten years. This means that most elementary teachers will need to compete fiercely for a limited number of positions, and it means the quality of your degree can matter a great deal.
What Is Required for an Elementary Education Degree?
A Bachelor's degree in elementary education requires formidable training in several regards. Not only will you take classes for academic subjects, but you'll also need to take teacher-specific classes that prepare you to handle kids, direct their attention, and put together lesson plans that can reliably impart knowledge to young people. In general, classes you'll take will cover subjects like:
Communication
Writing
Mathematics
Basic science
Basic history
Psychology
Elementary education degrees normally require no prior education beyond good high school and college grades. Prior work experience tutoring kids, however, certainly never hurt.
What Are the Best Elementary Education Degrees?
OSR uses six data points: three school-wide and three program-specific. For school-wide, OSR uses Student Satisfaction, Admission Rates, and the number of programs the school offers online. For program-specific, OSR checks the Median Debt of graduates from that program, how many degrees are offered within that program's umbrella department, and what percentage of students at that school graduated from that department.
The six statistics are displayed by each school. The sliding bar under each statistic represents how that school compares to other US institutions. "Not reported" means a school did not release that information to the US Department of Education. A more detailed description of the OSR process can be found on the methodology page.