With one of the best online bachelor's in social sciences, you will gain an interdisciplinary understanding of societal structures.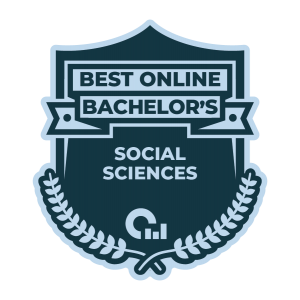 Choosing a bachelor's in social sciences is a smart decision for a few reasons. This is a great option if you're interested in behavioral studies but aren't sure yet what you want to focus on. It's also a fantastic choice if you want to develop a broad understanding of several concentrations. A bachelor's in social sciences can enhance a career that you may already have. The online format of these diverse options gives you flexibility in many ways, no matter your situation. 
Find a program that works for you in our list of 25 best online bachelor's in social sciences.  
What Is an Online Bachelor's in Social Sciences Degree?
An online social sciences degree can be completed either through a bachelor of arts program or bachelor of science program. BA degrees in Social Sciences will lean toward more creative concentrations, such as anthropology. Economics would be a typical example of a BS concentration because it focuses more on critical knowledge. 
The nice thing about an online bachelor's in social sciences degree is that most offer you knowledge in both spheres. Most of these options pride themselves on an interdisciplinary approach that will automatically encourage both quantitative and qualitative thinking. 
How Much Can You Earn with an Online Bachelor's in Social Sciences Degree?
The list of careers that can be obtained through an online bachelor's in social sciences degree is undeniably expansive. Depending on what you choose to pursue, you can find yourself in a great-paying career. According to Payscale, a mental health technician usually lands an average salary of $33,500; whereas, the salary of an investment analyst averages around $80,800. After comparing the various careers in social sciences, the median yearly income lands at $48,000. This median is not a tell-all fact; the U.S. Bureau of Labor Statistics claims that salaries within social sciences fields are rising. 
What Is Required for an Online Bachelor's in Social Sciences Degree?
Look to your school of interest and the programs themselves to find out the expected admissions process. Within the application process, there are some requirements that can be found in the vast majority of programs: 
SAT or ACT exam scores
Cover letter/personal essay
Application (and associated fee)
Recommendation letters
When accepted, you'll find that most online degrees in social sciences require at least 120 credits of coursework to be completed. This process generally takes four years; however, some programs can be completed in a shorter period of time. Many bachelor's in social sciences degrees include a capstone course to be completed before graduation. 
What Are the Best Online Bachelor's in Social Sciences Degrees?
OSR uses six data points: three school-wide and three program-specific. For school-wide, OSR uses Student Satisfaction, Admission Rates, and the number of programs the school offers online. For program-specific, OSR checks the Median Debt of graduates from that program, how many degrees are offered within that program's umbrella department, and what percentage of students at that school graduated from that department.
The six statistics are displayed by each school. The sliding bar under each statistic represents how that school compares to other US institutions. "Not reported" means a school did not release that information to the US Department of Education. A more detailed description of the OSR process can be found on the methodology page.