Take charge of your career. Bring home a higher salary. Lead the pack. Want to know how? Earn one of the best online Master's in Business Administration!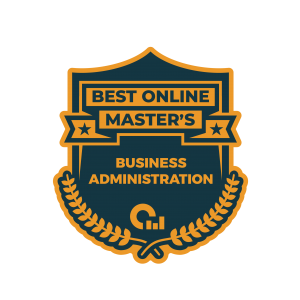 Getting an MBA is the best thing you can do for your business career. In fact, it is widely known that earning an MBA will boost your salary potential by 40 to 50 percent! If you are a business professional who feels stagnant in your career, or even someone who is looking to change careers, an MBA will give you the tools to set your career on a new path.
Lucky for you, we've collated a list of the 50 best online Master's in Business Administration degrees. Take a look—it might just change your life!
What Is an Online Master's Degree in Business Administration?
An online MBA is exactly the same as an on-campus MBA. The only difference? You can complete it fully online! Your curriculum will take you through the building blocks of business—economics, marketing, management, etc. Your classes will get more specific with skill-based topics like Organizational Leadership, Business Strategies, and Project Management.
Most MBA programs on this list will also give you the chance to specialize in an area of business. The concentration options range widely, but here's a glimpse at some popular ones:
Global Finance
HR Management
Business Analytics
Supply Chain Management
You will graduate from your MBA program with both broad-based skills and specific skills to take on leadership positions in your company. An MBA is truly the next step in your career!
How much can you earn with an Online Master's in Business Administration degree?
You'll see your salary potential skyrocket after earning an MBA. Having an advanced degree will qualify you for higher-level positions in your company. Since an MBA can send you in lots of different career directions, here's a snapshot of some average annual salaries (quoted from the Bureau of Labor Statistics):
Financial Managers: $127,990
Sales Managers: $124,220
HR Managers: $113,300
Marketing Managers: $132,620
Clearly, you'll be earning a salary well into six figures pretty soon after you graduate from your MBA program. Even more, careers in the business world are on the rise. The job outlook for these positions will see an 8 to 16 percent increase in the next 10 years.
What is required for an Online Master's in Business Administration degree?
The requirements vary from program to program, but in general, an MBA program will cover 30 to 54 credit hours. Students can opt into part-time programs and take closer to two years to complete the degree. Or, some programs offer accelerated tracks that allow you to finish your degree within just 1 year.
Here's a quick checklist for what you might expect with the admissions process: 
Undergraduate degree
Minimum GPA (2.75 to 3.00 typically)
Application (+ application fee)
1-3 References
The admissions process typically requires an undergraduate degree in a business-related field. If that's not your background, most schools will provide a list of prerequisite courses that will satisfy that requirement. Schools vary on whether or not they require GMAT scores for admission (that's one crucial thing to check before applying).
What are the best online Online Master's in Business Administration degrees?
OSR uses six data points: three school-wide and three program specific. For school-wide, OSR uses Student Satisfaction, Admission Rates, and the number of programs the school offers online. For program-specific, OSR checks the Median Debt of graduates from that program, how many degrees are offered within that program's umbrella department, and what percentage of students at that school graduated from that department.
The six statistics are displayed by each school. The sliding bar under each statistic represents how that school compares to other US institutions. "Not reported" means a school did not release that information to the US Department of Education. A more detailed description of the OSR process can be found on the methodology page.