Gain a mastery of mathematics, job security, and land a high paying job by earning an online master's in mathematics!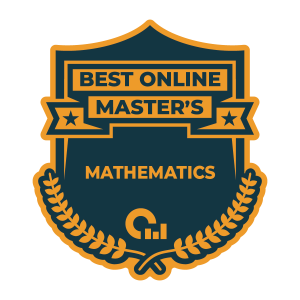 Mathematics underpins our electronics, computers, accounting, and many other aspects of our daily lives, which is why earning this degree can make you an invaluable asset to most companies! If you have ever thought that pursuing a mathematics degree program would not be useful for your future, just keep reading to find out the kind of jobs you can land with advanced mathematics education.
What Is an Online Master's in Mathematics? 
Mathematics is essential in understanding how some of the most integral and important  systems in our lives work. While there is a lot you can do with a bachelor's degree in mathematics, a master's will give you the edge to land that high paying job and make you invaluable to most companies. 
While pursuing an online master's in mathematics degree, you'll take a wide variety of mathematics courses, including, but not limited to, Topology, Applied Linear Algebra, and Differential Equations. Most of the Master's degrees on this list are around 30 credit hours in duration, which can be completed in as little as two years.
How Much Can You Earn With an Online Master's in Mathematics?
Since mathematics permeates almost everything we do, individuals with an online master's in mathematics will have a wide variety of possible careers at their disposal. One of the most popular careers that graduates pursue after earning their degree is a mathematician. Mathematicians earn an average annual salary of $101,900. 
If becoming a mathematician doesn't seem like your calling, don't fret as there are many other careers for someone with this skill set. You may want to consider pursuing a career as a statistician or a biostatistician. Statisticians and biostatisticians can expect to earn around $87,780 annually.
What Is Required for an Online Master's in Mathematics? 
Regardless of your position in life, you will be expected to turn in your official college transcripts. Most of the master's in mathematics programs require that applicants have already earned a bachelor's degree in mathematics or a related subject, such as engineering or physics. 
Many online master's in mathematics programs will also expect the applicants to turn in an essay, which can help show the school your writing ability. Online students should expect to turn in letters of recommendation from professors you have had in the past and other individuals who can vouch for your mathematical ability. 
What Are the Best Online Master's in Mathematics?
OSR uses six data points: three school-wide and three program-specific. For school-wide, OSR uses student satisfaction, admission rates, and the number of programs the school offers online. For program-specific, OSR checks the median debt of graduates from that program, how many degrees are offered within that program's umbrella department, and what percentage of students at that school graduated from that department.
The six statistics are displayed by each school. The sliding bar under each statistic represents how that school compares to other US institutions. "Not reported" means a school did not release that information to the US Department of Education. A more detailed description of the OSR process can be found on the methodology page.