Earning one of the Best Online Master's in Public Administration enables you to improve society while having job security and a high income.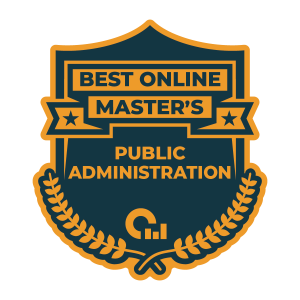 Sometimes you have to change the system from the inside, which is what an MPA program will teach you, as well as the leadership skills needed to run departments and organizations. Systems are complicated, especially those that involve the public, which is why MPA graduates need strong analytical and problem-solving skills to assess and address problems as they arise. 
If leadership, problem-solving, and public service excite you, then keep reading to find out more about our top-ranked online master's in public administration programs!
What Is an Online Master's in Public Administration? 
An online master's in public administration teaches students how to effectively operate and manage organizations at the local, state, and federal levels. During the course of earning this online degree, you'll learn the foundations of public administration, as well as how to analyze and change public policies. 
These online programs in public administration will teach students how to analyze complex public problems, find solutions to these problems, and implement the solutions you've formulated. 
Some course examples could include Theories and Concepts in Public Administration, Leadership in the Public Sector, and Finance and the Administration of Public Funds. 
How Much Can You Earn With an Online Master's in Public Administration?
A master's in public administration (MPA) is an extremely versatile degree; individuals with this knowledge base are able to work in a variety of public and private sectors. The most common career for these graduates is that of an administrative services manager, who earns a median salary of just over $96,000 per year. 
Additionally, careers as general and operations managers, as well as medical and health services managers, are also common. General and operations managers can expect to take home around $100,000 per year, while medical and health service managers will earn roughly the same amount. 
What Is Required to Attend an Online Master's in Public Administration? 
While most schools vary somewhat in their application requirements, many of the most basic demands overlap. MPA programs usually want to see your official undergraduate transcripts and the transcripts from any college in which you've earned credit. 
Many MPA programs also ask that students submit a goals statement or a short explanation of why you would like to pursue the MPA degree. This gives schools the opportunity to evaluate your writing skills as well as see if you're a good candidate for success in their MPA program. 
What Are the Most Affordable Online Colleges?
OSR uses six data points: three school-wide and three program-specific. For school-wide, OSR uses student satisfaction, admission rates, and the number of programs the school offers online. For program-specific, OSR checks the median debt of graduates from that program, how many degrees are offered within that program's umbrella department, and what percentage of students at that school graduated from that department.
The six statistics are displayed by each school. The sliding bar under each statistic represents how that school compares to other U.S. institutions. "Not reported" means a school did not release that information to the U.S. Department of Education. A more detailed description of the OSR process can be found on the methodology page.
Let's take a look at the 35 Best Online Master's in Public Administration!