The best online master's in sustainability studies will train you to lead the charge against environmental exploitation and global warming.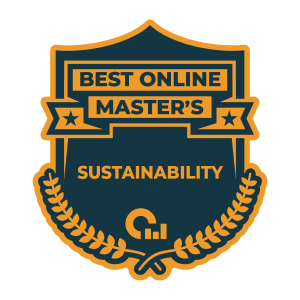 Sustainability as a job field is rapidly growing as companies scramble to change their practices and consumers alter their habits to avoid causing more damage to the Earth. Additionally, government agencies like the Environmental Protection Agency are hiring more graduates than ever before to account for the growing concern over environmentalism and climate change. In short, a master's degree in sustainability studies may be one of the most valuable credentials for the foreseeable future.
What Is a Master's in Sustainability Studies Degree?
A master's in sustainability studies is a broad and interdisciplinary degree that arms you with a lot of scientific and practical knowledge. With this expertise, graduates can take positions as managers and overseers for conservation and environmental organizations and efforts. It provides graduates with the information they need to create sustainable programs and initiatives.
For instance, many companies are looking to overall their shipping practices thanks to global warming, although they can't afford to get rid of fast shipping altogether. Those with sustainability studies degrees will be able to advise companies on this matter and recommend possible solutions that benefit both the environment and the economics of the company.
Alternatively, sustainability studies graduates can work for nonprofits or environmental organizations and lead the fight against exploitative corporations.
How Much Can You Earn with a Master's in Sustainability Studies Degree?
Those with a master's degree in sustainability studies can find themselves in a wide variety of positions and professions, making average salaries dependent on the job rather than a general range. As an example, environmental scientists and specialists earn an average salary of around $71,000 per year. All M.S. degree holders must have some research experience already, making them a great fit for this profession.
Other degree holders may become conservation scientists and foresters. These green professionals can expect an average salary of around $61,000 per year. Depending on prior experience and the bachelor's degree held, a graduate with an M.S. in sustainability studies can also become an environmental engineer. This leads to a higher average salary of around $88,000 per year.
As the number of sustainability-focused jobs grows in the near future, it's likely that salary variation will as well.
What Is Required for a Master's in Sustainability Studies Degree?
A master's degree in sustainability studies requires a bachelor's degree in a related field first and foremost. Fields like biology and environmental science are great choices if you're looking to earn this degree after your bachelor's. Most programs will also prioritize applicants with some experience in the sustainability field, either in a volunteer or work experience context.
Master's programs in sustainability studies incorporate interdisciplinary curricula with classes like:
Environmental science

Economics

Political science

Biology

Forestry

Climatology
What Are the Best Master's in Sustainability Studies Degrees
?
OSR uses six data points: three school-wide and three program-specific. For school-wide, OSR uses Student Satisfaction, Admission Rates, and the number of programs the school offers online. For program-specific, OSR checks the Median Debt of graduates from that program, how many degrees are offered within that program's umbrella department, and what percentage of students at that school graduated from that department.
The six statistics are displayed by each school. The sliding bar under each statistic represents how that school compares to other US institutions. "Not reported" means a school did not release that information to the US Department of Education. A more detailed description of the OSR process can be found on the methodology page.
Now let's check out the 5 best online master's in sustainability studies!
University of Wisconsin-Green Bay

Quick Facts

Tuition: $7,793(in state) / $17,106(out of state)

34 credits

Multiple campus connections

$60 application fee

School Wide

Student Satisfaction

73.60%

Program Level

Popularity at School

14.23%

This flexible online program is perfect for those with busy schedules, as it's entirely asynchronous. It explores the changing relationship of humans with the natural and built environment and incorporates an interdisciplinary curriculum that looks at scientific and economic systems. This program is also available from several other University of Wisconsin campuses with the same concentrations and benefits.

Embry-Riddle Aeronautical University-Worldwide

Quick Facts

Tuition: $7,680(in state) / $7,680(out of state)

36 credit hours

2 specializations available

$50 application fee

School Wide

Student Satisfaction

70.00%

Programs offered online

16

Embry Riddle is well known as one of the best aviation universities in the country, so it's no surprise that its sustainability degree focuses on aviation and aerospace. It focuses on teacher sustainability experts within the aviation sphere, particularly in the realm of consumer habits and fuel costs. The program explores how technical advances in management practices can help companies meet the goals of the future.

University of South Florida-Main Campus

Quick Facts

Tuition: $8,350(in state) / $19,048(out of state)

Requires final project

28 credits required

Certificate program is also available

School Wide

Student Satisfaction

76.20%

The University of South Florida's main campus features an M.A. in global sustainability, which comes baked in with nine concentrations. This enables you to tailor the degree according to your interests and helps you graduate with a well-rounded education. Several top-notch internship experiences are also available even for online students.

Black Hills State University

Quick Facts

Tuition: $7,997(in state) / $7,997(out of state)

$35 application fee

Internships available

32 credit hours

School Wide

Student Satisfaction

77.00%

Black Hills offers an entirely online M.S. in Sustainability that combines practical and theoretical knowledge about this interdisciplinary subject. It's an innovative program that has a lot of rigor in its academics and plenty of opportunities for experience, providing graduates who are well prepared for leadership sustainability positions across sectors. The degree culminates in a capstone course that requires some collaboration with fellow students.

Unity College

Quick Facts

Tuition: $25,500(in state) / $25,500(out of state)

Uses interactive, real-time activities

Class sizes are capped at 20 students

Can be completed in 14 months

School Wide

Student Satisfaction

75.00%

Programs offered online

Not Reported

Unity College provides an MBA in sustainability, combining smart business practices and education with a look toward a sustainable future. It's a perfect career for future environmentally conscious businessman and incorporates sustainable concepts in every course. Multiple hands-on learning experiences are required via class projects and capstone courses.