Spearhead your way into the job market while maximizing your profit margins with the cheapest online bachelor's in economics.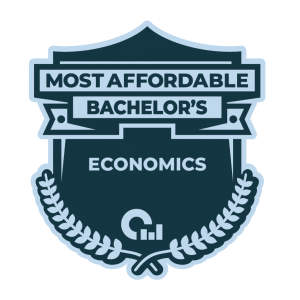 If you are passionate about the world of business, or if you are looking to start your own company, or simply wish to secure a solid financial future, an economics degree is an optimal choice to help you succeed in this field. 
Given its applicability to a myriad of different career paths, an economics degree is a great choice for someone who is unsure about their exact path but wishes to ensure their long-term financial stability. 
What Is a Bachelor's in Economics Degree?
A bachelor's in economics is unique in that it is offered as both a bachelor of arts and bachelor of science, depending on the university. A BA in economics will emphasize social sciences, while a BS will focus on the quantitative and mathematical sectors of the field.
There are many opportunities for specialization for economics majors. Ecological economics, international training, policy-making, and fraud analysis are just some of the directions in which you can expand your studies. 
How Much Can You Earn with a Bachelor's in Economics Degree?
How much you earn with this degree can depend on the field in which you work. Private sector positions, public office, and nonprofit organizations are all potential post-graduate pursuits for degree holders. 
According to the U.S. Bureau of Labor Statistics, employment for economists is projected to grow 8% from 2016 to 2026, and they can make as much as $105,020 per year. Financial analyst, accountant, financial consultant, public servant, and CEO are just some of the career choices an econ degree offers.  
What Is Required for a Bachelor's in Economics Degree?
In order to pursue a bachelor's degree in economics from an accredited institution, you'll need either a high school diploma or an equivalent GED. Depending on how competitive the program is, you may be required to submit an application, write a statement of intent, or take college evaluation exams.
Once accepted into your program of choice, many programs require research by using statistical techniques to investigate pertinent questions in the field. Therefore, regardless of the economics vein you choose to study, you should be confident with numbers.
What Are the Cheapest Online Bachelor's in Economics Degrees?
OSR uses six data points: three school-wide and three program-specific. For school-wide, OSR uses Student Satisfaction, Admission Rates, and the number of programs the school offers online. For program-specific, OSR checks the Median Debt of graduates from that program, how many degrees are offered within that program's umbrella department, and what percentage of students at that school graduated from that department.
The six statistics are displayed by each school. The sliding bar under each statistic represents how that school compares to other US institutions. "Not reported" means a school did not release that information to the US Department of Education. A more detailed description of the OSR process can be found on the methodology page.
North Carolina A & T State University

Quick Facts

Tuition: $3,540(in state) / $16,430(out of state)

Tuition: $9,378

Credit Hours: 120

Automatic access to Microsoft Office 365 academic suite upon enrollment

Options of emphasis in either Business or Law

Program Level

Popularity at School

4.72%

The BS in Economics offered by North Carolina A & T University is designed with affordability and flexibility in mind. As a student, you can personalize your degree with up to ten elective courses in a field of your choice. Each degree program has its own coordinator, who's devoted to assisting students in identifying resources, selecting courses, and planning an individualized path to graduation.

Utah State University

Quick Facts

Tuition: $6,105(in state) / $19,657(out of state)

Tuition: $12,738

Credit Hours: 35

Four degree emphases: Managerial, Theory, Pre-Law, and International and Trade

Both Bachelor of Science and Bachelor of Art degree options available

Program Level

Popularity at School

8.28%

USU quite literally put "online learning" on the map: it was one of the first to use technology-based distance learning, starting as early as 1984. The university's economic students have gone on to work with industry leaders such as JP Morgan, Goldman Sachs, Morgan Stanley, and many others. USU's degree in economics focuses on providing a strong foundation in economic theory and research.

University of Utah

Quick Facts

Tuition: $7,697(in state) / $26,940(out of state)

Tuition: $13,460

Credit Hours: 48

Online diploma identical to that of on-campus student

Maximum flexibility in accepting transfer courses

School Wide

Programs offered online

113

Program Level

Popularity at School

13.72%

The bachelor's degree in economics degree from University of Utah melds the convenience of online learning with the quality of in-person studies. Its interactive online learning platform provides students with group assignments, online forum discussions, and peer-reviews in order to create a collaborative learning environment. Particular coursework includes Inequality of Wealth Distribution, Sustainability in Environmental Economics, and Quantitative Analysis.

Eastern Oregon University

Quick Facts

Tuition: $6,928(in state) / $18,248(out of state)

Tuition: $15,902

Credit Hours: 180

Allows up to 135 transfer credits from previous colleges

92% of online students benefit from financial aid and scholarships

School Wide

Programs offered online

15

Program Level

Popularity at School

5.09%

Ranked one of the most affordable online colleges by SR Education Group in 2017, Eastern Oregon University certainly deserves a spot on our list. EOU emphasizes maintaining small class sizes and authentic interactions, even for its online students. Alongside this collaborative atmosphere, you will have one-on-one access with faculty to personalize your research throughout your studies.

Washington State University

Quick Facts

Tuition: $9,530(in state) / $23,956(out of state)

Tuition: $17,297

Credit Hours: 120

Concentration tracks include Commodity Market or Management

Fixed start dates in the summer and fall

School Wide

Programs offered online

13

Program Level

Popularity at School

11.13%

Washington State University prides itself on successfully preparing its economics students for skilled jobs with high salaries upon graduation. As a WSU online student, you'll have access to its active network of faculty, alumni, and business professionals. The curriculum is divided into core degree-level coursework, concentration courses, chosen economics electives, and general university graduation requirements.