Discover the possibilities in leadership and management by earning one of the 25 Most Affordable Online Bachelor's in Organizational Leadership.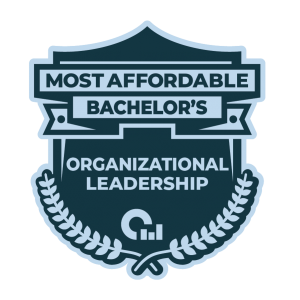 Whether you're a born leader or you're willing to put in the effort to become one, an organizational leadership degree program can help you further your natural skillsets and prepare you for a leadership role in a variety of organizations.
Leadership is an essential part of any business; therefore, educated leaders are always in-demand. By gaining a firm understanding in communication, organization, and the operations within business, you can start leading and managing with success. 
What Is an Online Bachelor's in Organizational Leadership Degree?
A bachelor's degree in organizational leadership is a four-year undergraduate program that prepares students to lead and manage within a variety of work environments. Each program offers a different curriculum. However, students can expect to see courses involving topics such as business, human behavior, communications, marketing, and accounting.
The main objective of an organizational leadership degree is to prepare students with the proper knowledge and skillsets to make the right business decisions and effectively communicate with peers on an individual and group level. 
How Much Can You Earn with an Online Bachelor's in Organizational Leadership Degree?
Since leadership and managerial roles vary business to business, earnings for organizational leadership graduates will vary, too. According to PayScale, working professionals that hold a bachelor's of science in organizational leadership make a median salary of $65,000. 
Job titles vary as well. Many graduates of this degree program find themselves in departments like human resources, operations, marketing, and insurance.

Here is a list of potential job positions, along with average salaries. These are also reported by PayScale. 
Human Resources Manager: $66,000
Operations Manager: $71,000
Account Manager: $47,000
Executive Assistant: $56,000 
What Is Required for an Online Bachelor's in Organizational Leadership Degree?
To obtain your undergraduate degree in organizational leadership, you will have to show transcripts of high school completion or GED equivalent when applying into a program. Some institutions may require that you also submit test scores like the ACT or SAT. 
Once enrolled, you will have to complete a minimum of 120 credit hours to graduate. This includes your general education courses, major requirements, and electives. Some schools may require a specialization or concentration. 
You can expect to complete this degree within two to four years, depending on your course schedule. It's typical for organizational leadership programs to require students to take a capstone course prior to graduating. 
What Are the Most Affordable Online Bachelor's in Organizational Leadership Degrees?
OSR uses six data points: three school-wide and three program-specific. For school-wide, OSR uses Student Satisfaction, Admission Rates, and the number of programs the school offers online. For program-specific, OSR checks the Median Debt of graduates from that program, how many degrees are offered within that program's umbrella department, and what percentage of students at that school graduated from that department.
The six statistics are displayed by each school. The sliding bar under each statistic represents how that school compares to other US institutions. "Not reported" means a school did not release that information to the US Department of Education. A more detailed description of the OSR process can be found on the methodology page.