While continuing your education and applying for college is a stressful, yet exciting time, what isn't so exciting is choosing the best way to apply to your future college. Traditionally, there are three ways to apply: early action, early decision and regular decision. 
Early Action vs. Early Decision
The major difference between early action vs. early decision applications is that early action is a nonbinding agreement, while early decision is a binding agreement — meaning if you apply early decision to a college and get in, your decision is accepted and you are expected to enroll. 
Before worrying too much about which option to choose, check to see if your chosen university offers early application options. Some schools offer one or the other, while others offer both. Read on to learn more about early action vs. early decision college applications and which application is right for you!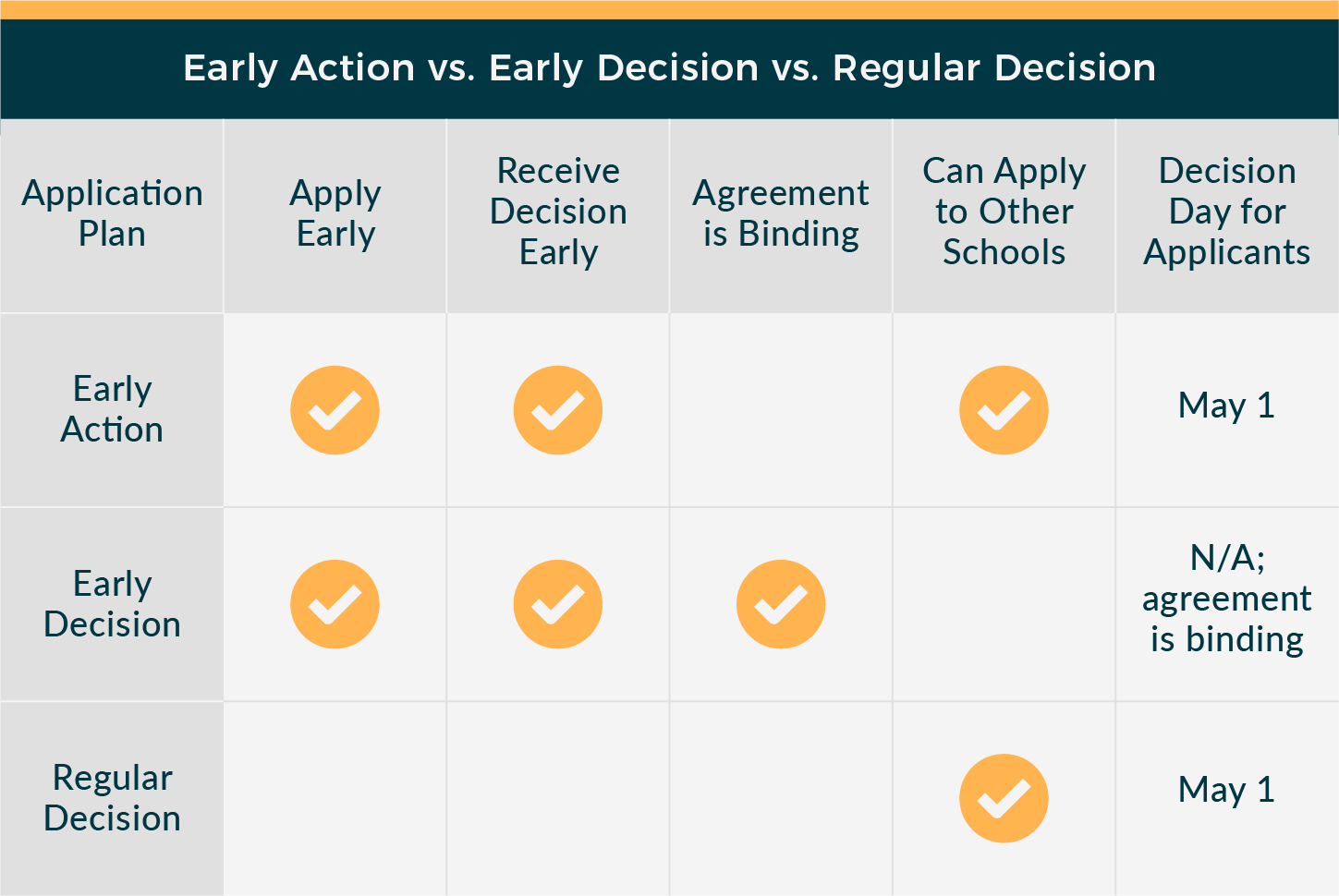 Do You Have a Better Chance of Getting Accepted If You Apply Early?
Though there is some speculation on whether or not applying early helps applicants get accepted, there have been some findings that suggest applying early may help increase applicants with strong applications chances of being accepted. 
In fact, the 2019 State of College Admission Report found that colleges saw higher acceptance rates for early admission applicants, including both early action and early decision, when compared to regular decision applicants.
Of the schools that offered early action applications in 2019, the overall admission rate was 64.1% for regular applications, but 73.6% for early action applications. For early decision applicants, the overall admission rate for regular applicants was 50.7%, and 62.3% for early decision applications.  
There's also another definite perk to getting your college application materials in early: college admissions officials prefer it. Applying early gives admissions officials more time to review applicants' materials, as well as evaluate the applicant pool for the year. Seeing what's out there allows admissions officials to build a strong class for the coming year, and ensure that each student admitted early is the best possible fit. 
Leykia Nulan, dean of admissions at Massachusetts' Mount Holyoke College, said in an interview with U.S. News that applying early is attractive to admissions staff because "[w]e're filling our class with students who have demonstrated a high interest in us either through early action or, even better, early decision."
Applying early also helps to set the tone for the admissions process for other applicants. Once admissions officials see the general pattern (grades, extracurriculars, GPA, etc.) of early admissions applicants, they'll want students who applied regular decision to meet this same criteria to ensure a well-rounded, uniform class. 
What Is Early Action? 
Early action applications are submitted and reviewed early to the college(s) of choice, but are not binding agreements to attend. Applicants can apply to any number of colleges via early action, as long as they make their final decision by May 1 of the year they'll attend college. 
Advantages of Applying Early Action
Since early action isn't a binding decision, this is a great option for a number of reasons. One of the most important things to consider when applying early action is that you can apply to a number of schools through early action applications. 
1. Application Is Reviewed Early
As the name implies, one of the pros of applying early action is just that — getting your application in before others! This gives college admissions staff more time to carefully review your application and ensure you're a perfect candidate to attend their university. 
Early action applications are typically due sometime between November 1 and November 15, whereas regular decision applications are due sometime in January, though the exact date depends on the university. Applicants can typically expect to hear back from the colleges they applied to in December or January.
2. More Time to Decide
Applying early means you're reviewed early, and also receive your application decision early. Due to early action not being a binding agreement, if you're accepted to a number of colleges that you applied early to, you have more time to decide where you will ultimately go. 
As such, you'll also have more time to weigh your financial aid or scholarship options, as well as the ability to tour the campuses and hear from current students.
Disadvantages of Applying Early Action
Though most colleges prefer early applicants, applying early action does come with its fair share of disadvantages.
1. Less Application Time
As anyone who has applied to college will tell you, those applications take a lot of hard work, time and dedication. From essays to letters of recommendation, college applications have many moving parts to show colleges you're the most well-rounded choice for their student body. 
Though you have more time to decide where you'll end up attending, having an earlier application deadline means less time to work on your application. With many colleges opening applications in August and early action being due mid-November, you'll have to plan your application process wisely to make sure you get them all in on time.
2. Senioritis Hits Hard
Any high school or college senior will be the first to tell you that "senioritis," or the performance and motivation drop that comes with the end of high school or college approaching, is a very real affliction that hits hard. 
While having more time to decide on what college you'll attend is beneficial, this could also lead to a reduced interest or performance on school work once you're accepted. 
The perceived invincibility that comes with having one or many college acceptances may cloud your vision when it comes to "pointless" studying, tests and other assignments that may not be reviewed by college admissions officials. Seniors with senioritis be warned: if your performance and grades have a steady decline, your admissions status could be in jeopardy or even revoked. 
Who Should Apply Early Action?
As with many other things, being early with your college application can only help you. There are a number of reasons to apply early — but students who are best matched to apply early action are those who:
Have researched colleges and universities extensively

Are sure of their first-choice colleges  

Match the college's admissions profile in terms of grades, standardized test scores and academic performance

Are compatible with the university both academically and socially 
Below are three personas that are best suited for applying early action. See if you match any of them, and you'll be one step closer to deciding how to apply to college. 
Isabelle the Indecisive 
Students like Isabelle are constantly changing their mind about things, and making big decisions — like where to attend college — causes a lot of stress. While they don't have a number one dream school, they still want to cast a wide net and apply to a number of different colleges early to see where they can get in. Because they apply early action, students like Isabelle can make an informed decision with the extra time they have.  
Connor the Cost-Conscious 
Applicants like Connor have some limitations when it comes to college, with cost being number one. They're planning on receiving financial aid and are applying for scholarships, but need more time to see what their options are when it comes to paying for college. Applying early can help applicants like Connor see where they get in, and they can use the time between getting and accepting the decision to weigh the costs of each school. 
Theresa the Thoughtful 
Theresa and students like her weigh all of their decisions carefully — it's not that they're indecisive — they just like to have all of their options laid out for them before proceeding with one path. They take this approach with colleges as well, and know right away that they don't want to put all their eggs in one basket with early decision and get rejected. Applying early action can help them see all of their options, and they can then carefully review the pros, cons and programs at each school to see what their best fit is. 
Early Action for Online Colleges
When it comes to applying early action for online colleges and universities, first check with your desired school to see what early admission options they offer. Many residential colleges with online options offer early admissions programs, so check their admissions page to see their options.
As with residential college applications, applying early can help inform admissions officials of what kind of class they want to see. Applying early action gives you more time to make your final decision, plus gives your university more time to review your application to ensure you're the perfect fit for their program.
What Is Early Decision?
Applying early decision to college means, if you get in, you are agreeing to enroll at that university. Unlike early action, there's no time to weigh your decisions and acceptances — this is a binding agreement between you and the university.
Because early decision is a binding agreement, many universities require that you rescind any other in-progress or submitted college applications once you're accepted. 
It's recommended to only apply early decision if you have one college you really want to attend and would be attending, regardless of whether you applied early decision or not. Once you've made up your mind about applying early decision, you must decide on your timeline. Early decision applicants have two options to choose from when deciding when to send their applications in: early decision one (ED I) and early decision two (ED II). 
Early Decision I vs. Early Decision II
Though there are two early decision timelines, the most popular and widely used is ED I which is used at most public and private universities as well as Ivy League institutions. ED II is mostly used at private, liberal arts colleges.
ED I
ED I is the earliest round of early decision applications, and is the most typical form of early decision applications that most universities offer. 
Typically, applicants will submit applications by November, and hear back by mid-December with an acceptance, rejection or deferral decision. 
In this case, being deferred means the university did not accept nor reject your application. Instead, you're released from your binding commitment and will hear back later in the spring with other regular decision applicants. 
One of the major caveats with early decision applications is that you can only apply ED I to one university — which is why being completely sure of your choice is critical. Colleges check that you've followed this rule, and not doing so could lead to consequences for you or even your high school.
However, if you're deferred or rejected from the ED I school you applied to, you can apply to another ED II school — again, just one. Be careful when applying ED II if you've been deferred, as this can lead to some confusion or even your application being withdrawn.
ED II
ED II is traditionally found at private, liberal arts colleges. Generally, students will submit their applications by January 1, and will hear back in mid- to late-February. As with ED I, applicants will be notified of their acceptance, rejection or deferral at this time. Upon acceptance, students are expected to enroll and withdraw in-progress applications from other universities.
Advantages of Applying Early Decision
Much like early action, applying to college early decision has a number of advantages.
1. Early Application, Early Review, Early Decision 
Much like early action, this is the major perk of applying early to any university. With early decision applications being due sometime between November 1 and 15, you're getting ahead of your peers applying regular decision.
As with early action, your application is reviewed ahead than your peers. If applicants have a strong application and meet all of the admissions criteria, their early application could very well help them get accepted early. In most cases, getting your application in ahead of your peers can only help you, especially when applying early decision.
In addition to being reviewed earlier than your peers, applying early decision can also be attractive to admissions staff. College admissions staff want as many accepted students to attend as possible, and considering that early decision applicants are entered into a binding agreement with the school, it can be attractive to show you're serious about attending their university and are prioritizing their school over other options. 
2. Fewer Decisions 
One of the major advantages of early decision applications is that, if accepted, the decision of where to attend college is practically made for you. Once acceptances are mailed out for early decision applicants in December or January, you can know that the often arduous college admissions process is over for you! You can sit back and dream of the next four years at your university while your peers stress over the decision of where to attend.
Of course, sometimes life happens and the school you thought you only wanted to apply to turns out to not be the best option. If this is the case and you need to revoke your early decision, you should contact the school — but you might need to be prepared to pay to forfeit your spot. 
Disadvantages of Early Decision
If accepted, having the decision of where to attend college made for you makes the application process much less stressful. However, there are some disadvantages that come with early decision college applications. 
1. Little Flexibility for Change
Life happens, and sometimes people need to make decisions they didn't foresee having to make. This can happen with early decision applications, and accepted students may need to back out of their contract. 
Many colleges and universities are understanding of this having to happen from time to time "with good reason." This could include a sudden health emergency, unforeseen circumstances like a death in the family or a lack of financial aid coming through to help subsidize the cost of college. 
If any of these or other valid reasons come up after your acceptance, many schools are understanding of your need to back out. Many schools have you put a deposit down with an early decision application so your spot is automatically held for you, and backing out may mean you don't get your deposit refunded.
However, if you don't have a valid reason — for instance, if you've changed your mind, applied regular decision somewhere else and would rather attend there or any other reason your school doesn't deem valid —  you and your high school could be penalized beyond losing your deposit. This could look like other applicants from your high school being turned down, or even your high school being blacklisted by the university because of your decision. 
2. All Your Eggs Are in One Basket
Having a number one school in mind is helpful for motivating you to do your best to get in. However, what happens if you put all your time and effort into one school and don't get in?

Rejections happen, and they can be disheartening — especially if this was the only school you wanted to attend. This could even hurt your chances in more ways than one, because if you don't hear back from your early decision school until December, you'll be left scrambling to get applications in to other schools. This might lead to your applications not being as strong as they could be, which could lead to more rejections down the road. 
Who Should Apply Early Decision?
Early decision is the better option for some people, just like early action. Early decision is best suited for students who:
Have researched colleges and universities extensively

Are confident in their first college choice and wouldn't want to apply elsewhere

Matches or exceeds the college's admissions profile in terms of grades, standardized test scores and academic performance

Are academically and socially compatible with the university
Here are three three student personas who early decision applications are best for.
Charlie the Committed 
Since he was a child, Charlie knew that he wanted to attend a very specific university. Charlie and students like him never looked at, toured or even considered attending another college: they knew which school they belonged to. After reviewing the school's admissions requirements, they studied and worked hard to have an impressive early decision application come college admissions time that surpassed the school's requirements. They were accepted early, and were able to enjoy the remainder of their senior year. 
Fiona the Funded  
Fiona and others like her are lucky enough to have a large college savings account started when they were born. It has grown throughout their life and they're able to comfortably fund all four years of their college education at any school of their choosing. With this in mind, they're able to find the perfect school for their interests. This funding enabled them to apply early decision to their dream school, and not have to worry about getting financial aid or scholarships to afford it.
Alex the Athlete
Alex and others like him play a varsity sport for their high school, and have gotten scouted to play for a few universities. After touring and meeting with coaches and teams, they decide on one to play for. They meet NCAA eligibility, but still need to jump one final hurdle before they can say they're a college athlete: the admissions team. Because they only have one option that will be funded through a sports scholarship, they can rest easy knowing their early decision application is the best fit for their needs. 
Early Decision for Online Colleges
Applying early decision to either an online or residential college works very much the same, and at its core should be an informed, well thought out decision. It's best practice to have a number one school you really wish to attend, and likely would have attended regardless of applying in a binding contract or not. 
Applying early decision at an online college looks very similar to applying early decision to a residential school. Applicants should conduct in-depth research beforehand to ensure they're a good fit for the school academically, as well as review the school's minimum requirements to ensure they meet (or exceed) them. Since this may be the only school applicants apply to, they should take extra consideration and care to ensure that their application is as strong as it can be to improve their chances of being accepted early. 
Though you can't visit the school itself to get a feel for the campus and academics before or after applying, many online schools offer digital tours that give prospective students a glance into how their virtual classrooms operate. This often includes in-depth explanations of how their distance learning procedures work, and could feature interviews with alumni and teachers or viewing a previously recorded lecture to get a feel for how attending college online at that school will feel.
Before applying, always make sure the school you're interested in offers an early admissions program. This information can be found on the admissions section of their website. 
Regular Decision Applications
While early action and early decision applications have earlier due dates and response times, regular decision college applications remain the standard process of applying to college. 
Regular decision applicants generally have until January 1 to submit their applications, and will hear back regarding their acceptance or rejection by April 1. 
Advantages of Applying Regular Decision
Just like applying early is the best fit for some people, applying regular decision is best for others. While it doesn't come with the same perks as applying early, there are still a number of advantages to applying with a regular decision application.
1. Can Apply to Any Number of Schools
Regular decision applications do not have the limitations that ED applicants do, and an applicant applying regular decision can apply to any number of schools they please. Whether this is two or 15, when applying regular decision, the choice is yours. 
2. More Time to Build a Great Application
If you're a student who wanted or needed to retake your SAT, needed a little more time with your essay or just wanted more time to perfect your application, then regular decision is the best college application for you. Not applying early is a totally valid choice when you need more time to boost your application, increase your chances of getting in or apply for scholarships.
In some cases, colleges who are debating whether to accept you or add you to the waitlist will request more information to see if your senior year performance helps you get in. This could include an additional letter of recommendation, updated grades, your improved test scores or more. In this case, waiting to apply is actually beneficial, and may help you get accepted.
Who Should Apply Regular Decision?
When deciding whether to apply early or regular, knowing who the regular decision application is best for can help in making that decision. Regular decision is the best path forward for students who:
Need more time to complete a more competitive application

Are uninterested in or have not extensively researched colleges

Would otherwise be rushing or submitting a subpar application 
See if you align with any of these three personas who best fit with applying regular decision.
Tanya the Tutored
Tanya and students like her needed a bit of help with their college applications. They went to a peer mentor to work on their application essay and to tutoring to improve their test scores. They didn't do so hot on the SAT and ACT the first time around, and knew that they could do better if they spent a little more time studying. They waited to apply regular decision so they could have the best application possible, as well as get some help on the areas of their application that could use a little boost. 
Phillip the Procrastinator 
Applicants like Phillip weren't sure they even wanted to go to college — they didn't know what they wanted to major in, and felt conflicted about their future. After putting off applying, they talked to their school counselor at the end of November and decided on applying to some local schools. Even though the January 1 deadline was approaching, they were able to get their applications in on time by applying regular decision.  
Sophie the Scholarship Hunter 
Applicants like Sophie have known they will need financial aid and scholarships to help subsidize the cost of college. Not wanting to put themselves in too much debt with loans, they decide to apply for several merit-based scholarships that the schools they apply to offer. These require essays to be submitted along with their college applications. Not wanting to rush and turn in subpar work, they decide to apply regular decision to ensure their application materials give them a great chance at getting those scholarships. 
Whether you choose to apply early action to have more time to decide, early decision to have a binding agreement made for you or regular decision, make sure you're making the most informed decision of the best application method for you. Applying for residential or online college is a huge undertaking, so be sure you're making the best choices for you and your lifestyle! 
Sources: Vanderbilt Admissions | CNBC | College Vine | Princeton Review | Great College Advice | Peterson's | Inside Higher Ed | College Greenlight | College Board Education Professionals | U.S. News & World Report