The sports medicine field is one of the most fulfilling, stable, and lucrative sectors in the United States. And it's growing, fast. Job boards, career centers, and the Bureau of Labor Statistics consistently report that sports medicine is growing. And with this steadily increasing demand, salaries are increasing as well.
Sports medicine needs you, and if you were curious enough to click this page, you may be realizing that you need sports medicine, too. But how do you get into the field? What careers are out there for aspiring sports medicine professionals. Can you get a job out of undergraduate school, or do you need to finish a graduate degree? We will answer these questions, and more, in this post.
Online Schools Report is an advertising-supported site. Featured or trusted partner programs and all school search, finder, or match results are for schools that compensate us. This compensation does not influence our school rankings, resource guides, or other editorially-independent information published on this site.
Where to Begin
First, you should choose the career within sports medicine that appeals to you the most. Do you want to work with teams on a day-to-day basis, train athletes, and mend their mild injuries? If so, then consider pursuing a career as an athletic trainer.
Or would you rather work behind the scenes, helping athletes and other people recover from serious injuries? Physical therapy is the most popular profession within sports medicine, and it pays pretty well, too.
Are you interested in the effect that a healthy diet can have on your body? Are you aware that the diet of a marathon runner has to be planned and executed in a vastly different way than a linebacker, and does this interest you? Then look into a career as a dietitian or nutritionist, which are both vital components of the sports medicine sector.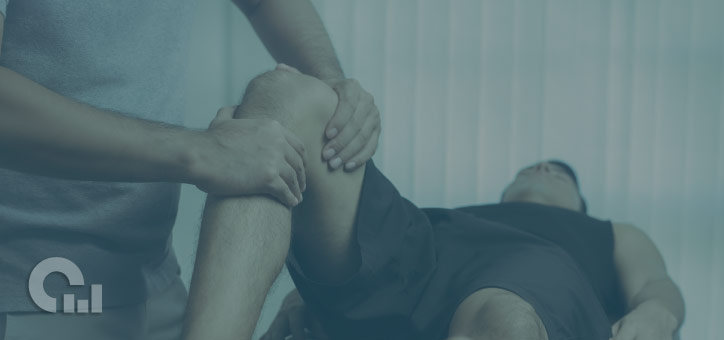 Sports medicine physicians are trained doctors who care for injured athletes and others. They are the counterpoint to physical therapists, working as diagnosticians rather than active trainers and therapists.
If you're interested in making a lot of money, you couldn't do much better than becoming an orthopedic surgeon. Orthopedic surgeons operate on people with broken bones, torn ligaments, and many other serious injuries. It's a difficult and stressful job, but it pays extremely well. 
Okay, I've Decided What I Want To Do. Now What?
Now you have to go to school! In this section, we're going to give you a quick rundown of the required coursework and experience for each of the careers listed above.
Athletic trainers have a relatively short educational path. To become an athletic trainer, you must graduate with a relevant undergraduate degree from a program accredited by the Commission on Accreditation of Athletic Training Education. While you aren't required to go to graduate school, doing so would certainly benefit you, as many employers prefer to hire athletic trainers with a master's degree. About 70% of athletic trainers have a master's degree, so you may seriously want to consider pursuing higher education if you want to pursue the best jobs in this field. 
Physical therapists must obtain a Doctor of Physical Therapy (DPT) degree. To be a candidate for licensure, your DPT must come from a school accredited by the Commission on Accreditation in Physical Therapy Education. Most DPT programs are three years long. To gain licensure, physical therapists must participate in a one-year residency and pass the National Physical Therapy Examination.
Nutritionists, on the other hand, are only required to complete a bachelor's degree. They can major in dietetics, foods and nutrition, clinical nutrition, public health nutrition, or a related field to be considered for licensure. Before gaining licensure, nutritionists must complete 1,200 or more hours of a supervised internship. Then, nutritionists can obtain licensure and begin practicing.
Sports medicine physicians must first obtain a bachelor's degree. Because medical schools accept all types of programs, students can major in almost any degree in undergraduate school. After graduation, students must take the MCAT and enroll in a Doctor of Medicine (MD) program or a Doctor of Osteopathic Medicine (DO) program. Afterward, graduates must partake in a three-to-five-year residency. Finally, they must complete a two-year fellowship in sports medicine before obtaining a Certification of Added Qualification (CAQ) in Sports Medicine.
Aspiring orthopedic surgeons must also earn a bachelor's and a DO or MD degree. These graduates are then required to spend four years in a residency focusing on orthopedic surgery. At a residency, graduates rotate through different hospitals and wards to learn the many tasks of orthopedic surgeons. After residency, graduates must apply for a fellowship. After obtaining a certification, these graduates can finally begin working as orthopedic surgeons.
As you can see, some professions only require four years of schooling to enter. Other careers require eight years of university and at least six years of clinical experience. While this sounds like a handful, these positions are well paid. For example, orthopedic surgeons make around $600,000 per year. That's not too bad, is it?
Whether you want to operate on injured athletes or train athletes on the ground, the sports medicine field is expansive. And it has room for you, so begin your path to the sports medicine industry today.