Maximize profit in your career by checking out the 25 Most Affordable Online Bachelor's in Clinical Research.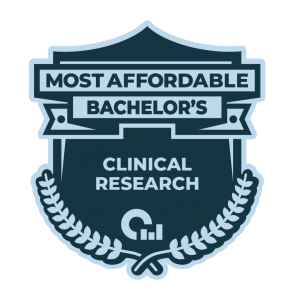 You're working as a laboratory assistant and are looking for qualifications to move up in your current place of work. Or perhaps you have technical military training, and are looking to reinforce your skills with a full degree program. Either way, an online bachelor's degree in clinical research is an optimal way to invest in your future and pursue your career goals without having to take time off from your current position.
What Is a Bachelor's in Clinical Research Degree?
A bachelor's degree in clinical research provides the qualifications needed to work in a medical laboratory. Medical technicians test new potential therapies before they are made available to the general public, including clinical devices and medications. They also continue to test treatments already approved for medical use, monitoring them for potential effects or dangers. Researchers are incredibly important to both public health centers and private clinics, as 70% of the decisions made by doctors are based on the results of laboratory testing. 
BS in Clinical Research degrees, sometimes also called Medical Laboratory Science or Laboratory Technician degrees, are almost always a combined degree, meaning they require prior credits from another institution for enrollment. Some require an entire accredited associate degree, while others will accept a combination of transfer credits alone.
How Much Can You Earn with a Clinical Research Degree?
A scientist who receives their Bachelor of Science in Clinical Research can work in a number of technician positions within a laboratory. Some of the potential sectors include: biotechnology, public health, molecular diagnostics, industry quality control, and veterinary technology.
According to the Bureau of Labor Statistics, a laboratory technician makes an average of $53,000 a year. Projections predict that an aging population will cause an increased need for diagnostics and clinical researchers. The field as a whole is expected to grow 11% in the next ten years, a percentage much higher than other job sectors. 
What Is Required for a Clinical Research Degree?
Clinical research degree requirements change significantly depending on individual university requirements and each applicant's past experiences. Almost all programs require transfer credits, although what they require and what they're willing to accept varies by school, and some programs will ask for prior lab experience. It is also possible to be asked for standardized test scores (such as the ACT or SAT), a letter or recommendation, and/or a personal essay. 
All accredited BS in Clinical Research and Laboratory Science degrees require lab clinicals in order to graduate. Some will accept prior experience as laboratory credit, but others will require you to complete clinicals as an integrated part of your study program. For those currently working in a laboratory environment, many programs will allow you to work directly with your current place of employment, provided there is a mentor willing to guide the course of study. Some states also require additional certifications or licensure in order to practice, so make sure you know which state you want to work in. 
What Are the Best Online Clinical Research Degrees?
OSR uses six data points: three school-wide and three program specific. For school-wide, OSR uses Student Satisfaction, Admission Rates, and the number of programs the school offers online. For program-specific, OSR checks the Median Debt of graduates from that program, how many degrees are offered within that program's umbrella department, and what percentage of students at that school graduated from that department.
The six statistics are displayed by each school. The sliding bar under each statistic represents how that school compares to other US institutions. "Not reported" means a school did not release that information to the US Department of Education. A more detailed description of the OSR process can be found on the methodology page.