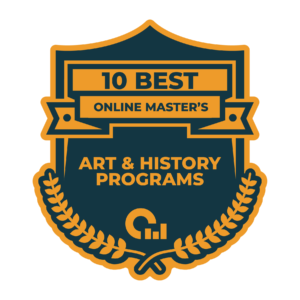 Whether you want to teach art, analyze artwork, or work in a gallery or museum exhibit, you should consider a master's degree in art and art history!
You will need to earn a bachelor's degree in art, art history, or a related field to apply for most master's programs. The advanced study within a master's program will offer a focused exposure to international artwork that broadens your understanding and appreciation of the global art experience. A master's in art or an art history program is a prerequisite for most PhDs. 
What Is an Online Master's in Art and Art History?
Pursuing a fine arts master's degree will only broaden your exposure and add dimension to your creative process. The advanced degree focuses on historical art and modern influences in art. It also creates a global view of the industry for both seasoned and emerging professionals. Key components of a top art or art history master's program are international exposure to artifacts and artists, historical research, art analysis training, and hands-on internship opportunities. Earning a best master's degree in art and art history can open job opportunities as a museum curator, a conservator, or an archivist.
How Much Can You Earn With an Online Master's in Art and Art History?
Obtaining a master's from a best art history graduate program could lead you toward several different careers with varied potential earnings. According to the 2020 US Bureau of Labor and Statistics, art historians with a master's degree earned about $63,100 annually while curators earned $56,990 annually and archivists earned $56,760 annually. Museum and historical institution salaries came in last at around $48,190. For master's holders that choose to work as fine artists, earnings are determined by the prices of the individual art pieces the artist sells. There is unlimited earning potential for a gifted artist that finds commercial or collector success in the fine arts industry.
What Is Required For an Online Master's in Art and Art History?

In order to pursue an online master's in art and art history, a bachelor's degree is typically a prerequisite. Applicants to most art or art history master's programs will also need to prove proficiency in English and a second language. Also, students will need to prepare a portfolio of existing projects and coursework done in their undergraduate career to submit alongside their application. The academic study for the art and art history master's will include theory, historical art research, emerging and modern art influences, and multicultural art traditions. Also, students should expect to engage in peer reviews and hands-on art and artifact project work. Since art and art history have an international appeal, study-abroad opportunities and international co-ops and internships will set applicants' resumes apart after graduation.
See Also: Art History Degree On Line: 10 Best Degrees
What Are the Best Online Master's in Art and Art History?
OSR uses six data points: three school-wide and three program-specific. For school-wide, OSR uses Student Satisfaction, Admission Rates, and the number of programs the school offers online. For program-specific, OSR checks the Median Debt of graduates from that program, how many degrees are offered within that program's umbrella department, and what percentage of students at that school graduated from that department.
The six statistics are displayed by each school. The sliding bar under each statistic represents how that school compares to other US institutions. "Not reported" means a school did not release that information to the US Department of Education. A more detailed description of the OSR process can be found on the methodology page
Best Online Master's in Art and Art History FAQ
Why is the study of art and art history important?
According to Shelley Esaak of ThoughtCo.com, we should study art history because it is "our history." Before there were books, videos, and photographs, our history was depicted through art. While commercial artists, graphic designers, and fine artists need no education at all to enter the creative and unpredictable work of art, there are clear reasons for higher education in art. A master's degree is a crucial step in the career path of a curator, archivist, or even an instructor wishing to teach at the college level.
While art is largely a subjective field, there are historical and modern criteria for analyzing and critiquing art. Beyond a bachelor's program, a master's program will hone the participants' skills in critical thinking, analysis, and communication. In addition, master's programs prepare professionals with the leadership skills needed to work in art education, museums, galleries, or historical research. 
Is a master's in art and art history necessary with access to the internet?
You may be wondering, "is a degree in art history worth it"? According to Scott Rayburn's article for the New York Times on "How Important is Art History in Today's market," the elitist reputation of an art and art history degree study is fading. Rayburn points out that digital access has modernized the spreading of current and ancient art, making this creative knowledge more available to the masses. What was once a "niche" market requiring a very specific set of skills and degrees is now becoming a more widely appreciated subject, available at the click of a button. However, the digital peak in the interest of art and art history proves that studying it is still valuable as classroom teaching will bring a deeper understanding to those who are seeking more than an internet search could provide.
With a master's degree in art history, you can teach art history or fine art at the college level. Careers in public museums and private art galleries are also available to those with the educational experience of an art history master's degree. And as the digital community continues to expand, curators of modern art will be in demand as well.  
Identify the specialty art focus that drives your own creativity and then review the universities below for details on their esteemed programs.
What is the cost to get an art history degree?
You will find a huge range for tuition and fees from school to school when looking at a master's in art history. Tuition will vary among private and public schools as well. For example, the full-time cost for a graduate student for one year at the Academy of Art University is estimated to be $25,992. The average cost at Savannah College of Art & Design – Georgia is $38,475.  Whereas a full-time online graduate student at FHSU is $5373.90 per year.