Do you have a passion for airplanes or space? The Best Online Bachelor's Degrees in Aeronautics/Aviation may be the path for you.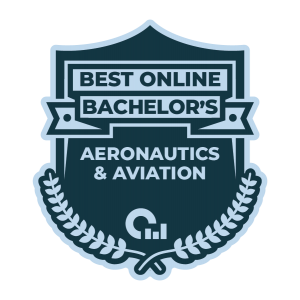 Professionals in the aeronautics field design and develop aircraft. Aviation students in this field may become air traffic controllers or even airline pilots. Aerospace engineering is also apart of this field and trains students to be flight engineers and experts in aviation technology.
The job opportunities with this degree are endless. You will learn crucial skills such as problem-solving and communication. Many median salaries in this field are upwards of $100,000. 
What Is an Aeronautics or Aviation Studies degree?
There are so many different paths you can take with this degree in the aviation industry, depending on your career goals. If you're someone who's good at math, problem-solving, and communication, then this degree will work for you. You may be able to work at the airport or for an airline.
Online programs in aviation or aeronautics, or aviation management degrees, are usually bachelor of science degrees. Coursework will focus on aerodynamics and the science of propulsion. There are a variety of different concentrations you could choose from in this program. Common concentrations for this degree include:
Aviation Management
Air Traffic Control
Aviation Safety Science
Flight Technology
Flight Operations
How Much Can You Earn with an Online Aviation Degree?
One of the most important things to consider when choosing a degree program is what your salary could be. Aerospace engineers earned a median salary of $115,220 as of 2018 according to The Bureau of Labor Statistics.
The market for this field has a projected growth of 6% from 2016 to 2026. Although the growth rate is about average, aircraft today are being redesigned to be more sustainable, which calls for more demand in research and development.
Some closely related aviation careers include:
Aviation Maintenance Management
Airport Operations or Airport Management
Aviation Science
Aviation Law
Commercial Pilot
Aviation Operations Management
The Federal Aviation Administration (FAA) is a great organization for air transportation jobs. In 2018 they employed 45,296 people with an average salary of $114,931. 
What is required for an online Bachelor's degree in Aeronautics or Aviation?
The enrollment requirements for Aeronautics/Aviation programs are pretty standard for a bachelor degree program. You may be required to submit standardized test scores, a high schools diploma, a personal essay, and letters of recommendation.
Having a background in certain subjects may help with your admission. Courses in math, physics, communication, and/or chemistry may be helpful. Some common classes for this degree include aerodynamics, flight dynamics, and aerospace engineering. If you're already enrolled in a higher education institute, you can always transfer credits!
If you study Aeronautical Engineering then you may take classes in thermodynamics, aircraft design, or fluid mechanics. If you study Aeronautical Science then you may take some credit hours in navigation, avionics, or flight physiology.
Not all aviation jobs require a bachelor's degree. If you want to be a technician, consider an associate degree then a technical training program. However, if you're interested in a managerial role, a master's degree might be necessary, but consider programs outside of aviation, such as a Master's in Business Administration.
What are the best online Aviation degree programs?
OSR uses six data points to rank online degrees: three school-wide and three program specific. For school-wide, OSR uses Student Satisfaction, Admission Rates, and the number of programs the school offers online. For program specific, OSR checks the Median Debt of graduates from that program (affected by financial aid opportunities), how many degrees are offered within that program's umbrella department, and what percentage of students at that school graduated from that department.
The six statistics are displayed by each school. The sliding bar under each statistic represents how that school compares to other US institutions. "Not reported" means a school did not release that information to the US Department of Education. A more detailed description of the OSR process can be found on the methodology page. Online learning is a rapidly growing field, and OSR aims to keep online colleges accountable to online students.