The world runs on storytelling. If you're interested in narrative craft, the best online bachelor's in creative writing will develop your talents.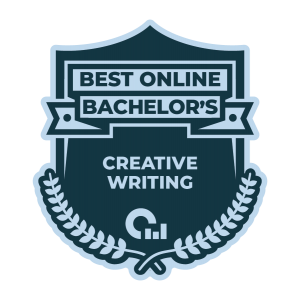 Creative writing allows you to use your imagination. You can form your own ideas. A degree in creative writing prepares online students like you with skills to work in many careers.
An online creative writing degree prepares you for many jobs. You can be an author or a journalist. There are many other career pathways you might consider – more on that in a bit.
What Do the Schools in Our Rankings of the Best Online Creative Writing Degrees Offer?
The online schools for creative writing listed below prepare you for success. You'll develop a knack for storytelling. This helps you apply your talents to many fields.
The University of Central Florida is one of the colleges listed in this ranking. UCF Professor and Graduate Studies Director Terry Thaxton says, "The creative writing program at UCF provides students with professional and focused studies in the art and craft of fiction, literary nonfiction, poetry, and scriptwriting. In addition to that, students learn editing and gain publishing experience through The Florida Review and The Cypress Dome, as well as local small presses."
Read on to learn more about UCF and other top-ranked online programs in creative writing.
What is an Online Bachelor's Degree in Creative Writing?
In an online creative writing degree, online students like you use their creativity to become exceptional communicators. As noted earlier, you can do this in many areas. Use your natural creativity with the skills you gain in your degree program to be successful
Depending on your online program, you can adjust your classes to your writing interests. You'll also study many classic and modern texts.
You can earn a Bachelor of Arts degree in Creative Writing in four years or less. The time depends on your class schedule.
For example, full time college students take 12 or more credits per semester each fall and spring for four years.
However, if you only attend school part-time, the time to graduate could be a lot longer. But what if you take an extra course each semester? What if you attend school in the summer? In those cases, you can reduce the time it takes to graduate.
How to Get Your Bachelor's in Creative Writing Faster
If you're looking for a best online creative writing degree and want to finish it quickly, you'll need to load up on classes.
For example, let's say full time students take 18 credits each fall. Let's also assume there's another 18 credits each spring. Then, there's six credits each summer. You can do a typical four-year online creative writing degree in just three years if you follow this plan.
Taking more classes each semester of your online bachelor program makes your life more stressful. Are you ready for more work?
The possible stress of taking more online courses each semester might be worth it. After all, you'll be done with your writing degree a semester or two ahead of schedule!
Online writing degree programs might include coursework in:
Technical writing
Digital writing
Fiction writing
Professional writing
Poetry
Modern and contemporary literature
Playwriting
Literary history
Literary theory
Business writing
Also, most creative writing programs include critical reading and critical writing courses. You'll likely take nonfiction writing courses as part of your online bachelor studies.
The required courses depend on your program.
For example, let's assume your online degree program is creative writing, emphasizing American literature. Your classes will mostly include topics like literary theory rather than a class like technical writing. These courses help you prepare to join the ranks of professional writers.
Your elective choices are determined by the focus of your program, too.
Elective Courses are Required for Your Degree
When earning a professional writing degree, you'll also take electives. These electives focus on your area of interest.
So, let's say you're getting an online bachelor degree to be a journalist. You might take courses in professional and creative writing.
As another example, let's say you want to be an author. Your elective courses might focus less on technical and professional writing and more on:
world literature
science fiction and fantasy
literature for children
These are just a few examples. Most online writing programs offer many electives to help online students find their passion.
What are General Education Courses for a Writing Program?
You'll take courses in the major area of your online bachelor degree. You'll also need to do general courses. Only then can you finish online creative writing programs.
For example, if you're majoring in professional writing, you'll take courses in math and science. Humanities, physical education, and courses in several other areas are also required. You can expect to take courses in art and communications. Classes in government, history, biology, and algebra are part of the general education requirements for your creative writing degree as well.
How Much Can You Earn With an Online Bachelor's Degree in Creative Writing?
With an online creative writing degree you can get creative writing careers working with other professional writers.
For example, with a bachelor's in creative writing, you could focus on technical writing. You might work within the legal system or IT industry.
Or, if you want to focus on your creativity, you might do professional writing as an editor or publisher. Perhaps professional writing isn't your cup of tea, and you want to be a teacher. That's okay too!
If you want the freedom to write original creative content, you could become a freelance writer. A job as a copywriter or content creator is possible as well. Both options give you leeway in your professional writing pursuits. In other words, with a degree from an online writing program, you can pursue careers in many areas.
Of course, the salary you might earn with a bachelor's degree in creative writing is important. You should pursue a career you like. But, you also need to pay the bills! Below are sample salaries for various professional writing careers you might consider in the creative writing space.
Creative Writing Salary Comparison
Copywriter
According to PayScale, copywriters earn an average base salary of $53,800 per year. The pay range for copywriters extends from $39,000 to $77,000 per year. With things like bonuses included, the pay for this type of professional writing can be as much as $80,000 per year.
Technical Writer
Technical writers earn a median salary of $61,572 annually, according to PayScale. The income for technical writers ranges from $43,000 per year up to $89,000 per year. With bonuses and such, that number can be as high as $92,000 per year for technical writers.
Editor
If you want a professional writing career as an editor, PayScale estimates a salary of $55,414 per year. The pay range for this job goes from $36,000 to $84,000. Again, the income can be slightly more with bonuses – up to $88,000 per year. That's not a bad salary with a bachelor's in writing!
Content Writer
Content writers make a median salary of $49,276 annually. You can make as much as $75,000 per year. With bonuses and other factors, you can make about $1,000 more each year.
Freelance Writer
If you pursue your own professional writing career as a freelancer, you might earn around $53,349 per year. However, your pay could be more because you can charge a higher rate. Likewise, freelance writers can choose the clients for whom they work. This allows you to prioritize your work for the clients that pay the most.
What Factors Affect Salary?
The numbers listed above are just averages. Many people in these professional writing careers earn less. An equal number earn more.
Your salary depends on the services you provide. Your success also factors into it.
For example, assume you're a technical writer that is good at research. Also assume you have good technical language skills. In that case, your services might be in demand.
Likewise, if you're good at storytelling, a publisher might give you a book deal.
If business writing is your thing, your services in professional writing might be in high demand from companies.
Your Services and Your Success Determine Your Salary
So there are two parts to this. First, is the type of writing you provide in demand? Fiction writing and technical writing, for example, might be more in demand than poetry writing.
Second, are you good at it? If the answer is yes, you might earn more money. But if you've just graduated and are beginning your career, you might not have the writing skills and experience to get a higher wage.
Where you work as a creative writer also impacts the income you earn.
For example, a journalist who works for The New York Times will likely earn more money each year than a journalist for a small-town newspaper. Likewise, a technical writer employed by a national science magazine will probably make more money than technical writers who work for a small website.
Along with this is the geographic location in which you work. Urban areas tend to have higher average incomes for professionals than rural areas. But rural areas tend to be more budget-friendly when it comes to the cost of living.
The tax structure in the state in which you live also influences your bottom line. Some states have very high state income taxes, like California. Other states have no state income tax at all, like Wyoming.
When thinking about the career path you wish to pursue, consider all of these factors. As noted earlier, you should like what you do. That's the first thing to think about. But also think about factors that impact the demand for your services.
What is Required For an Online Bachelor's Degree in Creative Writing?
To earn an online bachelor's degree in creative writing, you'll need to meet several criteria.
First, send official high school transcripts to the college of your choice. You can also complete a GED program. This gets you in to many colleges.
Some schools have other admissions requirements for their bachelor's in creative writing programs.
For example, creative writing programs might require writing samples. Faculty members evaluate these samples. They'll also determine your potential as a writer. This is done before you're admitted to an online bachelor program.
Other admissions requirements for a creative writing degree online might include:
A minimum high school GPA, such as 2.5 on a 4.0 scale
A minimum score on a college entrance exam, such as the ACT or SAT
Letters of recommendation from high school teachers
Academic Requirements for Graduation from a Creative Writing Program
Once enrolled in a creative writing degree program, you must complete general education courses. You must also complete major-area courses and electives.
Most on-campus and online bachelor's programs require 120 credit hours to graduate. Some professional writing degrees might require more credits.
Other than coursework, you'll likely need a creative writing portfolio as a creative writing major.
What is a Creative Writing Portfolio?
The portfolio is graded in the final semester of your senior year in your online bachelor's in creative writing. However, you begin putting documents in the portfolio much sooner.
The purpose of a portfolio is to show your growth as a writer.
The requirements for a creative writing portfolio vary from one creative writing program to the next. You can expect to include at least a dozen or so writing samples.
Depending on your classes, area of interest, and future goals, your portfolio might include only one or two types of writing. Or, it might include various samples as part of your online degree.
When making a portfolio for your online bachelor degree, only include only your best work. The portfolio isn't for everything you write in your undergraduate studies. Instead, it should be a collection of work that showcases who you are as a writer. Only include your very best stuff!
Uses for Your Portfolio After Graduation
Suppose you want to continue your education after an online bachelor's in creative writing. There's a good chance graduate programs will require a portfolio as part of the admissions process. Therefore, your portfolio isn't just a part that's required for graduation. It could also help you get into the graduate program of your choice.
What if you decide not to continue your education? Your portfolio can help you get jobs. Just like graduate admissions committees want to see what you're made of as a writer, people hiring writers want to examine your work.
Personal Attributes Required for Online Studies
Online bachelor's degree programs offer flexibility for fast-paced or extended course tracks. These tracks are ideal for working professionals or part-time students. This makes it a great choice for doing your studies quickly. You'll also graduate in a shorter time.
But online coursework is not for everyone. Consider whether you have what it takes to be successful in remote learning.
To increase your success as an online bachelor's in creative writing student, it's helpful if you:
Are very highly motivated
Have excellent critical thinking skills
Can stick to deadlines
Can work well with little to no supervision
Have excellent time management skills
Have good technical skills
Have a comfortable studying environment
Have excellent professional and technical writing skills
Have a great command of the English language
Your online studying environment also impacts your success.
For example, assume your college has a really good online classroom environment. You have access to live courses and archived videos. There's also audio files and live student support. In that case, it might be easier to complete your studies than if you're in an online learning environment that lacks the same level of richness.
Much more goes into being a successful student, so the list above is just a few personal qualities that help you be a more effective remote learner. The point is that many different factors (not the least of which are your writing skills) enable you to be a good online creative writing student.
Are Online Creative Writing Degrees as Good as On-Campus Degrees?
Yes. Online degrees are valued and accepted bachelor of arts degrees. If you want to be a professional writer, a degree like this is a great place to start.
Most schools make no distinction whether you studied in-person or online. The diploma looks the same. As such, online programs are popular for creative writing students.
Benefits of Studying in the Best Online Creative Writing Programs
The benefit of studying for a bachelor of arts online is the flexibility. Many online courses don't have a set meeting time. You don't have to worry about logging on and "getting to class" by 9:00 am. You can do your work when it's easiest for you. Online degrees are better than degrees earned on campus from a flexibility standpoint.
Another benefit of studying for a bachelor of arts online is that courses are taught by the same professors as on-campus classes.
For example, if you take a technical writing class, you'll have the same textbooks as on-campus students. You'll have the same reading and writing assignments as well. You'll likely have the same syllabus as students studying in person. So, online creative writing degrees are equal to on-campus bachelor of arts degrees.
There aren't Many Downsides of Studying Online for Creative Writing Majors
Studying a bachelor of arts online means you might miss some of the benefits of in-person learning.
For example, it might be easier to complete a group writing project when you're all in the same room together. "Meeting" together on Zoom or another platform can be difficult. This doesn't mean that group projects are impossible to do online. They just look different.
Schools go out of their way to develop online learning communities. Schools want to make it easier to work with other students and feel like you're part of a real class.
Students 20 years ago might have done their online studies alone most of the time. As an online student today, you'll interact with professors and other students for a more on-campus feel.
As noted earlier, your success as an online student depends on your personal learning style. Your traits as a learner also matter. If you're an independent learner with great time management skills, your online degree won't be more difficult than a similar on-campus degree.
Keys to Success for Prospective Students in a Creative Writing Bachelor's Degree Online
Online students like you might like many creative writing areas. This includes:
fiction writing
a creative writing concentration
advanced poetry writing
advanced business writing
Being successful in an online bachelor's in writing requires a lot of time. You'll put in lots of effort and dedication.
Communication skills are just one of the critical skills you need to be successful in professional writing degrees. You'll need to study and show your capabilities in:
advanced persuasive writing
science writing
writing online
You might also need to learn public relations, academic writing, and nonfiction writing skills.
Whether you like scientific writing, taking a writing workshop, or working on projects for general education classes, you need good communication skills. Your ability to communicate complex ideas in a clear, effective manner is critical to your success in your online courses. It's important for a successful career that focuses on the written word as well.
What are the Best Online Bachelor's Degrees in Creative Writing?
OSR uses six data points to determine the best creative writing degrees. There are three school-wide criteria and three program-specific.
School-Wide Criteria:
Student satisfaction ratings
Admission rates
Number of programs the school offers online

Program-Specific Criteria:
The median debt of graduates from that program
How many degrees are offered within the program's umbrella department
Percentage of students at the college or university that graduated from that department
How The School and Program Data are Presented
Each school ranking displays these statistics. The sliding bar under each statistic shows how that school compares to other US institutions. "Not reported" means a school did not release that information to the U.S. Department of Education. If you want a detailed description of the OSR process, you can reference our methodology page.
The best online creative writing degrees on the list below are ordered according to score. The highest-scoring programs are first. The programs in our rankings do not each have a perfect score. They are still all excellent options for your undergraduate studies.
Examine each creative writing online degree carefully. Note the individual scores they achieve as well as their overall scores. Check out other resource guides. Take the time to explore the programs in more detail by visiting their websites, too.
Also learn about the programs they offer and if those programs fit your goals. For example, if you want to study professional and technical writing, look for programs that offer courses in that area. The more you research online creative writing degrees, the more likely your school search for the best online writing programs will be successful.
Best Online Colleges for Writing