Thomas Edison, to demonstrate his electric light bulb in 1882, first had to develop a system to provide electricity to power the lights in an area of lower Manhattan.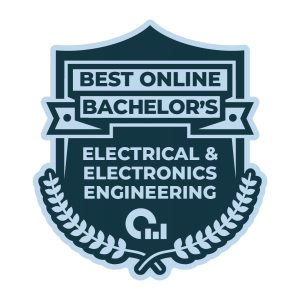 This could be considered the template for the study of electrical engineering. While we take electricity and its benefits for granted, without electrical engineers to design, test, and develop precise electrical systems, our world would be very different.
Interested in getting an electrical engineering degree? Below, we share our school rankings of the best electrical engineering programs which are available online. In addition, check out our outline of what it takes to get your bachelor of science in electrical engineering.
The engineering field is wide-open nowadays for all kinds of prospective students, in large part because an online bachelor of science can be obtained by online students, even at a public university. So even if you think you're not a "typical" engineering student, don't hesitate to apply!
Online Schools Report is an advertising-supported site. Featured or trusted partner programs and all school search, finder, or match results are for schools that compensate us. This compensation does not influence our school rankings, resource guides, or other editorially-independent information published on this site.
What Is An Electrical and Electronics Engineering Degree?
Electrical and Electronics Engineering has broad implications in areas such as telecommunications systems, radar, aviation, automotive, or public utilities. With the development of the integrated circuit in 1959, electrical engineers have developed sub-disciplines which includes control engineering, power electronics and microelectronics engineering, computer engineering, and instrumentation engineering.
Electrical and Electronics Engineering is also being integrated into biomedical engineering in the design of medical equipment such as MRIs, cardiac pacemakers, as well as artificial hearts.
If you enroll in an online electrical engineering program, you'll likely study most or even all of the following subjects:
Power systems
Computer science
Circuit analysis
Digital electronics
Power generation
Electrical engineering technology has changed dramatically over the past few decades as electronic devices have become omnipresent in everyday life. The electric power and systems that make this possible are the responsibility of electrical engineers.
How much can you earn with an Electrical and Electronics Engineering Degree?
Engineering students who earn a Bachelor of Science degree in Electrical and Electronics Engineering can expect, based on data from the United States Bureau of Labor Statistics, to earn a mean salary of $99,070 per year. PayScale, an online employer survey company, suggests entry level salaries in this field between $51,000-$79,000 a year.
Graduates of an electrical engineering degree program will see their salary vary based on the usual factors: where you live, any EEE specialty area you hold, relevant licensure, and your employer. You may find employment in manufacturing, research centers, telecommunications, government agencies or utilities, etc. And of course, going back to school to get your master's degree can only help.
What is required for an Electrical and Electronics Engineering Degree?
Receiving your bachelor's degree in electrical engineering is in many ways, just like any degree program. Typically, you can expect your undergraduate degree to take from 120-125 credit hours, or 4-5 years, before graduation. Some schools may admit students with a two-year Associate Degree and accept transfer credits which will reduce the length of your undergraduate studies. Coursework also depends upon the school – make sure your choice offers the classes you are interested in.
An online electrical engineering degree will also have the same variables as other online programs: Some schools require campus visits, while others are fully online. Some allow part-time students, others require full-time students. You will also want to check whether classes are "asynchronous," or whether they occur live. Many programs also have "capstone" requirements, which entail a final project before degree completion.
Before enrolling in your online bachelor program, ask about financial aid options. Merit scholarships, need-based grants, and low-interest loans can all aid students attempting to acquire their online degree.
The gold standard for accreditation for an Electrical and Electronics Engineer degree is provided by the Accreditation Board for Engineering and Technology. ABET is the non-profit organization which assures the curriculum meets specific quality requirements. Bachelor's programs which are accredited by ABET are likely to be the highest quality.
What are the best Electrical and Electronics Engineering degrees?
OSR uses six data points: three school-wide and three program specific. For school-wide, OSR uses Student Satisfaction, Admission Rates, and the number of programs the school offers online. For program specific, OSR checks the Median Debt of graduates from that program, how many degrees are offered within that program's umbrella department, and what percentage of students at that school graduated from that department.
The six statistics are displayed by each school. The sliding bar under each statistic represents how that school compares to other US institutions. "Not reported" means a school did not release that information to the US Department of Education. A more detailed description of the OSR process can be found on the methodology page.