Earning one of the best online bachelor's in human development can help you enrich the lives of others and push for societal change.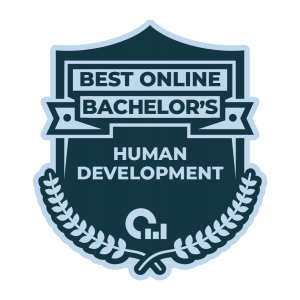 Many people, particularly college-age students, are looking to make their mark on the world and help marginalized communities both in their home countries and beyond. Whether through social work or through one-on-one therapy sessions, these would-be heroes need a great education to help them reach their academic goals and prepare them for the work ahead. Let's dive into these versatile degrees and see what they can offer you.
Online Schools Report is an advertising-supported site. Featured or trusted partner programs and all school search, finder, or match results are for schools that compensate us. This compensation does not influence our school rankings, resource guides, or other editorially-independent information published on this site.
What Is a Bachelor's in Human Development Degree?
A bachelor's degree in human development is arguably the premier degree for social work. It can usually be earned through an interdisciplinary curriculum that focuses on many aspects of human change and behavior. It looks at how individual pressures, the effects of society, and the family unit can inspire a person to make certain choices or affect their growth.
Obtaining this degree enables graduates to work as therapists, social workers, nonprofit managers and organizers, and other humanitarian professionals. It's an incredibly versatile degree, not only because of the classes you'll take but because of the potential career choices available after graduation.
How Much Can You Earn with a Bachelor's in Human Development Degree?
A bachelor's in human development degree doesn't qualify you to become a certified therapist, as you need a master's degree to obtain this position. But you can still earn an excellent salary through several career options.
For instance, many graduates of this degree become social workers, who earn an average salary of about $49,000 per year. Graduates can also become social and service managers, leading change through societal efforts or through nonprofit organizations. These individuals earn about $65,000 per year and will enjoy a 13% job growth rate over the next ten years.
What Is Required for a Bachelor's in Human Development Degree?
A bachelor's degree in human development usually requires an interdisciplinary curriculum that covers a variety of topics and classes, including:
Sociology
Psychology
History
Economics
English
Communications
Most programs for this degree require good high school grades and often prioritize applicants who have some volunteer experience under their belts. Many programs will also require an in-person work experience to qualify for graduation. This is true even for some online programs.
What Are the Best Bachelor's in Human Development Degrees?
OSR uses six data points: three school-wide and three program-specific. For school-wide, OSR uses Student Satisfaction, Admission Rates, and the number of programs the school offers online. For program-specific, OSR checks the Median Debt of graduates from that program, how many degrees are offered within that program's umbrella department, and what percentage of students at that school graduated from that department.
The six statistics are displayed by each school. The sliding bar under each statistic represents how that school compares to other US institutions. "Not reported" means a school did not release that information to the US Department of Education. A more detailed description of the OSR process can be found on the methodology page.
Now let's check out the 20 best online Bachelor's in Human Development degrees!