Become someone who others look to when they are facing an emergency with one of the Best Online Bachelor's in Emergency Management.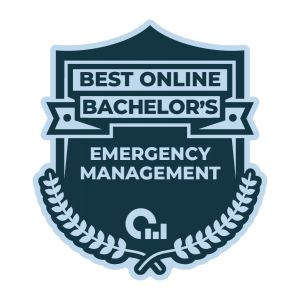 With one of our top-ranked online bachelor's in emergency management degrees, you'll be one of the few people that truly know how to handle emergency situations. There can be no better feeling than helping others and promoting public safety during times of great distress, which is what you'll learn in emergency management coursework. 
What Is an Online Bachelor's in Emergency Management? 
An online bachelor's in emergency management degree program teaches students the different kinds of emergencies that can appear, sometimes out of the blue. The courses in this program will prepare you for making a plan for both the unexpected and the expected emergency situation, natural disasters, as well as teach you how best to direct others in times of crisis. 
Examples of common courses include Introduction to Emergency Management Operations, Introduction to Emergency Planning Disaster Preparation and Planning, and Crisis Communication. Many of the online programs also require students to complete an internship experience.
How Much Can You Earn With an Online Bachelor's in Emergency Management?
Graduates of bachelor's in emergency management programs have a wide selection of possible careers that they can pursue. Many graduates of this kind of program go on to become emergency management directors. Emergency management directors can expect to take home a little over $74,000 per year. 
Some students who pursue this degree are already working in an emergency service field, such as a police officer, EMT, or firefighter. These individuals may decide to 3pursue this degree for a raise or career advancement. 
What Is Required to Attend an Online Bachelor's in Emergency Management Program? 
Each online school may have unique admission requirements, and some programs within schools may also have additional requirements that are important to know. There are a few requirements that most schools will want to see from applicants, such as high school transcripts, GED results, and SAT or ACT scores. Many schools waive the ACT and SAT requirements for students who have attended college in the past. 
Some emergency management programs are degree completion programs, which means they are designed for students who have already earned an associate degree or have taken 60 credit hours of college coursework. 
What Are the Most Affordable Online Colleges?
OSR uses six data points: three school-wide and three program-specific. For school-wide, OSR uses student satisfaction, admission rates, and the number of programs the school offers online. For program-specific, OSR checks the median debt of graduates from that program, how many degrees are offered within that program's umbrella department, and what percentage of students at that school graduated from that department.
The six statistics are displayed by each school. The sliding bar under each statistic represents how that school compares to other US institutions. "Not reported" means a school did not release that information to the US Department of Education. A more detailed description of the OSR process can be found on the methodology page.
Let's take a look at the 15 Most Affordable Online Bachelor's in Emergency Management!