Play an important role in the future of our society by becoming a teacher. Discover the 20 best online bachelor's in education.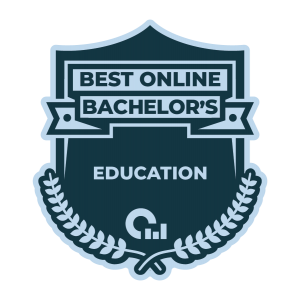 A bachelor's degree in education can lead to more opportunities than one might think. With a variety of concentrations and degree tracks to choose from, an education degree can be used in the classroom setting, as well as at the corporate level.
When a student decides to major in education, they are being taught not only the general studies of certain subjects, but also the best practices and forms of communication on how to teach those subjects to other people.
What is an Online Bachelor's in Education Degree?
A bachelor's degree in education is a four-year undergraduate program that prepares students to teach in educational settings. Students will learn education and learning theories, as well as best practices associated with teaching to create a functional and understanding environment for a variety of students.
Typically, students seeking a degree in education have an area of study they would like to specialize in. There are many education degree options based on subject matter, grade level, or learning environments. If students are unsure which direction in education they would like to go, there are general studies offered, as well as interdisciplinary studies that allows a combination of different fields.
How Much Can You Earn With an Online Bachelor's in Education Degree?
With a bachelor's degree in education, your earnings will vary depending on your position, job provider, and additional certifications/licensures. According to PayScale, the median salary for a professional with a bachelor's in education is $51,000 per year.
Here are several positions and salaries held by education graduates:
Elementary School Teacher: $43,000
High School Teacher: $47,000
Middle School Teacher: $47,000
Special Education Teacher: $48,000
Human Resources Manager: $66,000
Executive Assistant: $55,000
If you want a cheaper degree option, we've ranked the Most Affordable Education Degrees.
What is Required for an Online Bachelor's in Education Degree?
To graduate from a bachelor's program, students typically complete a minimum of 120 credits with a GPA requirement. When choosing a program, students will need to decide their major within the education program. Certain programs will also offer a teaching certification or teaching license within their program curriculum.
Once you begin your undergraduate coursework, your classes will involve topics relating to child development, theories of instruction, and education practices. Depending on the institution, students may have to complete a capstone experience such as an internship or senior exit exam to graduate.
What are the Best Online Bachelor's in Education Degrees?
OSR uses six data points: three school-wide and three program specific. For school-wide, OSR uses Student Satisfaction, Admission Rates, and the number of programs the school offers online. For program-specific, OSR checks the Median Debt of graduates from that program, how many degrees are offered within that program's umbrella department, and what percentage of students at that school graduated from that department.
The six statistics are displayed by each school. The sliding bar under each statistic represents how that school compares to other US institutions. "Not reported" means a school did not release that information to the US Department of Education. A more detailed description of the OSR process can be found on the methodology page.