Graduating with one of the five best online bachelor's degrees in interior design allows you to get your foot in the door in one of the most dynamic and fascinating design fields in the workforce.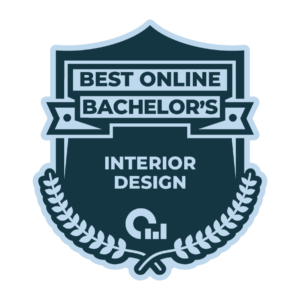 Graduates of interior design programs work in a variety of environments. You can pursue employment in home and commercial business design, remodel supply centers, and architectural firms, to name a few. Regardless of your specific area of employment, as an interior designer, you'll combine technical training in drafting and art with a unique understanding of human behavior. This allows you to create spaces that promote health, safety, and inspiration for everyone. 
Getting an education in interior design is easier and more efficient than ever before. With high-quality online programs available, you can get the training you need to launch your professional interior design career – all without visiting a physical campus.
What is an Online Bachelor's Degree in Interior Design?
Interior design students like you get a solid background in art history and studio art as part of a bachelor's program in interior design. This type of training is necessary to create beautiful spaces for your clients rooted in effective design principles. However, unlike interior decorators, interior designers receive a much more technical education. 
Most interior design courses are in architecture, including basic concepts of building design and frameworks like anthropometrics and ergonomics. Hands-on training includes drafting by hand and 3D modeling with the help of computer-aided design software, or CAD. 
Additionally, interior design programs teach you about building codes and permitting, eco-friendly design, and accessibility. Some programs also include courses in business and programs in communications, which are useful for setting up an independent practice. 
You can be an interior designer without a bachelor's degree. However, the opportunities and education provided by four-year degrees give you a leg up in applying for jobs. Getting a four-year education also provides you with networking opportunities with industry professionals. Furthermore, as a bachelor's in interior design graduate, you'll leave your program with an extensive portfolio before ever applying for a job. A robust portfolio demonstrating your knowledge and understanding of design principles (and your ability to apply those skills) will help you land your ideal interior design job.
See also: Most Affordable Online Bachelor's in Graphic Design
How Much Can You Earn with an Online Bachelor's Degree in Interior Design?
According to the United States Bureau of Labor and Statistics, the median wage for an interior designer is $60,340 per year. This goes up to $63,210 per year with employment in the architecture and engineering fields. This is where a bachelor's degree can come in handy: without training in building codes and permitting, these jobs aren't as attainable. 
Like many careers, interior design jobs ebb and flow in terms of popularity. For example, when the economy contracts, people don't seek the services of interior designers as frequently. However, according to National Public Radio, home improvement projects are on the rise, which is great news for job-seeking interior designers across the country. You might be able to get your foot in the door as a self-employed designer by consulting with DIYers who need a little guidance regarding their projects. Likewise, when new home construction surges, you might find opportunities to work with construction companies to design model homes or spec homes.
The point is that the earnings you can expect as an interior designer heavily depend on various factors, including:
The state of the economy – a strong economy bodes well for interior design jobs and increased pay.
The geographic location in which you work – some locations (like urban areas) tend to have more interior design jobs and higher paying jobs at that.
Your level of education and experience – as a fresh-out-of-college designer with little experience, you won't make as much money as a veteran designer with a graduate degree.
The types of clients with which you work – if you specialize in corporate design, you might have high-paying clients with frequent work.

Conversely, you might make less money if you're a self-employed designer who relies on small jobs from individual clients

.
As with any career, though, your earnings often come down to how hard you work and how good you are at your job. If you get the proper education, training, and experience on which to build your career, the sky is the limit for your earning potential.
What is Required for an Online Bachelor's Degree in Interior Design?
Most interior design online bachelor degree programs require about 120 credits for graduation, which takes four years of full-time study. These credits include specific types of coursework, such as:
General education online courses, like history, math, and science.
Required major-area online courses, like autoCAD, principles of interior design, and introduction to architecture.
Elective major-area online courses, which allow you to focus your studies on specific areas of interest (e.g., a specialization in residential or commercial design)
Other required and elective design classes for an interior design education might include:
Textiles
Sustainable design
Fundamentals of designing interior spaces
Graphic design
Color theory
Space planning
Lighting design
Design practice
Some bachelor's programs (like a Bachelor of Fine arts or BFA) also require an internship, practicum, or portfolio. These courses give you opportunities for hands-on learning by applying what you've learned in a real-world setting. Internship programs are typically the most intense, with longer time periods and greater involvement in projects at the internship site.
Practicum experiences usually occur prior to an internship and serve as an introduction to the world of working as an interior designer. Most practicums last a few weeks and include mostly observational tasks.
The portfolio requirement is your opportunity to collect your best work throughout your degree program for presentation to a committee of faculty members. Additionally, your portfolio demonstrates your skills and abilities to potential clients after you graduate. Then, as you gain experience, you can update your portfolio with paid work.
Admissions requirements for undergraduate interior design programs vary from one school to the next. For example, most schools require you to submit high school transcripts, proof of a GED, and transcripts from any colleges you've attended (e.g., if you've taken credits at a community college or completed an associate degree in interior design). You might also need to submit a portfolio of work, letters of recommendation from previous teachers or employers, and take a college entrance exam, like the ACT or SAT.
See also: Best Online Graphic Design Degrees
What Other Interior Design Programs are Available?
While this ranking is for the best online bachelor's degree in interior design, a four-year program isn't your only option. Instead, you might pursue consider:
An associate's degree, which is a two-year program (or longer, if you study part-time), that usually results in an Associate in Applied Science or AAS. These programs typically require 60 credit hours to graduate.
A master's degree, which is an advanced program of study that might take as little as one year or as many as three years to complete. The most common master's degree in interior design is a Master of Fine Arts or MFA. Master of Arts programs are also common, like this one from the Savannah College of Art and Design (SCAD). Graduate programs like this are anywhere from 30 or so credits up to 45 or more credits.
If you pursue one of the best online interior design certificate programs, you'll find much different requirements. For example, certificate programs might require as few as 15-18 credits, so the timeline for completion is much shorter than a bachelor's degree program. Even longer programs, like this 24-credit certificate from the New York School of Interior Design (NYSID), are relatively short. Since certificate programs are shorter, they also have a much smaller price tag. Generally speaking, the admissions requirements for a certificate program are far less strict. For example, you might not need an ACT or SAT score for admission to a certificate program.
Enrollment in one of these educational programs should be contingent upon it being an accredited program. The gold standard for accreditation in interior design comes from the Council for Interior Design Accreditation (CIDA). With accreditation from CIDA, you're sure that the interior design program of study meets strict standards of excellence and best practices for interior design. Likewise, CIDA-accredited programs often align with the Council for Interior Design Qualifications certification exam (NCIDQ) standards. Upon graduation, you'll have the knowledge and skills necessary to sit for the exam and become a NCIDQ-certified interior designer.
What are the Benefits of Studying Interior Design Online?
Two of the most significant benefits of the best online interior design schools are flexibility and affordability.
From a flexibility perspective, online learning is inherently more adaptable to your daily schedule. For example, many courses are asynchronous, meaning you can study at your own pace, provided you meet established deadlines for completing work throughout the semester. In some cases, you'll find accelerated courses and programs that allow you to get your degree faster. Of course, being able to learn anywhere you can access the internet is a major feature of the flexibility of online learning.
Many online interior design degree programs are also affordable. You'll find that some schools offer discounted tuition for online students. For example, on-campus students often pay in-state or out-of-state tuition. However, as an online student, you might pay a flat rate for your studies whether you live in the same state as your school or not. Since out-of-state tuition can be extremely expensive, a flat tuition rate for online studies can save you significant money.
Another component of affordability is that you can study from home. You don't have to pay for on-campus housing or a food program. There's no money spent on gas for a commute or parking, either. Financial aid programs are available for online interior design qualification programs as well.
There's a time-savings aspect to online studies that's hugely beneficial as well. Without a commute to school, you have more time for daily tasks, work, studying, and spending time with family. And since you can study any time of day or night, an online program in interior design allows you to learn on your schedule when it works best for you.
A final benefit of studying in one of the best online interior design programs is that your degree is the same one earned by on-campus students. You complete the same projects, take the same classes, and learn from the same professors as your on-campus counterparts. You get all the benefits of a quality degree from the comfort of your home.
See also: Best Online Game Design Degrees
What are the Best Interior Design Schools Online?
OSR uses six data points to determine the best online interior design degree programs.
There are three school-wide and three program-specific factors. For school-wide criteria, OSR uses student satisfaction, admission rates, and the number of programs the school offers online. For program-specific criteria, OSR checks the median debt of graduates from that program, how many degrees are within that program's umbrella department, and what percentage of students at that school graduated from that department.
Each of the six statistics appear by each school. The sliding bar under each statistic represents how that school compares to other schools in the United States. "Not reported" means a school did not release that information to the U.S. Department of Education.
A more detailed description of the OSR ranking process can be found on our methodology page.
Below is our ranking of the best online schools for interior design.
Rocky Mountain College of Art and Design

Quick Facts

Tuition: $16,268(in state) / $16,268(out of state)

Application fee currently waived

Online students eligible for several in-house

scholarships

Transfer credits

 accepted with articulation agreement or individual review

Program Level

Popularity at School

54.47%

At the top of our list of the best interior design degree online is Rocky Mountain College of Art and Design's online Bachelor of Fine Arts in Interior Design. This program provides you with flexible, modern skills for the ever-evolving interior design workforce.

Coursework includes:

Industrial, graphic, and environmental design

Architecture

Contract-planning

Interior materials and systems
Lighting design

These topics become more challenging as you progress through the degree program. This helps you steadily develop your skills and acquire advanced tools for your career.

This is a 126-credit program with CIDA accreditation. You can choose to specialize in sustainable design if you wish.

Interior Designers Institute

Quick Facts

Tuition: $17,950(in state) / $17,950(out of state)

CIDA-accredited undergraduate program
Transfer credits are accepted from accredited schools
Finish in as little as 30 months

School Wide

Programs offered online

Not Reported

Program Level

Popularity at School

Not Reported

The online bachelor's degree interior design from the Interior Designer's Institute exemplifies both aesthetics and innovation. It's a detailed program with professionally-produced instructional videos, lectures, and hands-on work. You'll also have the opportunity to participate in group discussions and guidance from industry leaders.

The program requires 180 quarter credits to graduate, which is the equivalent of 120 semester credits. This includes courses on:

Building codes
Perspective
Commercial design
Residential design
Architectural drafting

You'll also complete an internship with a professional designer and compile a portfolio. A minimum of 45 quarter credits (30 semester credits) in general education courses must also be completed.

This program is accredited by CIDA.

Berkeley College-New York

Quick Facts

Tuition: $23,379(in state) / $23,379(out of state)

120 credits required for graduation

Small class sizes promote focused online learning

Graduates are eligible to sit for the NCIDQ exam

School Wide

Student Satisfaction

Not Reported

Programs offered online

11

Program Level

Popularity at School

Not Reported

Berkeley College's online Bachelor of Fine Arts in Interior Design degree prepares you for entry-level employment. You can also use this degree to prepare for advanced studies in an MFA program.

This online degree combines all the basics of design, composition, and drafting technology with carefully chosen, experienced faculty. Berkeley College stands out for its small online class sizes (with a maximum of 15 students), emphasis on real-world problem-solving, and options for you to participate in design research. Likewise, you'll have the opportunity to complete an internship for credit.

Other courses include:

Career management
Computer-aided design
History of Architecture and Interior Design
Materials, Textiles, and Finishes
Sustainable Design

This is a CIDA-accredited program. Upon graduation, you will meet the eligibility requirements to sit for the NCIDQ exam.

That's just a few reasons why it's on our list of the best design degrees online!

New York School of Interior Design

Quick Facts

Tuition: $28,500(in state) / $28,500(out of state)

132 credit-hour program
Full-time or part-time program
Includes residential and contract design courses

School Wide

Programs offered online

Not Reported

The New York School of Interior Design BFA program is a four-year online degree. The curriculum focuses on preparing you for the workforce or advanced studies by emphasizing the following:

Technical proficiency
Effective communication skills
Creativity
Sustainability

Over eight semesters, you'll explore residential and contract design topics. This includes textiles, drafting, and historical styles. You'll also study presentation techniques, contract design, and elements of professional practice.

As a NYSID student, you will complete a thesis before your degree is conferred. A thesis is a detailed research project and presentation in which you combine the knowledge and skills you've learned to explore a crucial problem in interior design.

NYSID's BFA program is CIDA-accredited.

Ohio University-Main Campus

Quick Facts

Tuition: $11,896(in state) / $21,360(out of state)

Program Level

Popularity at School

Not Reported

The final entry on our list of top online interior design schools is from Ohio University.

The online Bachelor of Fine Arts in Interior Architecture from Ohio University prepares you for a dynamic residential and commercial design career. Ohio's program stands out from the rest due to its expansive array of course options, spanning art, business, communications, and more, including:

Interior architecture
Design issues
Construction documents
Aesthetics
Structure and space

The Ohio program also includes an internship requirement that gives you competitive work experience before you graduate. With multiple start times throughout the year and easy access to a rich online learning environment, including some self-paced components, you can fit a quality education into your busy life.

This program is accredited by CIDA.