Have a knack for finding the best talent? Are you a people person and a team player? Here are the Best Online Master's in Human Resources!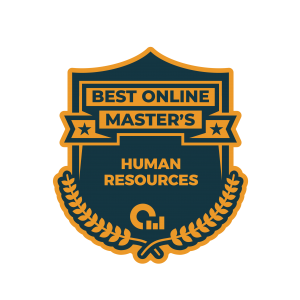 If you have excellent communication skills and you enjoy getting to know people on a personal level, a career in human resources may be a great fit. You'll need to be able to keep calm in stressful situations and know how to mitigate employee issues fairly and with ease. The best part about working as an HR professional is the flexibility it allows you; you can work in just about any industry! If the company is large enough to have employees, then surely an HR manager will be necessary.
What is a Human Resources Master's degree?
Whether you hope to work for a small start-up, a large corporation, or somewhere in between, a human resources degree will be a great asset. In fact, no matter what industry you work in or what size the company is, the fundamentals of human resources are the same. Human resources managers are involved in planning, directing, and coordinating all the administrative functions of an organization, including interviewing and hiring new staff members.
From organizational behavior and ethics to legal issues, employee compensation, and more – a human resources degree will give you the skills you need to be every employee's go-to person, no matter where you work. If helping people through all aspects of life, not just professional, is your calling, consider a master's degree in Human Services.
How much can you earn with a Human Resources Master's degree?
According to the Bureau of Labor Statistics, Human Resource Managers can earn upwards of $110,000 per year. In fact, jobs for HR managers are expected to increase nine percent from now until 2026 as more and more new companies and organizations continue to pop up. Of course, your salary will be contingent upon the company you work for, the city you work in, and the years of experience you have under your belt.
Of course, being the CEO of the company is the surest route to financial success. If business is your calling and money is your love language, consider the best online Master's in Business Administration.
What is required for a Human Resources Master's degree?
Many of the below programs require applicants to have either a bachelor's degree, several years of professional experience, or both. In fact, some of the more competitive programs require at least eight years or more of industry experience.
Most GPA prerequisites for the below programs range from 2.5 to 3.0. Additionally, some of the programs require students to complete a capstone or final project equivalent in order to receive their degree. Many online master's degrees on this list can be completed in just two years or less.
What are the best Human Resources Master's degree?
OSR uses six data points: three school-wide and three program specific. For school-wide, OSR uses Student Satisfaction, Admission Rates, and the number of programs the school offers online. For program specific, OSR checks the Median Debt of graduates from that program, how many degrees are offered within that program's umbrella department, and what percentage of students at that school graduated from that department.
The six statistics are displayed by each school. The sliding bar under each statistic represents how that school compares to other US institutions. "Not reported" means a school did not release that information to the US Department of Education. A more detailed description of the OSR process can be found on the methodology page.