The sharpest journalists and most inquisitive reporters all have a master's in journalism degree.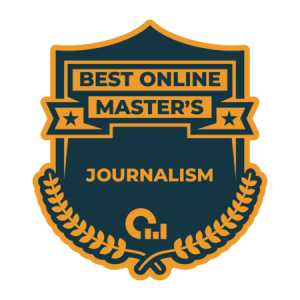 Featured Programs
These days, aspiring journalists and future masters of the written word can attain these degrees from the comfort of their own home with online options.
Online master's in journalism degrees are particularly attractive because they're largely (or entirely) asynchronous. They can be pursued while you still work a job or balance your family life, without forcing you to give up your goals. Let's investigate a master's degree in journalism more thoroughly to see if it'll work for your dreams.
What Is a Master's in Journalism Degree?
A master's degree in journalism, like it's bachelor-level predecessor, prepares students to communicate and investigate stories in the real world. News is everywhere these days, both on television, paper, and across social media. Those with master's degrees in journalism will be well-equipped to report and investigate interesting stories no matter the format or field.
Additionally, master's degrees in journalism prepare their students to obtain managerial positions. Those who want to head TV networks or newspapers as editors will need one of these degrees. Several programs include leadership or business-related courses, particularly in relation to large-scale public communication and news demand.
How Much Can You Earn With a Master's in Journalism Degree?
A master's degree in journalism more than adequately prepares you to take a position as a reporter, correspondent, or broadcast news analyst. These professions make an average salary of $43,000 per year. However, particularly skilled or popular journalists can easily make wages into the six-figure range.
Even better, managers of these positions usually make around $70-$80,000 each year. You'll need a master's degree in journalism to head a newspaper or TV network.
Regardless of the exact position, journalists and similar professions will need to fight vigorously over available positions. The BLS projects that the number of journalists will decline by about 10% over the next ten years. 
What Is Required for a Master's in Journalism Degree?
A Master's in Journalism degree program will likely incorporate more advanced versions of the courses found in their bachelor's degree counterparts. Students will study different varieties of media and techniques with which to transmit news most efficiently and entertainingly. Many degrees also incorporate technology courses, so future journalists are well-equipped for the changing journalism environment.
Most online degrees for journalism are totally asynchronous. However, some programs may require students to complete writing assignments or investigative pieces as proof of their journalism chops.
These programs typically require some experience in either communications or journalism, and requisite grades from prior schooling.
What Are the Best Master's in Journalism Degrees
?
OSR uses six data points: three school-wide and three program-specific. For school-wide, OSR uses Student Satisfaction, Admission Rates, and the number of programs the school offers online. For program-specific, OSR checks the Median Debt of graduates from that program, how many degrees are offered within that program's umbrella department, and what percentage of students at that school graduated from that department.
The six statistics are displayed by each school. The sliding bar under each statistic represents how that school compares to other US institutions. "Not reported" means a school did not release that information to the US Department of Education. A more detailed description of the OSR process can be found on the methodology page.
Now let's check out the 5 best Master's in Journalism degrees!
School doesn't exists, please check the IPEDS.

Emerson College

Quick Facts

Tuition: $30,024(in state) / $30,024(out of state)

13 months long

Hybrid online/offline

40 credit hours

School Wide

Student Satisfaction

74.20%

Programs offered online

Not Reported

Program Level

Popularity at School

32.62%

Emerson College emphasizes the core values of the journalist profession to train investigators who are crucial for the operation of democracy. Its program requires students to produce stories in text, audio, and video formats. Students collaborate with peers and gain hands-on experience with industry-standard tools.

Mississippi College

Quick Facts

Tuition: $10,584(in state) / $10,584(out of state)

Several start dates available

34 credit hours

Many opportunities for practical work experience

School Wide

Student Satisfaction

77.40%

Program Level

Popularity at School

3.97%

Mississippi College provides an extremely versatile degree that can be tailored toward students' specific interests, like mass media or interpersonal and public communication. Many of the concentrations are similar, so students can switch in the middle of their curriculum if they desire. However, each path includes a rigorous core course selection so that graduates are prepared for any job in the media field.

University of Memphis

Quick Facts

Tuition: $9,054(in state) / $17,838(out of state)

Four emphases available

33 credit hours

Multiple start dates

School Wide

Student Satisfaction

76.40%

Programs offered online

18

Program Level

Popularity at School

4.38%

The University of Memphis' degree is in both journalism and strategic media. As such, it teaches students to understand how and why certain media stories and types work better than others. At the end of the program, students have the option to complete either a professional capstone project, a practicum class, or a thesis, which is a rarity among master's programs of any discipline.

University of South Florida-St Petersburg

Quick Facts

Tuition: $8,350(in state) / $18,538(out of state)

Graduate certificates available

Also available as a hybrid

Can be completed in one year

School Wide

Student Satisfaction

73.60%

Program Level

Popularity at School

3.45%

The University of South Florida at St. Petersburg's program emphasizes both journalism and digital communication. It's an incredibly modern and innovative degree choice, with classes that highlight the growing role of technology in communication. It also provides courses in law and ethics, preparing students to lead journalism departments as managers.