Learn to understand humans in a wide variety of contexts with one of the 5 Best Online Master's in Social Sciences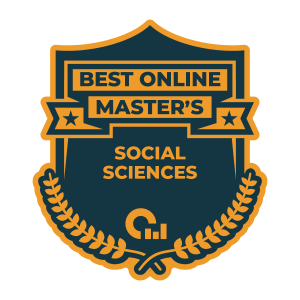 Social science degrees vary widely in content. Some are devoted to family and children studies, while others focus more on the liberal arts, with a mix of history, political science, anthropology, and geography. While these programs may not seem alike, they share one broad category: they focus on humans and human relationships. 
What Is a Master's in Social Sciences Degree?
Social sciences programs stand somewhere between liberal arts and social work programs. The course offerings are diverse, like most liberal arts programs. Additionally, students study the social sciences through the scope of common liberal arts subjects like anthropology and gender studies. 
However, just like most social work programs, a social sciences program stresses engagement with people. While the liberal arts help us to understand humans as individuals and as a society, the social sciences emphasize working with humans and improving their conditions. Thus, a master's in social sciences blends action with understanding. Interesting, right?
How Much Can You Earn with a Master's in Social Sciences Degree?
Unlike engineering or computer science degrees, a master's in social science degree is versatile. Hence, a graduate isn't restricted to a single sector of the job market. Yet, most social science graduates focus on social service, teaching, and public administration jobs. 
Below, we've listed the average salaries for several social sciences-related jobs, as reported by the U.S. Bureau of Labor Statistics.
Social Workers earn an average of $49,470 per year

Social and Community Service Managers make an average of $65,320 per year

High School Teachers earn an average of $60,320 per year
What Is Required for a Master's in Social Sciences Degree?
According to the Admissions Departments of Social Sciences programs, most schools expect students to have the following to gain admittance:
An undergraduate degree

A 2.5 GPA or higher

Letters of recommendation from job supervisors, academic professors, or both

GRE scores, but this does vary
Graduate coursework requirements depend on the program. Expect anywhere from ten to 20 classes, which will each require your commitment and many hours of studying. While it's possible to coast through undergraduate school, you should expect your graduate program to be much more challenging. 
What Are the Best Master's in Social Sciences Degrees
?
OSR uses six data points: three school-wide and three program-specific. For school-wide, OSR uses Student Satisfaction, Admission Rates, and the number of programs the school offers online. For program-specific, OSR checks the Median Debt of graduates from that program, how many degrees are offered within that program's umbrella department, and what percentage of students at that school graduated from that department.
The six statistics are displayed by each school. The sliding bar under each statistic represents how that school compares to other US institutions. "Not reported" means a school did not release that information to the US Department of Education. A more detailed description of the OSR process can be found on the methodology page.
Now let's check out the 5 Best Online Master's in Social Sciences!
Bellevue University

Quick Facts

Tuition: $10,170(in state) / $10,170(out of state)

No in-person requirements

36 total credits

No history of human services work necessary

School Wide

Student Satisfaction

72.20%

Programs offered online

51

Program Level

Popularity at School

52.23%

Bellevue University's Master of Science in Child, Youth, and Family Studies focuses on creating excellent and reliable graduates who can care for children and families in need. Course examples include Child and Youth Development, Families Across the Lifespan, and Program Administration and Management. If working directly with children is your calling, this program is for you.

School doesn't exists, please check the IPEDS.

Ohio University-Main Campus

Quick Facts

Tuition: $9,444(in state) / $17,436(out of state)

Eight courses in 18 months

No GRE required

Created for teachers

School Wide

Student Satisfaction

75.20%

Program Level

Popularity at School

11.25%

If you're a teacher who wants to study the social sciences to advance your career, then Ohio University has the program for you. This Master of Social Sciences program also suits public administrators and other professionals who want to learn the theoretical and academic aspects of the field. Sample classes include Public Opinion, Gender and Reality Television, and Contemporary Radical and Critical Theories.

Madonna University

Quick Facts

Tuition: $14,220(in state) / $14,220(out of state)

Applicants must interview with a co-director of the program

One of two similar programs in the country

Coursework includes an internship

School Wide

Student Satisfaction

73.40%

Program Level

Popularity at School

27.33%

Madonna University's fantastic and unique MA in Humane Leadership connects social justice, environmental conservation, and animal protection. Students will gain a graduate certificate in Non-profit Leadership, and they can earn another one in Animal Cruelty Investigation, Animal-Human Bond, Human Services, or Sustainability. Make the world a better place with this excellent humane leadership program.

Morehead State University

Quick Facts

Tuition: $10,422(in state) / $10,422(out of state)

Requires a minimum undergraduate GPA of 2.75

Interview may be required for admission

Students must have a sociology or social sciences background

School Wide

Student Satisfaction

75.20%

Program Level

Popularity at School

12.14%

In Morehead State University's MA in Sociology program, students can choose from four concentrations: General Sociology, Criminology, Chemical Dependency, and Interdisciplinary Social Sciences. This program has been ranked as one of the top ten online sociology programs in the nation. Students who have gained this sociology degree have continued onto successful environmental activist, political, and teaching careers.