Do you want to pursue an online education but don't know where to start? Discover the 50 best online schools below.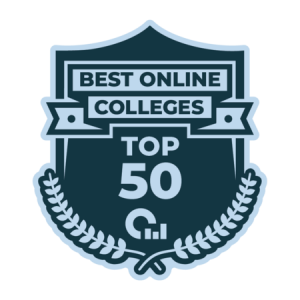 Just because you're a working adult, parent, or a military veteran, doesn't mean that you shouldn't have the opportunity to further your education. There are plenty of online colleges that offer fully virtual degrees, ranging between undergraduate, graduate, and certificate levels.
If you're looking for a flexible learning format with an affordable tuition plan, you're sure to find one of these online schools as the perfect fit to grow your knowledge.
What Is an Online Degree?
An online degree is an academic program that is attended virtually, rather than in the usual classroom setting. You can receive an undergraduate or graduate degree online, as well as take non-degree seeking courses and/or complete certificate programs.
An online degree is best known for its flexibility and affordability for working adults. They can usually be taken anywhere with an internet connection, and offer great flexibility in terms of scheduling and pace. While accelerated degrees are not uncommon, most online bachelor's degrees take up to four years to complete. Whereas, graduate programs can take anywhere from two to four years to complete.
How Much Can You Earn With an Online Degree?
Some employers may state that they prefer a traditional in-person degree. However, as long as your online degree is accredited by the same on-site degree program, the actual completion of your degree program is showcased the same way on your official diploma documents.
The term "online" is referring to the format of your courses, it doesn't change the overall quality or course content in comparison to an on-site program. With that said, you are earning the same credentials as on-site students. Therefore, your future earnings within a specific field should be the same as well.
What Is Required for an Online Degree?
Online degree programs require the same demands as on-site programs. Depending on the degree level you are seeking, your overall requirements may change. However, when applying, you can always expect to provide test results, work experience, and transcripts of early education.
The main difference in requirements for online programs is having full access to the internet. Some programs will require specific software and hardware installations, which may result in additional fees. Typically, online programs factor a technology fee into the overall tuition to cover virtual teaching costs. Although online students are given 24/7 access to their coursework, deadlines and course schedules are still in place and are expected to be followed.
What Are the Best Online Degrees?
Here at Online Schools Report, we use six different data points to assess excellence of a particular online degree program or online school: three of these data points apply broadly to the school in question, while three apply to the specific program under consideration (if the ranking is of a specific degree program like "best online computer science degrees"). For the broad, school-wide data points, OSR uses Student Satisfaction (itself a compilation of many different data points), Admission Rates, and the number of programs the school offers online (to gauge institutional commitment to online education). For program-specific rankings, OSR checks the Median Debt of graduates from that program, how many degrees are offered within that program's umbrella department, and what percentage of students at that school graduated from that department.
The six statistics are displayed by each school. The sliding bar under each statistic represents how that school compares to other US institutions. "Not reported" means a school did not release that information to the US Department of Education. A more detailed description of the OSR process can be found on the methodology page, and you can always learn more about Online Schools Report here.