Managing life can be tough. Factor in an online degree program or a new job, and it can feel like drowning in an ocean of competing priorities. Eighty-five percent of college students admitted to feeling overwhelmed by all of their obligations and required tasks, and 30 percent reported that stress negatively impacted their academic performance. Unfortunately, many also admit to neglecting their social lives or loved ones in pursuit of their online degree.
The good news is that being a student doesn't mean you have to kiss life goodbye. The key is to create balance in the various areas of life. Here are a few tips to help you find a balance between online school, work, and life. If you are not currently working, these tips can still help you excel even further as a student.
Maximize all 24 hours and eliminate waste
Every person has the same 24 hours in a day, but each person may also have a broad range of obligations and priorities. To maximize productivity each day, it's essential first to understand your mission and goals. These will help guide you through identifying what is most important and prioritizing. Once you know your goals, the first step is setting yourself up for success through disciplined time management.
To begin, inventory how you are currently spending your time each day. Think about time management like budgeting. Just as you have a financial income and expenses, you also have a daily "time income" of 24 hours deposited into your "time bank" every day. You then have expenses or activities you spend time on. For example, sleep may be a seven- or eight-hour expense; eating may be a three-hour expense daily, and so on. What else are you spending time on? The below list can help you get you started:
Eat
Sleep
Studying/School Time
Work
Social Media
TV/Podcasts
Hobbies/Exercise
Commuting
Once you have the inventory, look at areas where you are spending more time than necessary. Also, think about how each item you are spending time on contributes to your mission. Consider removing or reducing items that don't align. You may be surprised at how much of your day goes to waste on things that can easily be cut. Avoid negotiating on bare necessities, such as sleep—doing so excessively can negatively impact your productivity.
Similar to financial budgeting where you set a spending goal for categories, it can help to set a goal for the maximum time you'd like to spend on each task. Take this opportunity to add new categories that you may realize, based on your goal, are missing from your current routine. For example, you may want to add 30 minutes of daily morning planning time to set goals for the day and create your priority list.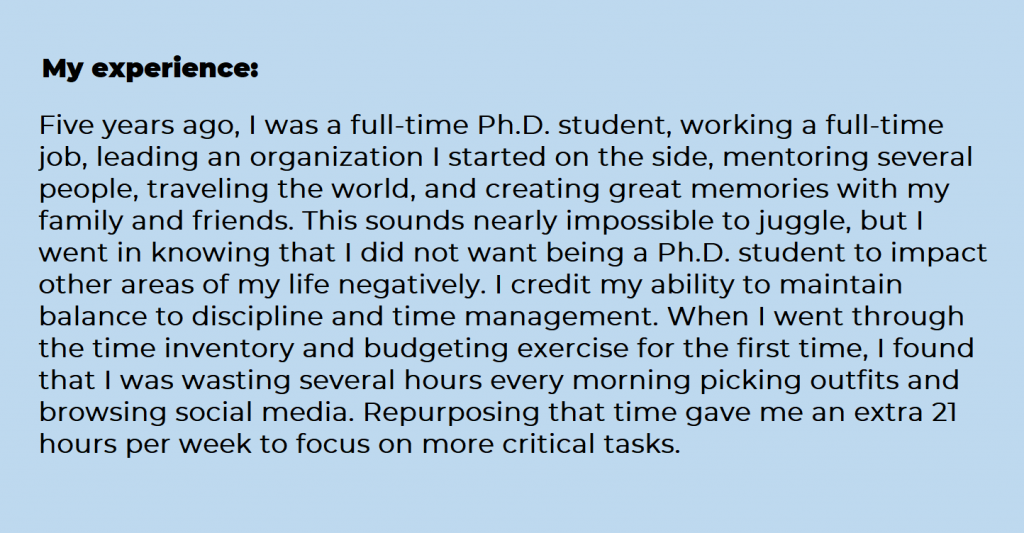 Pro Tip: Creating a time budget is only half of the equation. Be sure to track it and ensure you are not overspending in specific categories. As an online student, make sure you add and track your category for studying and school work closely.
See Also: Best Study Apps for College Students
Manage and prioritize tasks
If you find that even after creating the inventory and removing "waste" you still don't have much time left, all is not lost. This is where prioritizing comes into play. Having a laundry list of to-do items coming at you from different angles with limited time in your bank can be overwhelming. Starting with a task list is good, but prioritizing becomes the key to making it all manageable. Start by writing out a list of your tasks for the day or week. Don't just focus on school—include everything in life you need to do. Need to cook? Exercise? Play with your kids? Study? Write it all down. Once you have your full list, plug the tasks into a prioritization matrix. The matrix is organized into four groups based on the importance of the task and the urgency.
High Importance, High Urgency
These are the tasks that you need to do right away. If you get distracted, you can quickly look at this quadrant and refocus yourself.
High Importance, Low Urgency
These are the tasks that you must do but have a little more time to do. Don't procrastinate, but plan to get this done once the first category of tasks is done. Work on them over time, or plan to knock them out next.
Low Importance, High Urgency
These are tasks that may be optional or not as critical as others. If desired, they should be done soon.
Low Importance, Low Urgency
These are the tasks that don't matter much. You should begin to ask yourself if these are even worth your time. Alternatively, ask yourself if there someone you can delegate the task to. If you chose to do these, they are the lowest priority.
Practical prioritization matrix example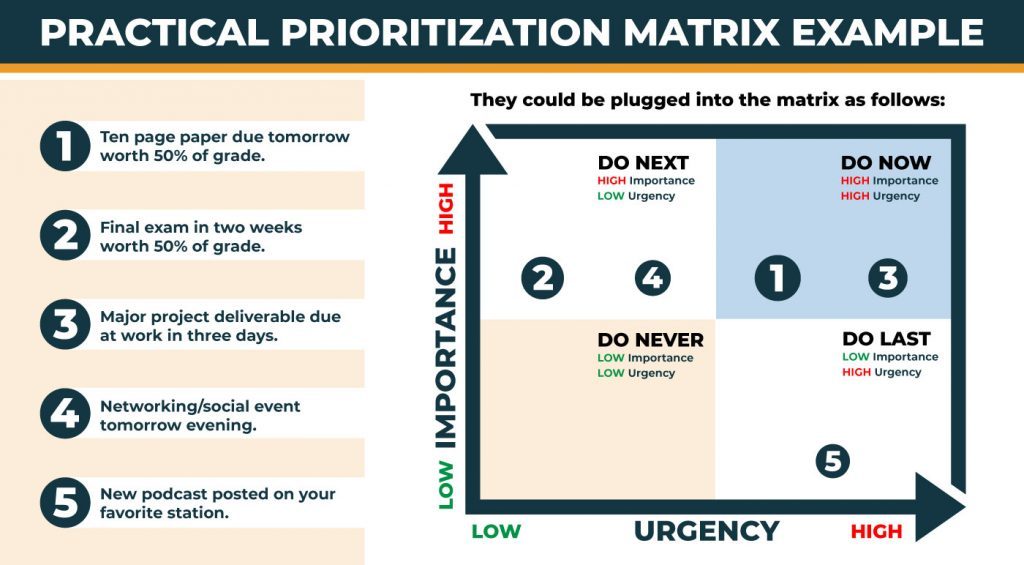 This process can help reduce procrastination and increase productivity immensely. If you want to learn more about procrastination and how to navigate it, check out this Ted Talk on the topic.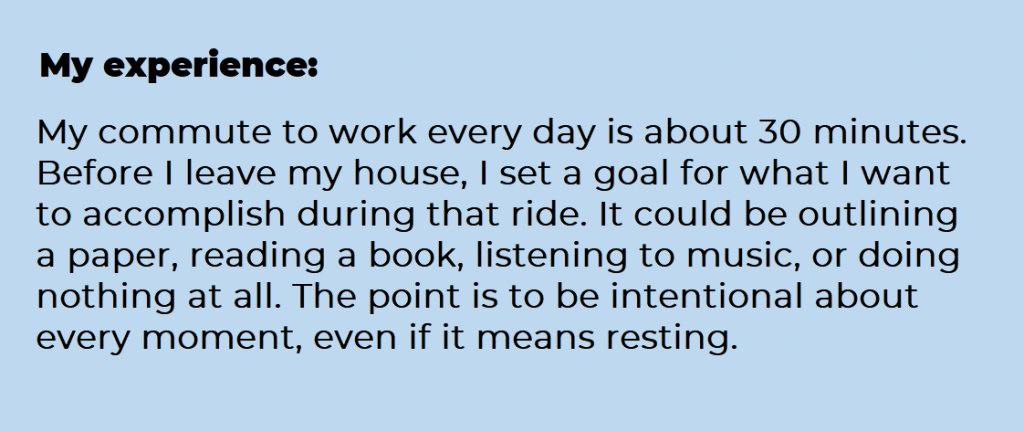 Pro Tip: Make it a daily habit to create a prioritization matrix for your tasks. Draw it out in a planner, on a dry erase wall, or wherever you can access it regularly.
Optimize the use of idle time
Transition and idle times are another opportunity to get things done. In the example where the student has a ten-page paper due tomorrow, every moment counts. You don't have to wait until you are sitting in the library or in your study space to get started on this. Have a long commute to work in the morning? Waiting in line at Starbucks for your daily latte? Instead of browsing social media or daydreaming, think about how you want to structure the paper or project and jot down notes on your phone or in a notebook. These small steps can help put you ahead.
Pro Tip: Set goals for transition and idle times you know are coming. For example, if you have a doctor's appointment and know you'll be in the waiting room for 30 minutes, set a goal for what you can accomplish in that time. Remember that it's not always about school. If you have a family member with you, for example, your goal could be to connect with them on a deeper level. That is a part of creating balance.
Mitigate stress with relaxation and fun
Time management tasks can take a lot of energy and effort. An essential element of the school-life balancing act is to take breaks and manage stress. Don't wait until you are burned out and exhausted to do so. When you are planning your week or day, factor in time for your hobbies, exercise, time with family, or other tasks beyond school or work.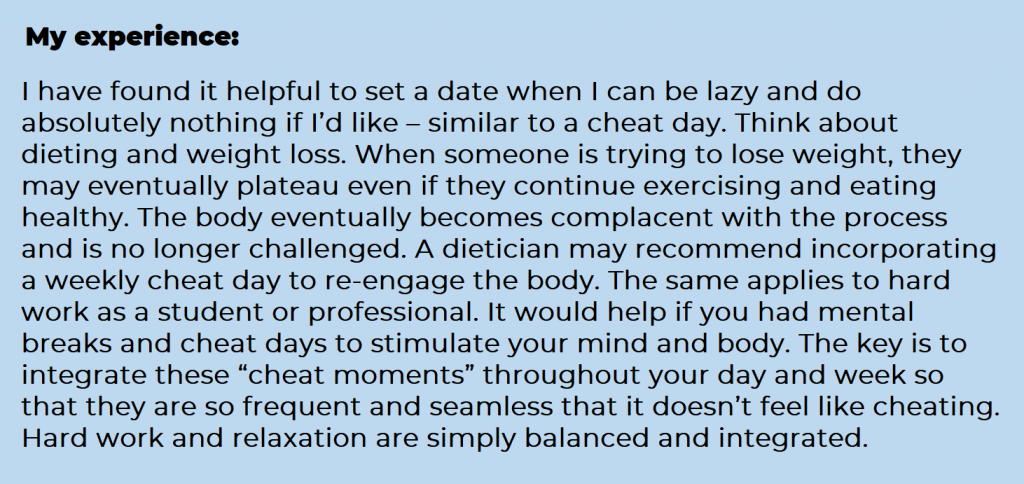 Pro Tip: Include rest time in your daily plans and aim to unwind mentally. Consider meditating for 5 – 30 minutes per day. There are apps like Headspace and Calm that can make this very easy to incorporate throughout the day.
Fail fast and recover quickly
No one is perfect. You'll probably slip up sometimes and miss deadlines or not perform so well on an assignment. Take time to reflect and learn from the situation. What caused you to get off track and how can you avoid this fate in the future?
It's important to remember that it's okay if you need a break. Stress management is critical to avoiding burn out. Be sure to communicate as early as possible with your professors and advisors if there are obstacle prohibiting your success and work with your support system to create an action plan that will get you back on track.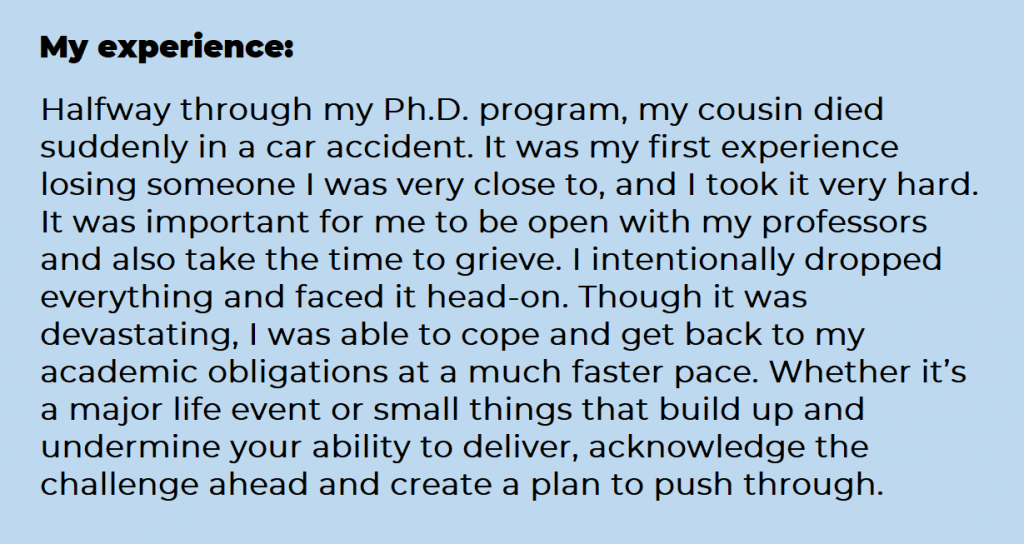 Pro Tip: Build relationships with your professors and advisors early in your program. It helps if they already know you well, understand your commitment, and can see that the slip up is an exception you will recover from and not a habit.
Conclusion
You can have it all. You can work hard, enjoy time with your family, and be a stellar student. Acknowledge that this takes strong time management, prioritization, and commitment. Start by creating a time inventory and budgeting plan that you can track. Next, learn to prioritize and re-prioritize regularly. Be sure to leverage idle time intentionally. Sustain performance and balance by managing stress and finding time to relax. Lastly, if you hit a roadblock, remember that all is not lost. You can work with your support system to recover. Follow these tips, and you'll find that balancing life as an online student and current or prospective professional is very attainable.