The COVID-19 pandemic has brought the world to its knees. But now, a series of revolutionary vaccines developed at some of the world's leading pharmaceutical companies are promising relief. Leading these projects are teams of scientists and corporate executives with advanced degrees from some of the world's best colleges and universities. 
Ranging from master's degrees, MBAs, and Juris Doctor degrees to PhDs and MDs, these vaccine heroes deserve recognition for their hard work, education, and other forms of public service. Earn your degree from any one of these great institutions and you, too, could play a part in developing the next generation of groundbreaking vaccines to protect humanity from the pandemics of the future.
Pfizer Vaccine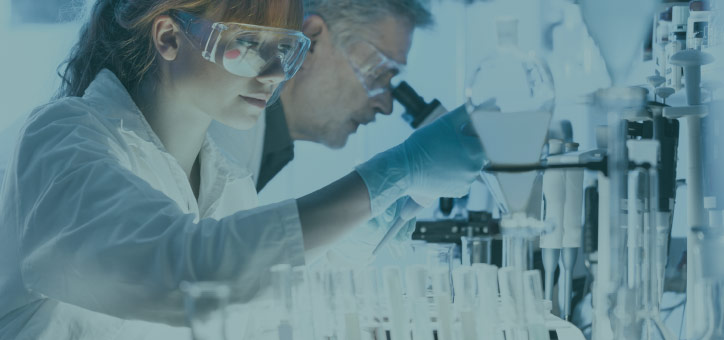 The first mRNA vaccine on the frontlines of COVID-19 comes from Pfizer. This carefully-tested, two-shot vaccine using groundbreaking technology shows astonishing results, proving 95% effective in preventing COVID-19, according to the CDC.  Delivering a crucial bit of genetic code to our cells, the vaccine provides our immune system an important blueprint for how to fight the devastating disease of COVID-19. Here are the vaccine heroes from Pfizer, helping lead the world to a COVID-free future.
Nanette Cocero
Global President, Vaccines, Pfizer Biopharmaceuticals Group

Ph.D. in Pharmacology

University of Pennsylvania
In addition to her work at Pfizer, Cocero leads the International Federation of Pharmaceuticals and Manufacturers Association (IFPMA) Vaccine CEO Steering Committee, striving for better and more affordable access to vaccines for marginalized communities all over the world.
William C. Gruber M.D., FAAP, FIDSA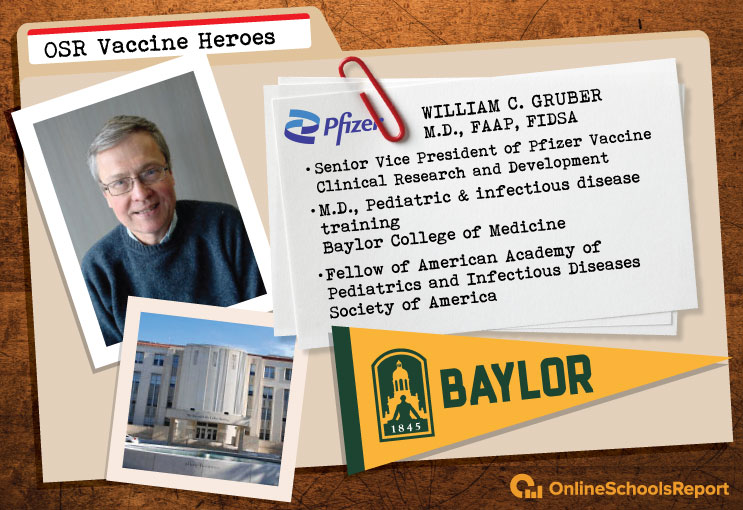 Senior Vice President of Pfizer Vaccine Clinical Research and Development

M.D., Pediatric and infectious disease training

Baylor College of Medicine
Coupled with holding board certification in Pediatrics and Pediatric Infectious Diseases, Dr. Gruber is a Fellow at the American Academy of Pediatrics and Infectious Diseases Society of America, as well as a member of the Society for Pediatric Research and American Society for Microbiology. 
Kathrin U. Jansen, PH.D.
Senior Vice President, Head of Vaccine Research and Development

Doctoral degree in microbiology, biochemistry & genetics

Philipps-Universität
As well as working on the Pfizer COVID-19 vaccine, Dr. Jansen played a leading role in the development of Gardasil, the world's first vaccine treating cervical cancer, a form of cancer ranking among the leading causes of cancer-related death among American women, according to Cancer.org.
Luis Jodar
Chief Medical Officer

Doctoral and post-doctoral training

Universities of Madrid, Osaka, and Nagasaki
Jodar's tireless work on vaccines and vaccination has caught the attention of an actual monarch. Among other honors, he was awarded the "cross of officer of the order of civil merit" from the King of Spain for vaccines and vaccination efforts in underserved areas of the world.
Nicholas Kitchin, M.D.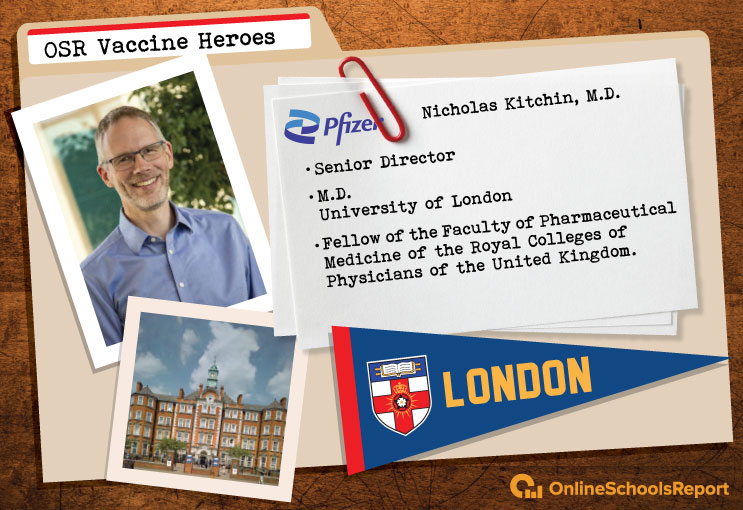 Senior Director

M.D.

University of London
Among other notable distinctions, Dr. Kitchin is a Fellow of the Faculty of Pharmaceutical Medicine of the Royal Colleges of Physicians of the United Kingdom, advocating for the public health benefits of vaccines throughout the planet.
Moderna Vaccine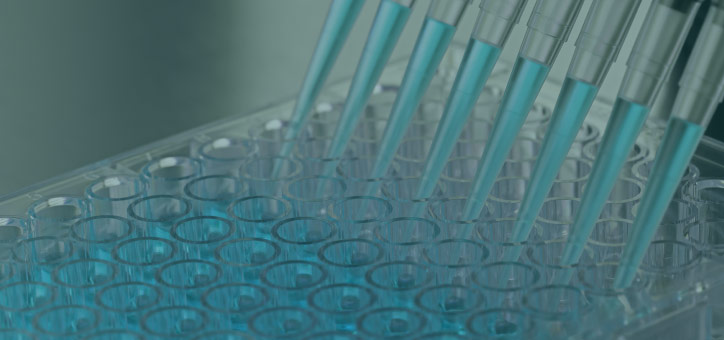 The next life-saving vaccine in the fight against COVID-19 is the two-shot Moderna vaccine, proving 94.1% effective in preventing serious COVID-19-related illnesses and death, according to the CDC. Also based on messenger RNA (mRNA), the Moderna vaccine provides a recipe to the human immune system to build the antibodies necessary to fight the virus and prevent illness and fatality. Here are the people behind this groundbreaking lifesaving vaccine.
Stéphane Bancel
Chief Executive Officer

Master of Engineering, M.S. Chemical Engineering, MBA

École Centrale Paris, University of Minnesota, Harvard Business School
As well as a 9% ownership stake in the American biotechnology company Moderna, Bancel is a trustee of the Museum of Science in Boston, and a Venture Partner at Flagship Pioneering, investing in biotechnology, life sciences, health, and sustainability companies.
Stephen Hoge, M.D.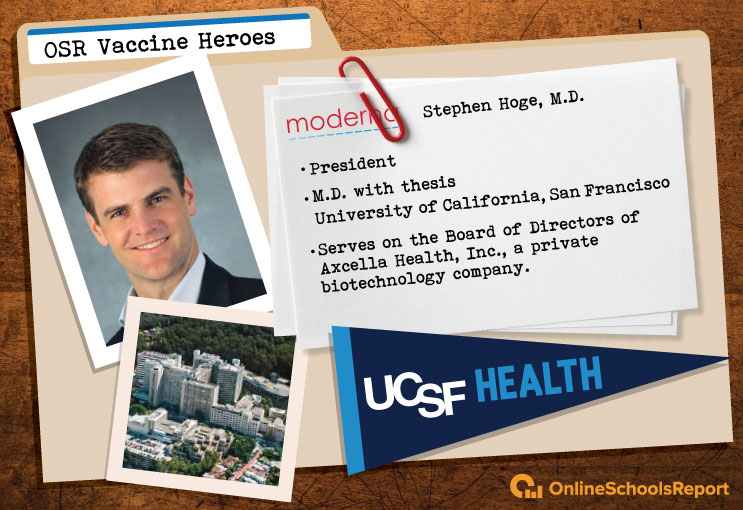 President

M.D. with thesis

University of California, San Francisco
Other notable accomplishments of Dr. Hoge include serving on the Board of Directors of Axcella Health, Inc., a private biotechnology company, and working for a time as a resident physician in New York City.
Juan Andres
Chief Technical Operations and Quality Officer

Master degree in Pharmacy 

Alcalá de Henares University in Madrid 
Andres' accomplishments aren't limited to the world of vaccines and pharmacy work, he also completed an advanced development program at the London Business School.
Marcello Damiani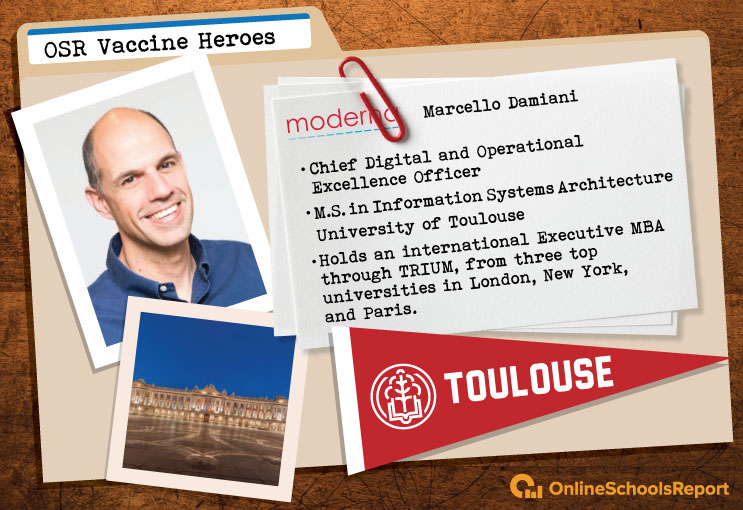 Chief Digital and Operational Excellence Officer

M.S. in Information Systems Architecture

University of Toulouse
In a long list of distinctions and notable accomplishments, Damiani holds an international Executive MBA through TRIUM, offered from three of the world's top universities in London, New York, and Paris.
Tracey Franklin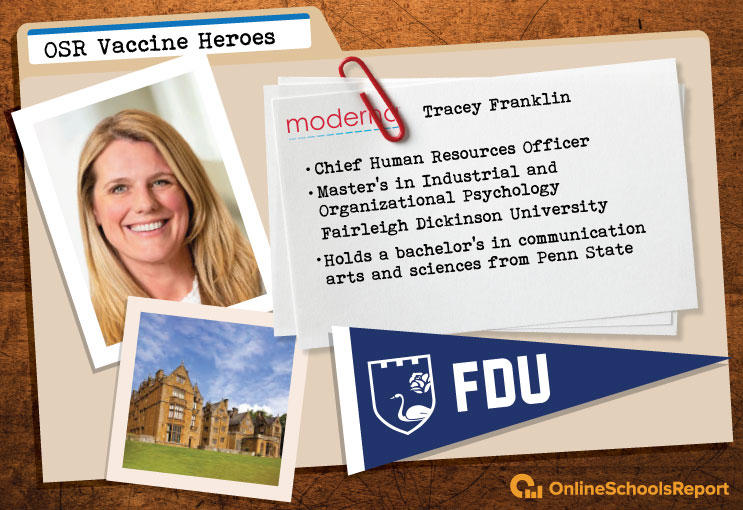 Chief Human Resources Officer

Master's in Industrial and Organizational Psychology

Fairleigh Dickinson University
For Franklin, the journey to Moderna began with a bachelor's in communication arts and sciences from Pennsylvania State University.
Lori Henderson, J.D.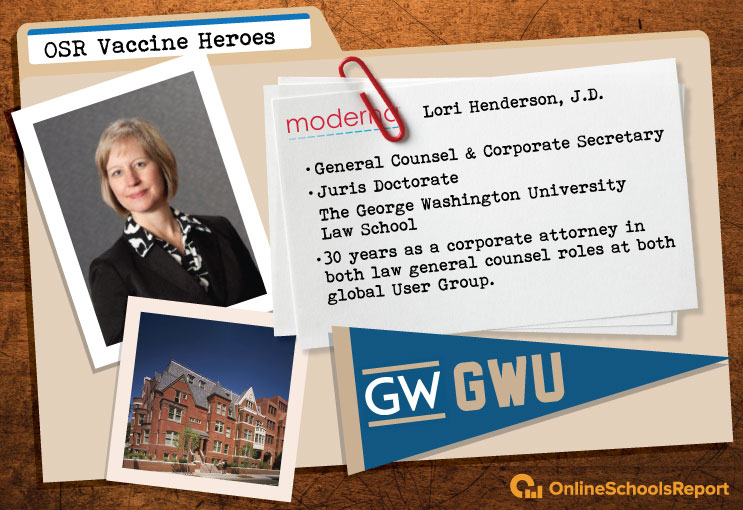 General Counsel and Corporate Secretary

Juris Doctorate

The George Washington University Law School
Prior to her work at Moderna, Henderson spent 30 years as a corporate attorney in both law general counsel roles at both global public and private companies. 
Ray Jordan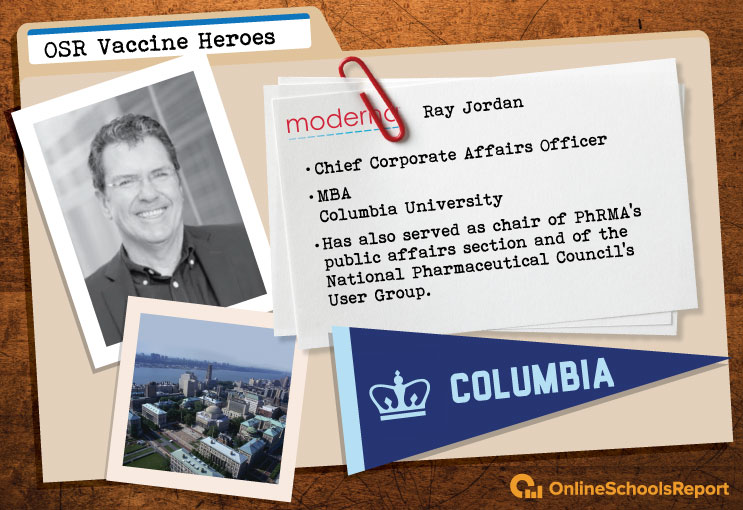 Chief Corporate Affairs Officer

MBA

Columbia University
Ray Jordan has also served as chair of PhRMA's public affairs section and of the National Pharmaceutical Council's User Group, and a Bachelor of Arts with a concentration in psychology and mathematics from Yale University.
Corinne Le Goff, Pharm.D.
Chief Commercial Officer

Doctorate in Pharmacy

Rene Descartes University in Paris
Also notable, Le Groff directs CFAO, a trading company operating in 36 African markets, and in her six years at Amgen, among the world's largest independent biotechnology companies, she played a crucial role in developing and advocating for safe, effective, and affordable healthcare throughout Europe. 
David Meline
Chief Financial Officer

MBA in Finance

University of Chicago
David Meline also holds an M.S in Economics from the London School of Economics. Earlier in his career, Meline served in a variety of leadership roles for General Motors.
Tal Zaks, M.D., Ph.D.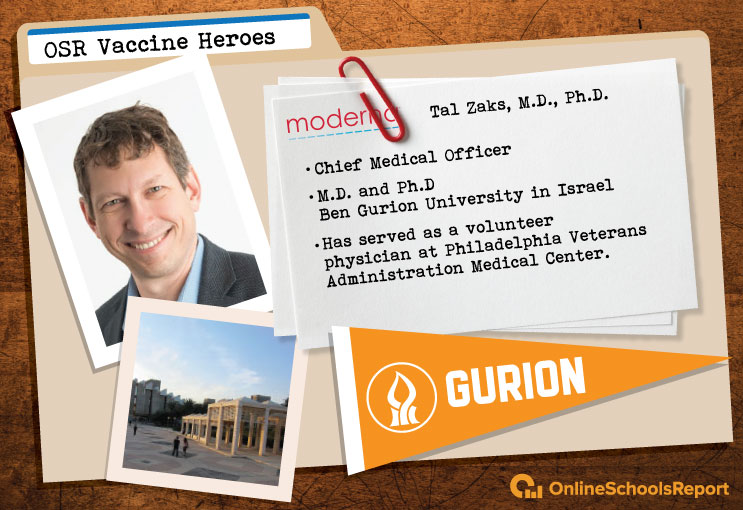 Chief Medical Officer

M.D. and Ph.D

Ben Gurion University in Israel
Dr. Zaks also volunteers his time at the Philadelphia Veterans Administration Medical Center, serves on the Board of Directors of Adaptimmune Therapeutics plc, and is an associate professor of medicine at the University of Pennsylvania.
BioNTech Vaccine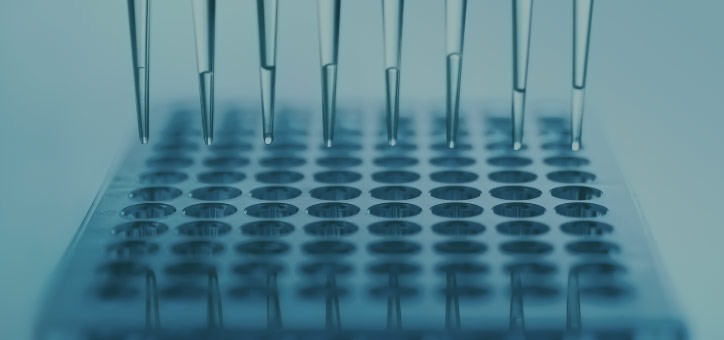 Scientists at BioNTech, a leading biotechnology company based in Germany, played a crucial part in the development of Pfizer's mRNA vaccine, commonly known as the Pfizer-BioNTech vaccine, given emergency use authorization from the FDA for the prevention of coronavirus disease 2019 (COVID-19) caused by severe acute respiratory syndrome coronavirus 2 (SARS-CoV-2). Here are just some of the vaccine heroes from BioNTech.
Ugur Sahin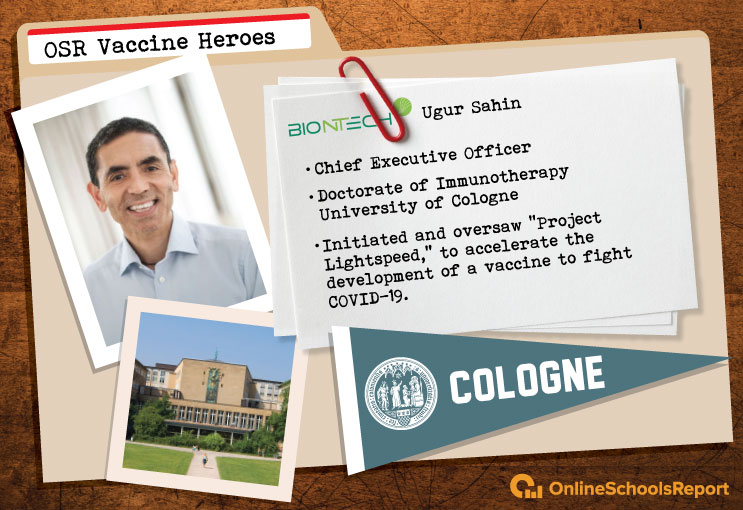 Chief Executive Officer

Doctorate of Immunotherapy

University of Cologne
As well as serving as CEO at BioNTech, Sahin initiated and oversaw "Project Lightspeed," integral to the accelerated development of the COVID-19 vaccine.
Sean Marett
Chief Business and Chief Commercial Officer

MBA

Manchester Business School
Sean Marett not only earned a BSc with honors in Biochemistry from King's College London, he also specializes in complex licensing transactions with large pharmaceutical companies and raising finance from investors.
Sierk Poetting
Chief Financial Officer and Chief Operating Officer

PhD in Physics

Ludwig Maximilians University of Munich
Additionally, Sierk Poetting has an MS in Optical Sciences from the University of Arizona, and has served as Vice President and Chief Financial Officer for the Sandoz Division in North America, a leader in generic and biosimilar medicines helping provide better access to pharmaceuticals all over the world.
Özlem Türeci
Chief Medical Officer

Doctor of Medicine

Saarland University in Homburg
BionNTech Chief Medical Officer Özlem Türeci led the discovery of cancer antigens and is the recent recipient of the German Sustainability Award, among many other honors.
Ryan Richardson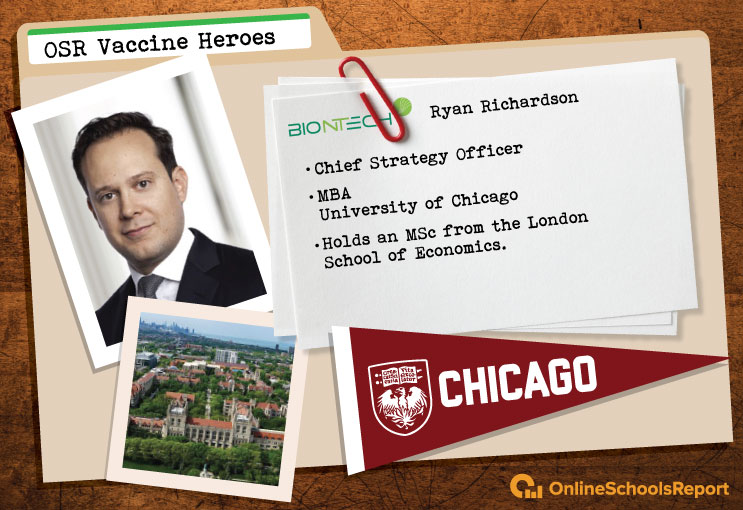 Chief Strategy Officer

MBA

University of Chicago
Moreover, Richardson not only has an MSc from the London School of Economics, he has extensive experience advising companies in the biotech and life sciences industry on mergers and acquisitions, equity, and debt capital financing.