Amazon. Coca-Cola. Walmart. Exxon Mobil. General Motors. Apple and Microsoft. These are large, successful companies with one common thread: they all rely heavily on Supply Chain Management to move goods and services to customers.
Online Schools Report is an advertising-supported site. Featured or trusted partner programs and all school search, finder, or match results are for schools that compensate us. This compensation does not influence our school rankings, resource guides, or other editorially-independent information published on this site.
What Is a Supply Chain Management Degree?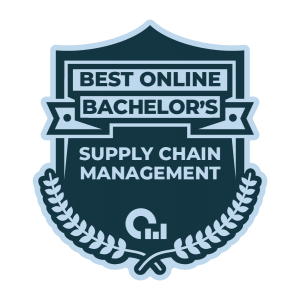 A Supply Chain Management undergraduate degree will have several components, such as logistics, transportation, and analysis. In brief, the degree prepares students to coordinate all the steps necessary to take a product from development/supplier to buyer/consumer. Think of it as the popular "farm to table" concept, but utilizing data analysis and technology for a national or global stage. Supply Chain Management focuses on coordinating the procurement of goods or services, warehousing, and transportation. Proper supply management and delivery of products is key to a company's success and growth potential. A 2014 survey by Deloitte, a professional services company, showed that companies with a well designed and maintained supply chain management system saw a 79 percent revenue growth over the average.
However, it's not just gigantic corporations that benefit from well designed Supply Chain Management. The theories and best practices of the field will yield better returns on cost, delivery and customer satisfaction.
If you want to manage the guy who manage's the supply chain, consider a Business Administration degree.
How Much Can You Earn With a Supply Chain Management Degree?
Bachelor prepared students in this field may earn, according to the Bureau of Labor Statistics, from $66,440-$85,610 annually, depending on the industry in which you work. PayScale surveys indicate a Supply Chain Manager earns an average of $82,426 annually. These estimates don't include other compensation such as retirement or healthcare benefits.
Salaries are dependent on the industry in which you work and your geographic location. Supply Chain Managers may find employment in the federal government, technical services, corporations, or manufacturing, among others.
What Is Required For A Supply Chain Management Degree?
Colleges and universities offer associate, bachelor, or master's degrees in Supply Chain Management (sometimes known as Logistics and Transportation). The degree frequently is a major in a university's Business School or College and is awarded as a Bachelor of Arts or Bachelor of Science diploma. The BA or BS is the preferred degree.
The typical four-year degree will require 120 credit hours which includes general education coursework, electives, and major courses. Several online degrees are offered as degree completion programs and will accept transfer credit hours for students with an Associate Degree or previous coursework from an accredited school.
What Are the Best Supply Chain Management Degrees?
OSR uses six data points: three school-wide and three program specific. For school-wide, OSR uses Student Satisfaction, Admission Rates, and the number of programs the school offers online. For program specific, OSR checks the Median Debt of graduates from that program, how many degrees are offered within that program's umbrella department, and what percentage of students at that school graduated from that department.
The six statistics are displayed by each school. The sliding bar under each statistic represents how that school compares to other US institutions. "Not reported" means a school did not release that information to the US Department of Education. A more detailed description of the OSR process can be found on the methodology page.