If you want a solid career and an opportunity to flex your math skills, one of the most affordable online bachelor's in accounting degrees might be worth your time.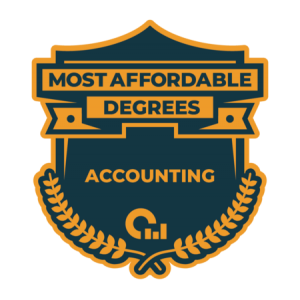 With affordable online programs, you can complete your education and take serious steps to become a certified accountant from home. Let's take a look at what bachelor's in accounting degrees are worth the time and money, and whether they might be right for you.
What Is a Bachelor's in Accounting Degree?
A bachelor's degree in accounting provides you with the skills and qualifications necessary to secure accounting or other financial sector jobs in various corporate and government organizations. In a nutshell, it prepares accountants to handle taxes, audits, and to analyze and understand financial records for the benefit of their employing company.
Accountants are needed in virtually every organization and often benefit from extremely stable positions. Accounting degrees sometimes provide future accountants with the appropriate number of hours to take the CPA, or Certified Public Accountant, exam. However, some programs require students to proceed to a master's degree as well.
How Much Can You Earn With a Bachelor's in Accounting Degree?
Accountants benefit from stable positions and excellent yearly salaries. Those with a bachelor's degree in accounting can expect average salaries of about $70,500 per year according to the Bureau of Labor Statistics. Accountants and auditors at a similar level can also rise to earn as much as over $100,000 per year depending on experience and the exact position.
Additionally, accounting positions are expected to grow 6% over the next ten years. Although computers make math easy for anyone, they don't have the expertise accountants can leverage. This will let them take analytical or advisory positions even as markets shift.
What Is Required for a Bachelor's in Accounting Degree?
A bachelor's degree in accounting requires that students take several classes relating to mathematics, statistics, and the analysis of large data sets. You'll also be given the opportunity to take several electives pertaining to business and financial advising, as modern accountants spend less time doing rote mathematical work due to the prevalence of technology.
Virtually all accountants must take the CPA exam and have a requisite number of accounting education hours before they can become qualified accountants. The number of hours needed to qualify for the CPA exam varies from state to state. Some programs include opportunities to take the CPA exam upon graduation.
What Are the Most Affordable Bachelor's in Accounting Degrees?
OSR uses six data points: three school-wide and three program-specific. For school-wide, OSR uses Student Satisfaction, Admission Rates, and the number of programs the school offers online. For program-specific, OSR checks the Median Debt of graduates from that program, how many degrees are offered within that program's umbrella department, and what percentage of students at that school graduated from that department.
The six statistics are displayed by each school. The sliding bar under each statistic represents how that school compares to other US institutions. "Not reported" means a school did not release that information to the US Department of Education. A more detailed description of the OSR process can be found on the methodology page.
Now let's check out the 20 most affordable online bachelor's in accounting degrees!