Think economics is just about charts, graphs, and dollar signs? Think again. Like the economy itself, the study of economics, which is a social science, is about far more than just money. It is the study of human behavior, with far-reaching applications beyond the world of finance.
Those who study economics will find many doors open for them, from high finance to leading a Fortune 500 company. Economists also help shape and guide public policy, improving the lives of millions.
Featured Programs
In this guide, we'll tell you what you need to know about the field of economics, including possible degrees and career paths. Feel like a career in economics could be right for you? Then you've come to the right place. 
What Is Economics?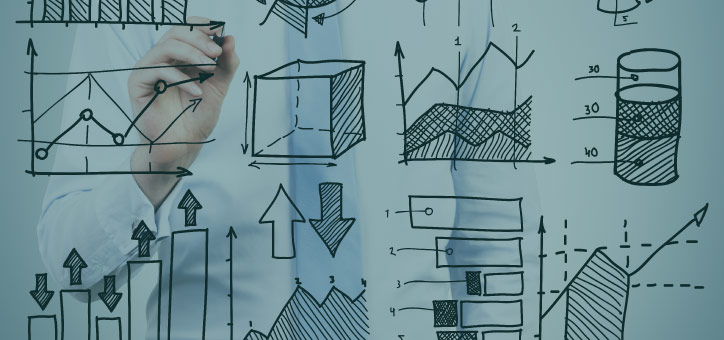 As we stated earlier, economics is a social science; it studies how humans react when times are both good and bad. 
Studying economics involves considering on both a macro and micro level what is, but also what can be, from average households to high-powered financial firms on Wall Street.
Those who hold degrees in economics are well-qualified to work in all sorts of fields and professions, from real estate to politics, law, and even health care. 
But no matter where a graduate lands, they act as something like a soothsayer, predicting the future through a keen understanding of the past, using numbers and patterns in human behavior to lay the groundwork for a better, clearer tomorrow.
Those who study economics are also able to take on various roles, including financial risk analyst and data analyst, as well as a financial planner or accountant, to name just a few. 
After completing a degree in economics, many graduates move on to master's-level coursework and beyond, deepening their understanding of economics while further broadening their career prospects. 
But don't just take our word for it. 
Tom York, president of CastleWise Services, a multi-pronged organization dealing in both realty and insurance, graduated in 2008 with a degree in economics from the University of Florida. 
"The great thing about the degree is that it helps develop the infrastructure to think critically and provides a strong framework for decision making," York says. "The lessons and skills learned have helped me to simultaneously run multiple businesses in different industries."
For a deeper understanding of the field of economics and what the coursework might entail, consider these free courses from coursera.org or MIT. These are, of course, only the beginning of a well-rounded education in economics, but if this introduction to the subject sparks an interest, it's a good sign a degree in economics could be right for you.
Let's now take a closer look at just a few of the career opportunities provided by a degree in economics 
Careers in Economics
Here are the approximate years of education required to qualify for some of the most common careers for economics degree holders, as well as average salary information according to the Bureau of Labor Statistics.
| | | |
| --- | --- | --- |
| Job Title | Approx. # Years of Education | Average Annual Salary |
| Market Research Analyst | 4 | $63,790 |
| Data Analyst | 4 | $85,660 |
| Financial Planner | 4 | $87,850 |
| Accountant | 4 | $71,550 |
| Budget Analyst | 4 | $76,540 |
All salary data is courtesy U.S. Bureau of Labor Statistics Occupational Outlook Handbook.
Market Research Analyst
Finding the right market for a product, or testing market conditions to launch a new service, can make or break a new business. That's where a market research analyst comes in.
Market research analysts help companies understand what people want and what price, as well as how to identify and target the ideal customer for their new enterprise.  A degree in economics is a great place to start for this line of work. 
Market research analysts do what they do by monitoring and forecasting marketing and sales trends. They also test the effectiveness of marketing programs and strategies. 
Additional duties common to market research analysts can include devising and evaluating methods for collecting data. That can include surveys, questionnaires, and opinion polls, among others. 
They also gather data on market conditions, consumers, and competitors, analyzing this data using statistical software. Market research analysts must also be able to convert complex information into understandable tables, graphs, and written reports to present to clients and management, among other interested parties.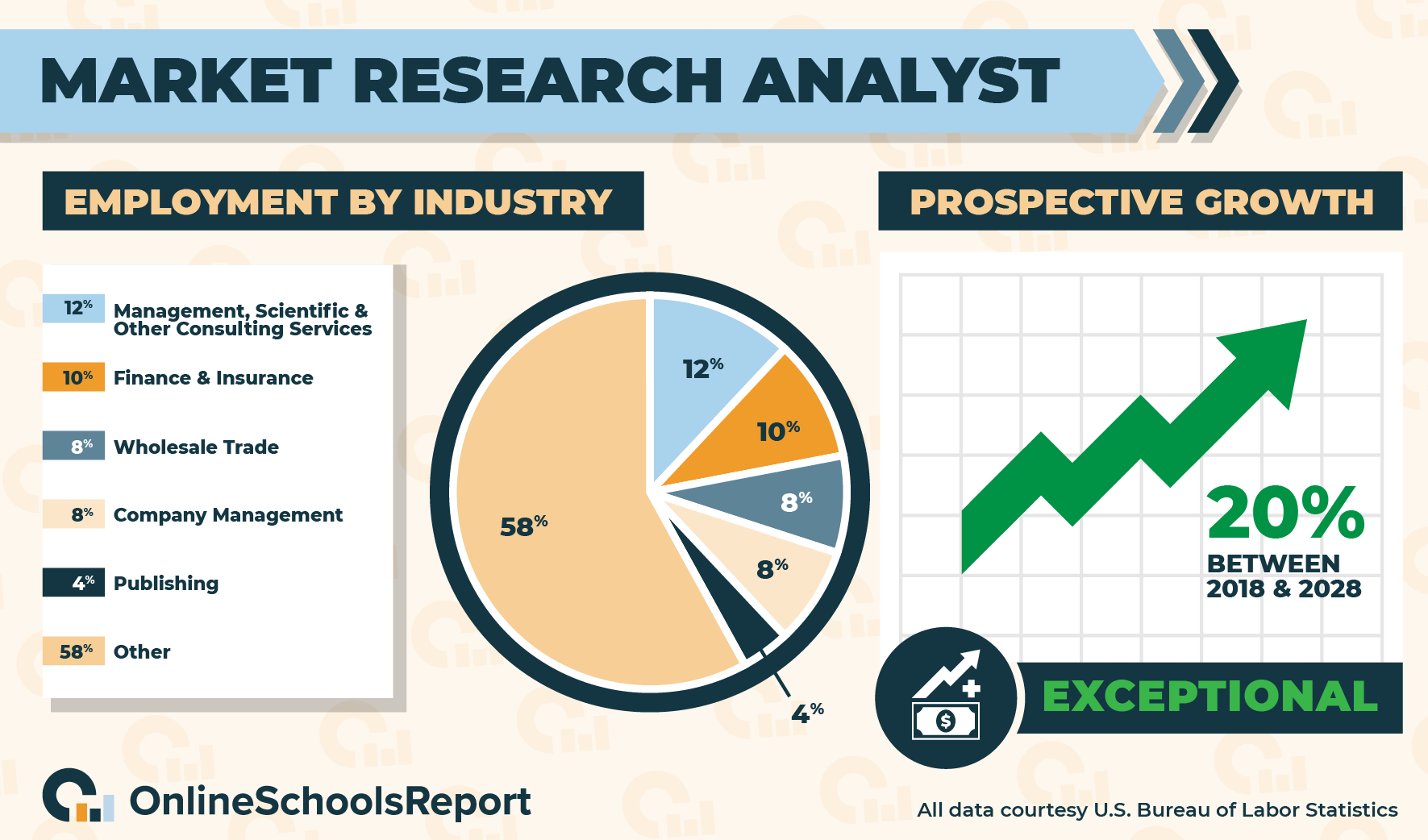 A bachelor's degree is commonly required to find entry-level work as a market research analyst, and according to the Bureau of Labor Statistics, the average annual salary for a market research analyst is $63,790 in the year 2019.
Also citing BLS data, there were roughly 682,000 market research analyst positions in the U.S. as of 2018, and the number is expected to grow at a rate of 20% in the years spanning 2018–2028, which is much faster than average. 
Twelve percent of market research analysts work in management, scientific, and other consulting services, while 10% work in finance and insurance, according to the Bureau of Labor Statistics. An additional 8% work in the wholesale trade, followed by 8% employed in managing companies or other kinds of enterprise. And last, 4% of market research analysts work in publishing, excluding the internet.
States with high levels of employment for market research analysts include California and New York. Well-known trade organizations include the Marketing Research Association (MRA), the American Marketing Association (AMA), and the Council of American Survey Research (CASRO), among many others.
Data Analyst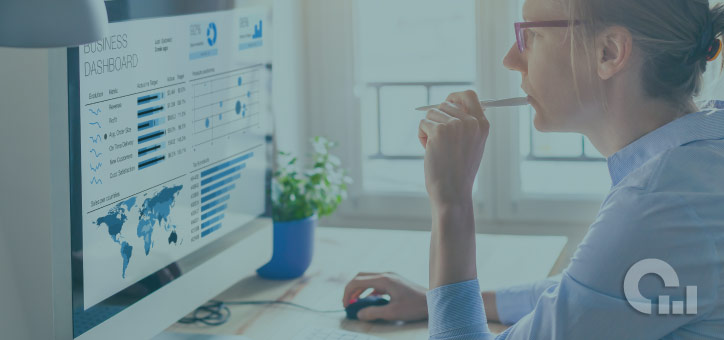 A data analyst, also called a financial data analyst or just financial analyst, spins numbers and figures into narratives closely linked to the success or failure of a business or organization. 
This can help evaluate the current health of a company and help them make plans for a brighter future. Data analysts gather information from a broad range of sources to search for and predict trends and patterns. It takes an analytical mind to be successful in this field.
Beyond collecting and interpreting data, data analyst tasks and responsibilities often include reporting results back to relevant parties within a business or organization.
Data analysts also often work in teams that include managers and other business professionals, playing a part in defining and innovating new and effective data collection and analysis processes and strategies.
Data analysis can often lead to work in fields such as budget analysis, financial management, insurance underwriting, personal finance advisors, and financial services sales agents. 
There are roughly 330,000 data analyst jobs in the United States, according to the Bureau of Labor Statistics, and the median pay is approximately $85,000 a year. A bachelor's degree is most often required for the work. Job outlook in the field is strong, with a 6% growth rate between 2018 to 2028, which is right in-line with many other professions. States with the highest level of employment in this profession include California and New York. 
To be successful in the field, candidates should have experience with data models and reporting packages, the ability to analyze large datasets and write comprehensively on their findings, as well as a strong analytical mind and inclination for problem-solving. 
Like any line of work, it's best to begin networking through internships as soon as possible, or with a trade organization like Informs.org, the largest professional society for analytics and data science professionals in the world.
Financial Planner
Financial planners, or personal financial advisors, work with families, businesses, and individuals to help them reach long and short-term financial goals. 
Using relevant personal information provided by the client, such as income, debt, and savings, financial planners analyze data to present meaningful feedback to clients about their financial situation as it stands, as well as a path toward their financial goals for the future.
Financial planners cover personal financial issues with their clients, such as savings goals and strategies, personal and family budgeting, and managing debt. Financial planners also have intimate knowledge of investment and estate planning strategies, as well as insurance, retirement, and distribution tactics.
Working with a business or other institution, financial planners gather data and provide strategy recommendations on topics ranging from employee benefits, projected revenue, cash flow, debt management, among others. 
As can be seen, financial planners play an important role in future financial success, whether working with a business, a non-profit, or an individual.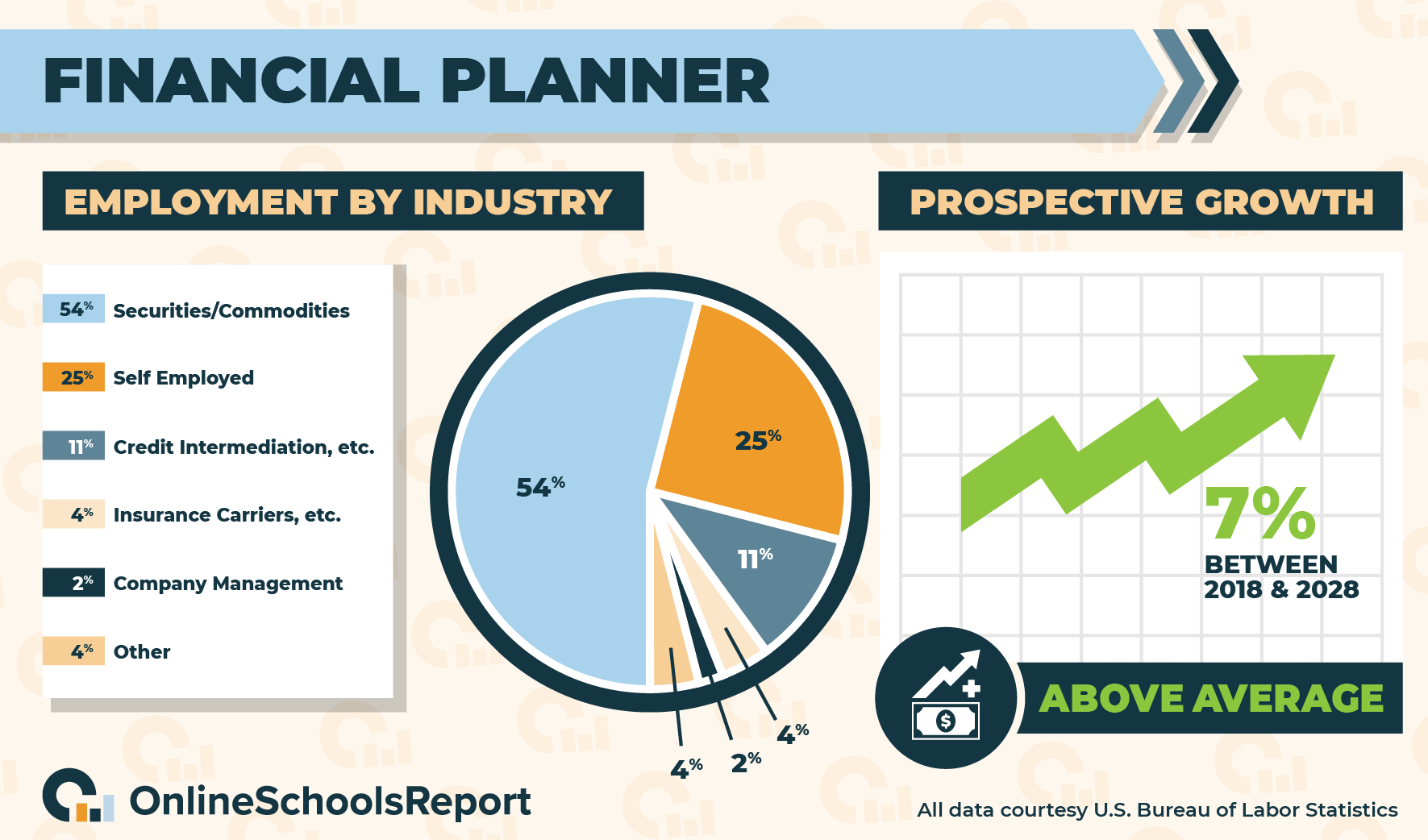 Technically, no formal education is required to work as a financial planner, though a four-year degree in a related subject like economics is highly recommended, as is a graduate-level degree such as an MBA. 
Licensing is required, however, to work as a financial planner through the Financial Industry Regulatory Authority (FINRA) Series 7 or A FINRA Series 66. 
Additional certifications may also help advance the career of a financial planner, such as becoming a Certified Financial Planner (CFP). To earn a CFPR, which is a two-day exam, a bachelor's degree is required.
The average salary of a financial planner is $87,850, with roughly 271,700 available as of 2018, according to the Bureau of Labor Statistics. 7% job growth in the profession is estimated for 2018–2028, which is faster than average. 
States with the highest concentration of jobs in this field are New York and California. Additionally, New York and the District of Columbia offer the best pay. 
Financial planners also work in industries like securities, commodity contracts, and other financial investments, credit intermediation, agencies, brokerages, and insurance-related activities.
Accountant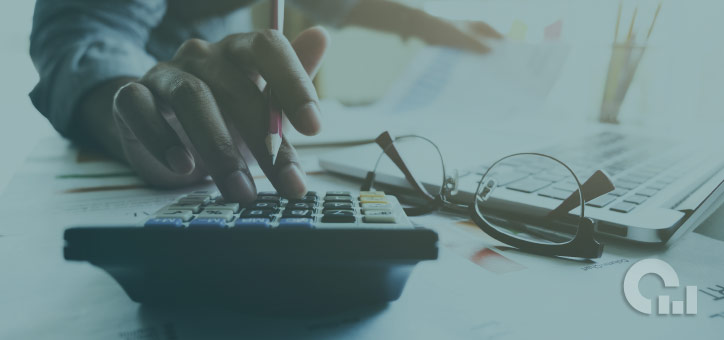 One common line of work for an economics major is that of an accountant. In addition to working with individuals to review tax and financial records, accountants and auditors often support a company's CFO, or chief financial officer, on similar tasks related to the finances of the organization. 
There is also increasing demand for accountants in the non-profit and public sector, while many other accountants work on their own, performing similar tasks for a variety of clients.
No matter where they find employment, accountants and auditors are commonly charged with ensuring all financial records and statements match up with regulations, applicable laws, and generally accepted accounting principles, or GAAP.
If any discrepancies or irregularities should arise in documents, transactions, records, or statements, they must also be resolved by an accountant. 
Often, accounts share insights and reports with a wide range of individuals, many of whom will have limited experience in the world of finance, so interpersonal communication is crucial.
Accountants also verify the accuracy of financial statements, document business financial transactions, prepare and review invoices for customers and vendors, and assist with on-time payment, making recommendations to various departments within an organization. 
They also prepare and file taxes, among a variety of other finance-related tasks.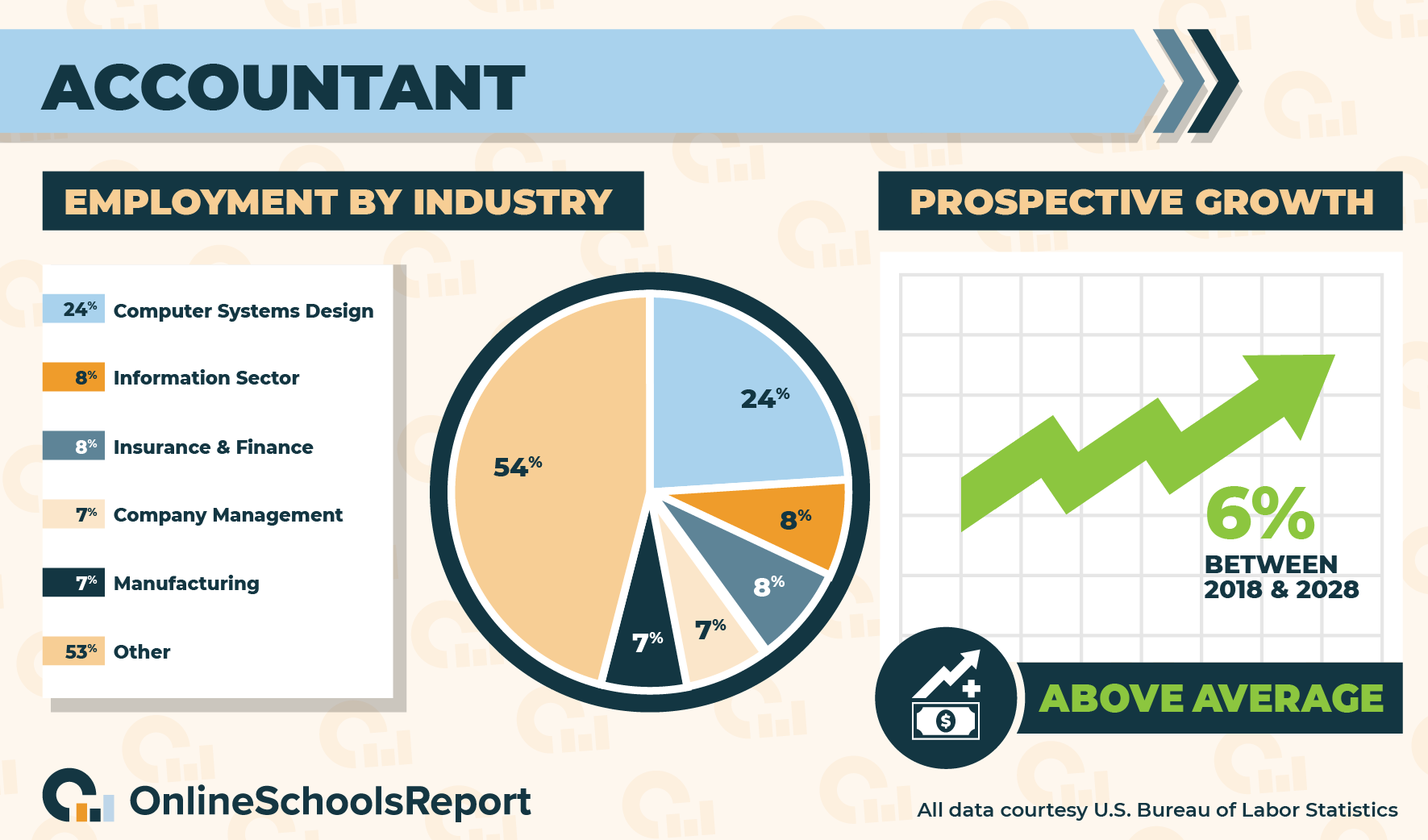 Education requirements to find work in accounting range from associate's through graduate degrees, though many entry-level jobs in the field of accounting require a bachelor's in accounting or related subject, like economics. 
To become a Certified Public Accountant, or (CPA), an accountant must pass a certification exam and meet specific educational requirements.
Additional voluntary certifications that can advance an accounting career include Certified Management Accountant (CMA), Certified Internal Auditor (CIA), and Certified Bookkeeper (CB). There are specific combinations of education and work experience requirements to qualify for each.
The average pay for an account is $71,550, according to the Bureau of Labor Statistics, with roughly 1.4 million jobs in the U.S. as of 2018. Average job growth is expected in the field at 6% in the years ranging 2018–2028. 
States with the highest level of employment in this field are California and Texas, according to the BLS.
Budget Analyst
Every enterprise needs a thorough, comprehensive, and realistic budget. Once that budget is established, it needs to be closely checked and revised, to make sure it is being adhered to, but also that it has remained realistic for the needs of the business or organization.
Preparing budget reports and monitoring institutional spending, budget analysts do just these things for both public and private institutions. They also work with program and project managers to develop an organization's budget, while reviewing managers' budget proposals for compliance with laws and other regulations, as well as completeness and accuracy.
Other duties for a budget analyst can include combining all program and departmental budgets into a consolidated organizational budget. They may also review all funding requests, while explaining their recommendations for funding to managers, among others within an organization, as well as legislators, and sometimes even the public.
Budget analysts also sometimes assist a chief operations officer, agency head, or another top manager when analyzing a proposed plan, helping to find alternatives if the projected results are unsatisfactory. Other duties can include monitoring organizational spending to make sure it is staying within budget, while notifying program managers of available funds and estimating future financial needs.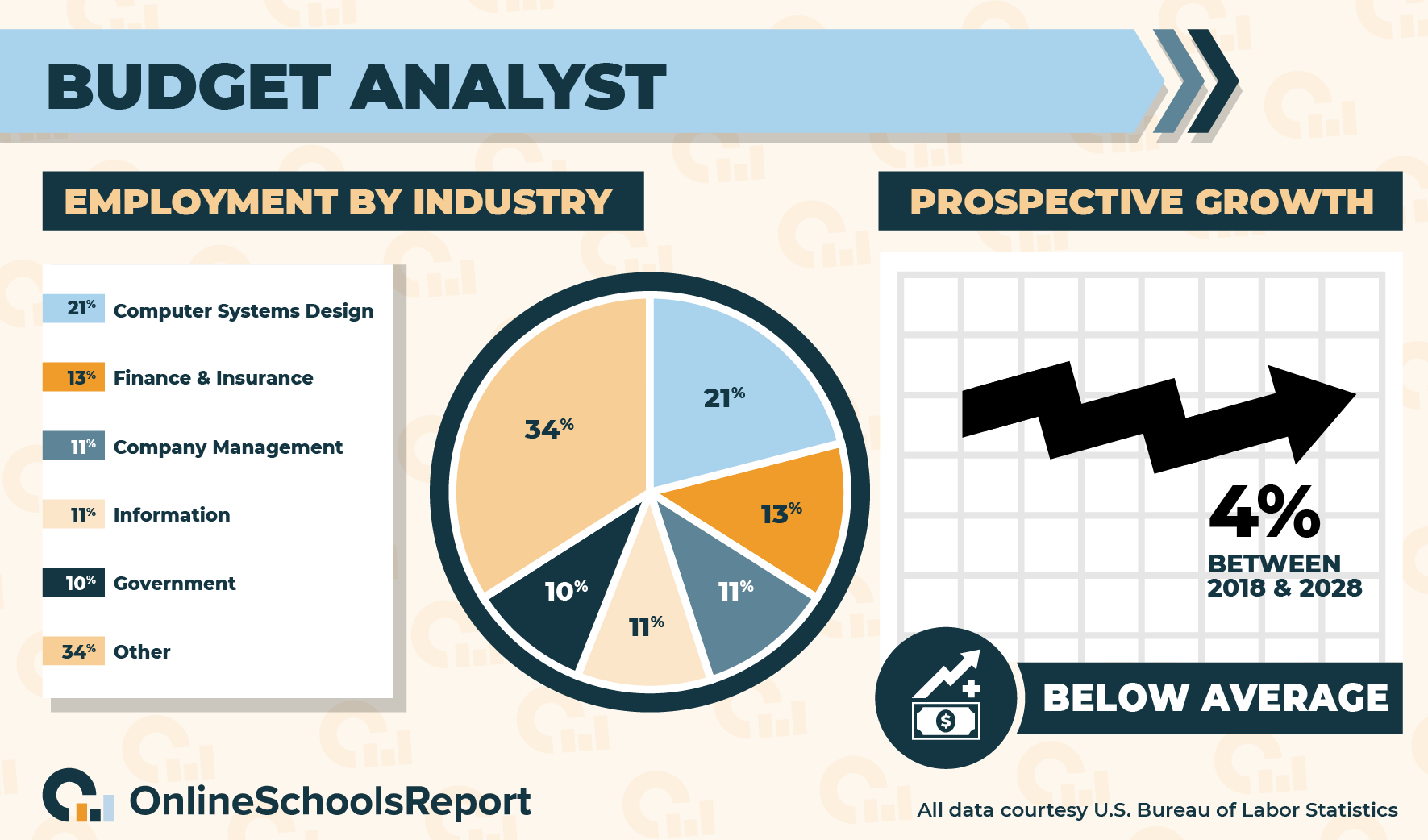 According to the Bureau of Labor Statistics, in 2019 the average annual salary for a budget analyst was $76,540, and in 2018 there were about 57,000 budget analyst positions in the U.S. The BLS estimates budget analyst job growth at 4% in the years spanning 2018 through 2028, which is in-line with many other professions.
The federal government employs 21% of all budget analysts, as reported by the BLS. That's followed by 13% working in state, local, and private educational services. Eleven percent of all budget analysts work in professional, scientific, and technical services. Following that, an additional 11% work in state government, and 10% work in local government.
States with high levels of employment in this profession include California and Texas. Budget analyst trade organizations include the American Association for Budget and Program Analysis (AABPA) and the National Association of State Budget Officers (NASBO), among others.
Economics Degrees
As we've seen, a degree in economics can serve as a launchpad to all sorts of careers in the fields of business, finance, and government. Ready to get started? Here's a closer look at the broad range of degrees available in the fascinating and rewarding subject of economics.
Associate Degree in Economics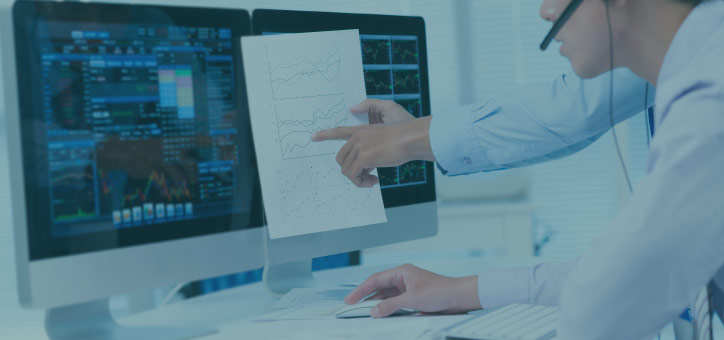 Think associate degree programs are easy? Think again.
Usually provided by community or junior colleges, both online or in-person, an associate degree can be the perfect starting point for many seeking a career in economics, and especially for those seeking to defray the cost of a college education. 
An associate degree in economics lays the groundwork for financial forecasting, as well as the ability to form and communicate plans of action for business cycles.
Associate degrees can sometimes be a better fit for those seeking more practical, hands-on, or vocational skills, though most programs include some theoretical application to prepare students for completing their coursework on a university level. 
But even in these instances, associate degrees do tend to cover subject matter more broadly than a four-year degree, with a mix of book-related and digital course materials.
They also offer an introductory understanding of important industry topics like exchange rates, business expenses, healthcare costs, and payroll. 
Many economics majors start with a two-year associate degree in economics either online or in class, before transferring to a four-year institution to complete a bachelor's. Some graduates do enter the workforce after completing their two-year degree.
Those considering an associate degree should ask themselves if they seek full or part-time enrollments, as well as whether they prefer online or in-person coursework. High school graduates frequently seek an associate degree in economics, as well as those changing careers or simply furthering their education. 
Graduation from an associate program most often requires completion of 60 credits with a 2.0 or higher GPA, though this varies from school to school. Read up on the specific degree and graduation requirements before choosing your associate degree program.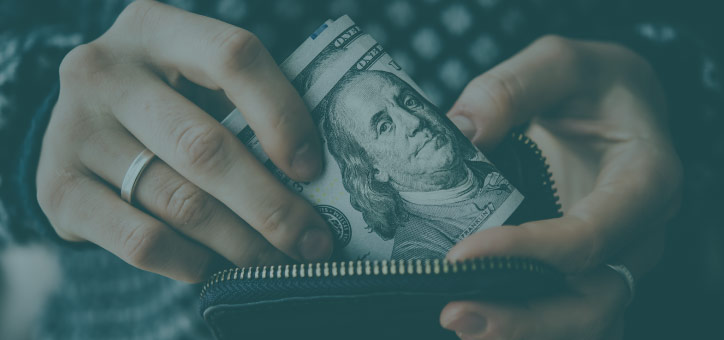 Although an associate degree in economics is a great first step, the vast majority of jobs in the field of economics require a bachelor's degree. 
Students who earn a four-year degree online from an accredited state school, or save money with an affordable online bachelor's in economics program, have many more career options available to them. 
Generally speaking, bachelor's programs in economics are far more focused on the theoretical rather than a more hands-on or vocationally inclined associate degree.
This deeper dive into the subject of economics gives a student a broader, more comprehensive perspective on the subject, better preparing graduates for employment in an economics-related field. In addition, a four-year degree provides a more well-rounded education in subject matter like anthropology, sociology, psychology, and even art.  
Most students in four-year programs in economics are required to take courses in microeconomics, macroeconomics, and econometrics. There's also a strong emphasis on mathematics like statistics or calculus, as well as introductory business courses, including business administration and business communications. There will also commonly be technology-related coursework.
While it may not seem like these subjects are very closely related to economics, they illuminate different aspects of human nature, which, at its heart, is what the study of economics is all about. 
120 credits are required to earn a bachelor's degree in economics, with most programs requiring at least a 2.0 GPA, but many requiring a 2.5 GPA to graduate. 
Some students can earn a bachelor's degree in less than four years, but the vast majority are designed with four years of coursework in mind, with the first two years completed by many at a community college.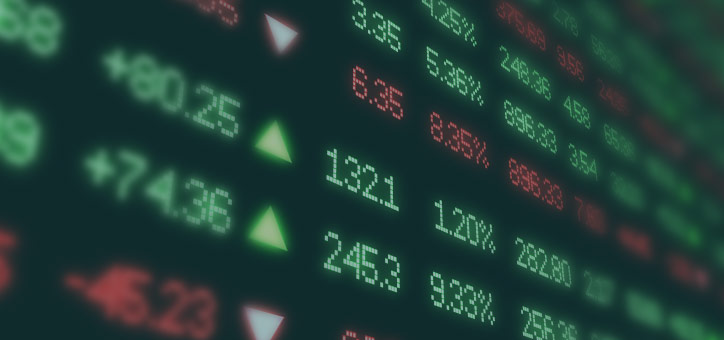 If a bachelor's degree in economics opens up employment opportunities for graduates, then a master's degree in economics offers an even more in-depth education in the subject, proving to employers that — just like it says in the name of the degree — you have mastered the topic.
Like a bachelor's degree, coursework involves both micro and macroeconomics, econometrics, and a heavy emphasis in statistics or calculus. All the coursework in an economics master's program will be even more theoretical, allowing students to form their own ideas and contribute to the field of study through a terminal thesis. 
Master's degree programs also allow students to choose areas of emphasis, drilling down into what interests the student most about economics.
Many master's programs in economics involve only two years of coursework, or roughly 12 to 18 college courses, equaling 60 to 90 quarter-credits.
To qualify for a Master's program, students must have a bachelor's degree. GPA requirements vary between programs, but a minimum for most is a 2.0 GPA, though many require a 3.0 GPA. 
Some programs may also require candidates to take the GRE, or the Graduate Record Examinations, a standardized test used as an admissions requirement for many graduate schools. Additional testing as well as letters of recommendation or statements of intent may also be required. Request specific application requirements before choosing your program.
Few employers require a master's in economics, but holding a master's degree could qualify an employee for promotion to a management position, open the door to doctoral programs in economics, or create opportunities to teach economics at the college or university level.
Doctorate's Degree in Economics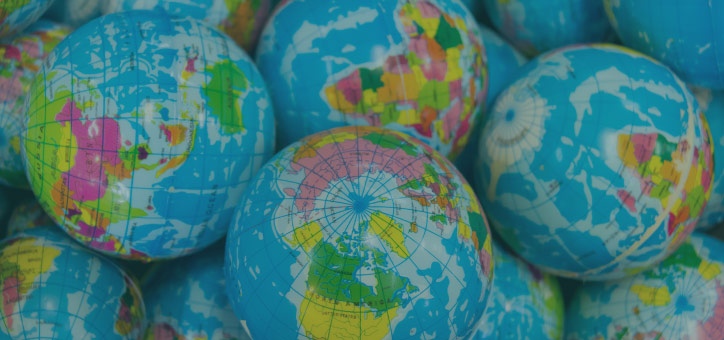 Ph.D. programs in economics are usually meant for those interested in research careers, teaching at the university level, or working at the top of their field in government, economic think tanks, or corporate high finance. 
Ph.D. programs can take up to seven years to complete, though coursework is generally completed in the first two years of the program. In addition to the traditional classroom environment, coursework in many doctoral programs takes the form of seminars, lectures, and even lunches with leading thinkers in the field. 
The remaining time is spent writing a dissertation on a subject of the student's choice, with an expectation that whatever the subject may be, it will push forward the field of economics with deep research and original ideas.
A bachelor's degree is required for admittance to a doctoral program in economics. Master's degrees aren't always required, though completion of a master's degree could help set an applicant apart from the rest. Some master's programs offer a fast-track to a Ph.D. 
Admission to a Ph.D-level program is difficult, and students may need to demonstrate a strong background in research prior to applying, as well strong math skills evidenced by a GRE math score of at least 165. Many Ph.D. programs also require students to teach while conducting their own research.
Applicants may also need a certain number of exemplary letters of recommendation prior to admittance from educators and experts in the field. 
As can be seen, Ph.D. programs are highly theoretical and research-intensive. But those with ambitions to reach the top of their field, both in terms of knowledge as well as career potential, should consider a doctorate's program in economics.
Related: