Merge storytelling, technology, and artistry with an affordable and flexible online bachelor's degree in Animation.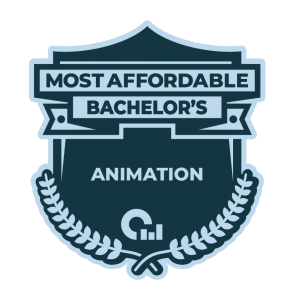 You're looking for a way to break into the world of digital creation, but you're not ready to put yourself (and possibly your family) into an overwhelming amount of debt. Alternatively, you're a young artist who's looking to put a degree under your belt to make connections and boost the competitiveness of your resume. Either way, choosing one of these cheap animation schools is sure to launch you in the right direction.
Don't think that cheap animation degree programs are a lesser option, though.
You can get a high-quality education in a bachelor's degree in animation online without breaking your budget!
What is a Bachelor Degree in Animation Degree?
Digital animation degree programs are a perfect choice if you're looking to combine your passion for technology with your love of art. Online animation degrees provide the perfect jumping-off point if you're want to break into the world of animation and design.
In choosing to pursue a bachelor of animation, you will learn how to create some of the most modern art in the entertainment industry. You'll develop skills that allow you to work in media design in many capacities:
Work on top-level movie productions

Assist with animated film development
Create video games
Work in the broadcast TV industry
Develop media arts campaigns
Likewise, you might work as an animator, a visual effects director, or a technical director.
In other words, with a cheap animations degree under your belt, you aren't just limited to working on 2D animation or being a 3D animator. The career possibilities are virtually endless!
As a student in this major, you can expect to take many types of animation and animation-related courses. This might include:
Concept creation

Experimental animation

Graphic design

3D modeling

Motion graphics

3D character animation, design, and texturing

Computer animation
Filmmaking
Interactive media
Additionally, bachelor of fine arts programs in animation often include courses in related digital arts and media design fields, like drawing, storyboarding, and the history of animation. Courses in specific programs, like Adobe Animate, After Effects, and Photoshop, are also common. Building technical skills in addition to enhancing your creativity is very important.
There will be coursework outside the scope of animation as well. For example, many good animation colleges require you to learn about movement and acting, so you understand how to portray moods and emotions with the appropriate movements on screen.
As another example, you'll learn the ins and outs of film production, and the various steps that are required to develop, produce, and release a film. Courses in film production also cover post-production techniques, principles of storytelling, and design principles that enable you to create engaging animations with which the audience connects.
What is Required for an Animation Bachelor Degree?
Entrance into animation degree programs usually requires a high school diploma or equivalent GED. Depending on their specific requirements, schools will also ask for either SAT or ACT standardized test scores.  
Application essays, a letter of recommendation, and GPA are all factors that can be used to consider your acceptance and possible financial aid, too. More competitive programs will usually ask for previously completed work (e.g., your portfolio) and any related experience or coursework in fine art, computer animation, film production, and related courses.
Once admitted to a program of study, you'll need about four years to complete the program, if you study full-time. Part-time animation students will need an additional semester or more to complete the course requirements. A typical undergraduate degree in animation requires that you complete 120 semester credits of study. Schools that operate on the quarter system often require about 180 credits to graduate.
The first two years of a bachelor's degree program consist mostly of general education courses that cover the fundamentals. These courses, which are introductory in nature, are intended to give you a broad-based learning experience. Examples of general education courses include:
Lab sciences and applied science
Social sciences
History
Humanities
Physical education
All told, you'll complete around 60 semester credits of general education courses as part of animation degree programs of study. The other half of the required credits to graduate are in the major area. As noted earlier, animation majors take arts program courses in everything from computer graphics to game development to 3D modeling. You'll also take courses in VFX, visual communication, and more general visual arts courses. You might even take web design courses!
Many animation schools also require that you complete a portfolio. A portfolio is a collection of your best work from your animation courses. It's designed to demonstrate your competency in your major field. It also gives you work samples to show to prospective employers after you graduate.
In some cases, animation schools might also require that you complete an internship or work experience of some kind. The specific requirements of this experience vary from one school to the next. At the very least, you might be required to job shadow so you can see how animators apply the skills they learned in school to the workplace.
How Much Does a Bachelor's in Animation Cost?
The cost of your animation program is dependent on a number of factors.
First, the school you attend has a significant impact on the cost of your degree. According to the National Center for Education Statistics (NCES), the average cost of tuition and fees for a four-year degree at a public university is $9,400. In contrast, a four-year degree at a private university averages $37,600 for tuition and fees. That's obviously a very significant difference!
Second, the number of credits you've already completed will influence how much your degree costs. If, for example, you took some college classes while you were in high school, that will help defray the cost of finishing your degree.
Third, it's wise to consider the "other" costs of getting a bachelor's degree. By studying online, you eliminate the expense of living on campus, the cost of gas to drive to school, parking fees, and so forth. But, you will still need to pay for books, software (like Adobe products that are so popular for creative arts), and other required materials for your courses. These items can add up quickly each semester.
A fourth consideration to make is the amount of financial aid you receive. If you have several scholarships or grants, your out-of-pocket expenses will be much lower than a student that has no such financial aid.
Lastly, the accreditation status of a school or program can influence its cost. Accredited programs tend to be more expensive because they undergo the voluntary process of getting accredited. Schools can be nationally or regionally accredited, the latter of which is preferable. Getting credits from an accredited school makes transferring to a new school easier. Some forms of financial aid also require that you attend an accredited school.
Ultimately, getting a college degree is going to be expensive at top animation schools, no matter what you do. But, that's why we've created this ranking! The programs listed below are among the cheapest animation schools in the country.
How Much Can You Earn with a Bachelor's in Animation Degree?
A bachelor's degree is highly recommended if want to enter this field, as many of the skills needed to work in the industry aren't easily learned on your own. It can be tempting to try to avoid college given the expense of getting a degree. However, the investment will likely pay off.
Studies by the United States Bureau of Labor and Statistics (BLS) show that careers in graphic design and animation are expected to grow by 16% by 2030. This represents much faster than average growth. With more animation jobs available now and in the coming years, the likelihood that you can find employment upon graduation is increased.
The reason for the rapid increase in job growth in this field is simple – there is more and more demand for animation and visual effects services. While animation might be most often thought of for applications like cartoons, it is certainly not the only niche that needs animators. Instead, animators can work in film and TV, commercials, video game design, and web series, to name a few.
Likewise, consumers are demanding ever more realistic visual effects in the media they consume. As a result, companies are likely to hire additional animators in the coming years to fill that demand.
The pay for animation and related careers is quite good, doo.
For example, according to the BLS, special effects artists and animators make a median annual salary of $78,790. The pay range is quite wide, too. Established animators can make six figures. In fact, the top 10 percent of earners in this field can earn more than $131,000 per year. Even fresh-out-of-college animators can make a good living. The lowest 10 percent of earners make around $46,000 per year.
Getting a bachelor's in animation requires a lot of time, effort, and money. But with encouraging employment numbers and impressive income potential, getting a bachelor's degree in animation can certainly pay off.
Do You Need a Master's Degree in Animation?
Whether you need a master's degree in animation or not depends on many different factors.
For example, if your career goals dictate what degree you need to get. If, at this point, you want to enter the animation industry and get experience working with professional animators and other multimedia artists, a bachelor's animation program is enough to get you most entry-level jobs. You might find that many mid-level animation jobs are also available with just a bachelor's degree. However, working for animation studios like Dreamworks,  Pixar, or Walt Disney Studios would likely require that you have a master's degree.
If, however, you want a specialization in a specific type or application of animation, like computer animation, getting a master of fine arts (MFA) is a great idea. Since master's degree programs are much more advanced, you get the opportunity to learn higher-level skills in digital media and more specific skills that enable you to concentrate on a specific area of animation, like stop-motion animation or games art.
Another factor to consider when asking yourself, "do I need a master's degree," is this – can you afford it?
Master's-level schoolwork is more expensive than your undergraduate studies. And while a master's degree can be worth your time and money, it's necessary to determine if that output of time and money is appropriate now, or if it can wait until later.
What are the Most Affordable Online Bachelor's in Animation Degrees?
OSR uses six data points to determine the most affordable and best animation schools. Three of these criteria are school-wide and three are program-specific.
For school-wide criteria, OSR uses the following:
Student Satisfaction

Admission Rates

The number of programs the school offers online
For program-specific criteria, OSR checks the:
Median debt of graduates from that program

How many degrees are offered within that program's umbrella department

What percentage of students at that school graduated from that department
The six statistics are displayed by each school's online degree. The sliding bar under each statistic represents how that school compares to other US institutions. "Not reported" means a school did not release that information to the US Department of Education.
A more detailed description of the OSR process can be found on the methodology page.
Let's explore each animation program in our ranking in more detail.
Rasmussen College-Minnesota

Quick Facts

Tuition: $10,935(in state) / $10,935(out of state)

Yearly tuition: Approximately $13,050

Credit Hours (quarters): 180

Campuses located in multiple cities in six states and online

Flex Choice® Learning Option offers course credit by skill assessment

School Wide

Student Satisfaction

Not Reported

Programs offered online

20

Program Level

Programs in Department

Not Reported

Rasmussen University's unique ladder approach to its degree in animation allows you to personalize your educational path. The curriculum focuses on design trends such as 3D imagery, mobile video production, and "thumb-friendly" user navigation. Its distinctive bachelor's program is available in all states except California, Connecticut, New York, and Rhode Island. That's why its among the top animation schools!

Rocky Mountain College of Art and Design

Quick Facts

Tuition: $16,268(in state) / $16,268(out of state)

Yearly tuition: Approximately $18,511.50

Credit Hours: 123

Regular online workshops focus on student initiatives

Materials optimized for accessibility

Program Level

Popularity at School

17.07%

At Rocky Mountain College of Art and Design, both staff and faculty are dedicated to encouraging your creative goals as an artist and communicator. Although all students receive training in both subjects, in Rocky Mountain College's Bachelor of Fine Arts (BFA), students choose either a 2D or 3D animation degree track. Course highlights include:

Modeling

2D and 3D Drawing

Character Design

Line of Action

Storyboarding

Stop Motion

Full Sail University

Quick Facts

Tuition: $19,929(in state) / $19,929(out of state)

Yearly tuition: Approximately $24,790

Credit Hours: 120

Accelerated 20-and-29-month long degree programs 

School Wide

Programs offered online

24

Program Level

Popularity at School

24.38%

Full Sail University prides itself in being a leader in art and design, offering a wide variety of industry-related degrees that are meant to ensure practical experience in the field. Course highlights for the Bachelor of Science in Animation include Model Creation, Character Rigging, and Final Compositing. In addition to its dedication to flexible learning, Full Sail's Momentum Scholarship offers up to $20,000 to passionate media students.

Academy of Art University

Quick Facts

Tuition: $20,952(in state) / $20,952(out of state)

Yearly tuition: Approximately $23,412

Credit Hours: 132

Custom-designed Learning Management System (LMS) 

Extensive online library available to enrolled online students

School Wide

Programs offered online

32

Program Level

Popularity at School

11.52%

By offering over five emphases and ten career interest preferences for its BFA in Animation degree, Academy of Art University truly embodies the individualism of San Francisco. As a student, you'll enjoy the school's impressive offerings of priority online resources, including its collaborative spaces, online galleries, and interactive coursework. The university employs over 100 staff members who are dedicated to supporting its online programs and students.

Tribeca Flashpoint College

Quick Facts

Tuition: $24,990(in state) / $24,990(out of state)

Yearly tuition: Approximately $30,745

Credit Hours: 192

Emphasis choices in Animation, Compositing, and Digital Modeling

Possible to complete the degree program in three years with summer courses

School Wide

Student Satisfaction

Not Reported

Program Level

Programs in Department

Not Reported

Popularity at School

41.09%

A comprehensive approach offering both specific animation instruction and general liberal arts education is what makes up Tribeca Flashpoint College's animation degree. Tribeca's distinguished faculty strives to provide a real-world experience for you as a student, exposing you to industry-standard software and helping you develop important problem solving and communication skills. Through this program, you will graduate with a robust portfolio and demo reel that showcases your talents and unique capabilities.