Grow your passion for children into a long term career with an online bachelor's in early childhood education.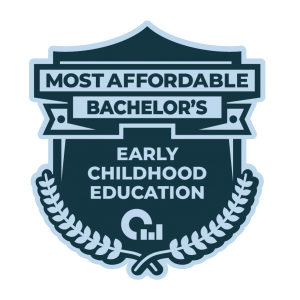 Have you always loved children? Maybe you've raised siblings or family members as your own, or perhaps you already work with children in your daily life. For those looking to turn their passion for children into a rewarding and in-demand career, a bachelor's in early childhood education is the right place to start. 
What Is an Early Childhood Education Degree?
A degree in early childhood education prepares you to work professionally with small children in both public and private environments, particularly in school settings. 
Understanding the inner workings of childhood development is imperative when working with infants and toddlers. Childcare employees and teachers are often faced with a myriad of different situations as children truly begin to develop independence, speech, and personality traits.
A bachelor's degree in early childhood education will give you the knowledge needed to assess a child's needs and respond to any possible situation. It will also equip you with the ability to design thoughtful curriculum in a way that encourages the enrichment of young minds. 
How Much Can You Earn with an Early Childhood Education Degree?
If you're looking to work as a preschool teacher, then your chances of securing a job are high: employment of preschool teachers is projected to grow 7% from 2018 to 2028, according to the US Labor Bureau.
This degree will generally prepare you to work in either a public or private school environment. Other positions include childcare workers, teacher's assistants, and center directors for young children. Depending on your specific field of study, you could also qualify to become a special education teacher. Average salaries hover around $60,000 a year.  
What Is Required for a Bachelor's in Early Childhood Education Degree?
While an undergraduate degree isn't necessarily required to work in the field, it will certainly give you the competitive edge needed to be hired.
A bachelor's in early childhood education is offered as either a Bachelor of Arts (BA) or Bachelor of Science (BS) The BS degree will focus more on quantitative analysis and research, with a higher number of general education requirements in maths and sciences, while the BA degree will focus more on art, language, and communication.
Most degrees will require a high school diploma or GED, while others will require you to have completed an associate degree before applying. Depending on the school, you'll also be asked to provide transcripts, letters of recommendation, an admission essay, and more. 
What Are the Most Affordable Bachelor's in Early Childhood Education  Degrees?
OSR uses six data points: three school-wide and three program-specific. For school-wide, OSR uses Student Satisfaction, Admission Rates, and the number of programs the school offers online. For program-specific, OSR checks the Median Debt of graduates from that program, how many degrees are offered within that program's umbrella department, and what percentage of students at that school graduated from that department.
The six statistics are displayed by each school. The sliding bar under each statistic represents how that school compares to other US institutions. "Not reported" means a school did not release that information to the US Department of Education. A more detailed description of the OSR process can be found on the methodology page.