Combine flexibility and affordability with these top-ranked and most affordable online bachelor's in sports medicine.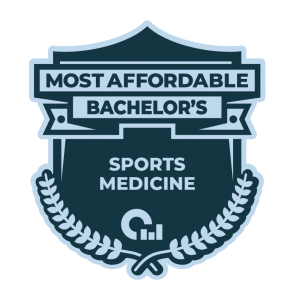 Not only is it possible to complete your bachelor's degree completely online these days, but more and more universities are making it possible for their students. It might not seem like an obvious choice if you're looking for a bachelor's in sports medicine, but an online degree is becoming more and more commonplace across all industries. There is a long list of universities that offer online options within their sports medicine degree programs, and these courses usually cost much less than their in-person counterparts.
What Is a Sports Medicine Degree?
If you're looking to pursue a career in sports medicine, a bachelor's degree is an essential part of your journey to becoming a professional in the field. The standard bachelor's program lasts four years, but some schools have featured programs that include accreditation and/or postgraduate degrees, which make them longer. 
Coursework covers essential knowledge in anatomy, physical education, exercise science, sports strength and conditioning, and injury rehabilitation.
See Also: 20 Best Sports Medicine Degree Online
How Much Can You Earn with a Bachelor's in Sports Medicine Degree?
A bachelor's in sports medicine serves as an excellent landing point for those seeking a profitable career investment, with as much as 19% projected growth in the field over the next ten years. Professionals such as athletic trainers, which is a common career for this degree, make an average of just under $50,000 annually according to the Bureau of Labor Statistics.
Getting a bachelor's degree in sports medicine also qualifies students for jobs as exercise physiologists ($49,17/year) and sports coaches or scouts ($34,840/year). If you choose to continue your education and earn a master's or doctorate, then higher-earning careers in physical therapy ($89,440/year) and occupational rehabilitation($84,950) also become possible. 
What Is Required for a Bachelor's in Sports Medicine Degree?
In order to enroll in an undergraduate sports medicine program, you will need a high school diploma, letters of recommendation, and SAT or ACT scores. You will also usually be required to fill out a detailed application and pay an application fee. 
Prior experience in areas such as sports medicine, kinesiology, and physical training is preferred, but not always required for admittance into school programs. 
What Are the Most Affordable Online Bachelor's in Sports Medicine
?
OSR uses six data points: three school-wide and three program-specific. For school-wide, OSR uses Student Satisfaction, Admission Rates, and the number of programs the school offers online. For program-specific, OSR checks the Median Debt of graduates from that program, how many degrees are offered within that program's umbrella department, and what percentage of students at that school graduated from that department.
The six statistics are displayed by each school. The sliding bar under each statistic represents how that school compares to other US institutions. "Not reported" means a school did not release that information to the US Department of Education. A more detailed description of the OSR process can be found on the methodology page. These colleges offer the top-line education you need to break into the field without breaking the bank!
American Public University System

Quick Facts

Tuition: $6,480(in state) / $6,480(out of state)

Tuition: $10,366

Credit Hours: 120

No fee to complete admission application

Members of the US military have their material fee waived

School Wide

Programs offered online

45

Touting on their front page, "Quality Education Should Be Affordable," American Public University tops our list for the pride it places in offering affordable educational opportunities. The online program specifically caters to veterans, offering a step-by-step guide on how to use military tuition assistance. APU offers transfer credit for past online university courses and/or military service. 

University of Wisconsin-Superior

Quick Facts

Tuition: $6,535(in state) / $14,108(out of state)

Tuition: $12,869

Credit Hours: 120

Accompanying minor required to graduate

Offers the possibility to double major in Physical Education K-12.

Program Level

Popularity at School

Not Reported

University of Wisconsin-Superior dubs its campus "energetic and comprehensive" for the wide variety of programs they offer both on and offline. Its bachelor's in exercise science encourages practical experiences through internships and academic service-learning. UW- Superior strongly recommends accreditation programs for both its current students and graduates, such as the American College of Sports Medicine (ACSM) or the National Strength and Conditioning Association (NSCA).

Purdue University Global-Main Campus

Quick Facts

Tuition: $11,556(in state) / $11,556(out of state)

Tuition: $13,682

Credit Hours: 180

25% discount to international students

Multiple start dates for coursework to provide ultimate flexibility

School Wide

Student Satisfaction

Not Reported

Programs offered online

30

Program Level

Popularity at School

Not Reported

Although Purdue University Global's Bachelor of Science comes in heavy with its high number of credit hours, they make up for it with high-quality online program offerings and an accelerated online master's degree program. The degree offers the possibility to explore varied approaches to health and wellness by incorporating the mind, body, and spirit into possible coursework. Multiple campuses are available throughout the US.

Concordia University-Saint Paul

Quick Facts

Tuition: $21,750(in state) / $21,750(out of state)

Tuition: $18,591

Credit Hours: 49

Asynchronous course schedules

95% of graduates receive job offers within one year of graduation

School Wide

Student Satisfaction

Not Reported

Programs offered online

17

Program Level

Popularity at School

15.06%

Concordia University of Saint Paul makes a conscious effort to respond to the current needs of the field. It focuses on helping each student earn a job after graduation, helping its graduates earn over 40% more than the national average. Its Sports Medicine Degree earns the unique distinction of being the only Bachelor of Arts offered on our list.

United States Sports Academy

Quick Facts

Tuition: $14,652(in state) / $14,652(out of state)

Tuition: $18,986

Credit Hours: 30

At the time of the article's posting, all application fees are waived

Offers upper-division coursework only

School Wide

Student Satisfaction

Not Reported

Program Level

Popularity at School

57.89%

A sports academy is the ideal place to study sports medicine, and The United States Sports Academy doesn't disappoint. Its highly specialized bachelor's in sports science offers four specific major specializations: Sports Management, Sports Coaching, Sports Studies, and Sports Strength and Conditioning. Up to 95% of their alumni would recommend the Sports Academy to others, proving the program's excellence.