Have you dreamed about creating, optimizing and managing a company's website content, layout, and organization? Then take a look at the Most Affordable Bachelor's in Web Development.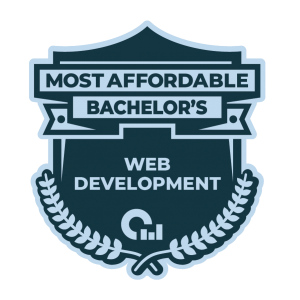 Perhaps you're not only tech-savvy, but you also have an acute interest in computer servers, technical programming, content management, and website design. If so, the colleges listed below can educate you and cultivate the skills you'll need for the key challenges of today's website development and management arena. 
Keep reading to see if an online bachelor's degree in web development might be the next move you should make in your career journey.
What Is an Online Bachelor's Degree in Web Development?
With most online bachelor's degree programs in web development, you can customize the focus of your study to reflect your specific interests or skills. However, a web development degree typically integrates the essential skills of inventing and designing new approaches to computing techniques and creating innovations in existing platforms, languages, and technologies.
These programs can customize and hone your web development expertise and are needed to launch a career in computer programming, network architecture, computer support, and web design. With a web development bachelor's degree, you will increase your knowledge and technical skills, create integrations, and even specialize your proficiencies. 
How Much Can You Earn With an Online Bachelor's Degree in Web Development?
While there are web developer jobs that only require an associate degree, those positions are both less sought after and less lucrative. However, with a bachelor's degree in web development, employees can apply for jobs like a computer and information systems manager, computer programmer, computer systems analyst, computer support specialist, data administrator, and computer information security analyst. All of these positions typically earn more than the median earnings of web development careers requiring just an associate degree.
The U.S. Bureau of Labor Statistics reported that computer and information systems managers earned at the top of the income bracket, making a median salary of $146,360 annually, while computer programmers made a median salary of $86,550, in 2019. Both computer systems analysts and information security analysts with bachelor's degrees earned from $90,000 to 100,000 annually. 
What Is Required For an Online Bachelor's Degree in Web Development?
Obtaining an online bachelor's degree in web development typically requires a high school diploma or similar accredited certification. Most bachelor's programs require about 120 credit hours and about four years to complete. Online programs offer flexibility for shortening or extending the program timeframe for working professionals and part-time students.
What Are the Best Online Bachelor's Degrees in Web Development?
OSR uses six data points: three school-wide and three program-specific. For school-wide, OSR uses Student Satisfaction, Admission Rates, and the number of programs the school offers online. For program-specific, OSR checks the Median Debt of graduates from that program, how many degrees are offered within that program's umbrella department, and what percentage of students at that school graduated from that department.
The six statistics are displayed by each school. The sliding bar under each statistic represents how that school compares to other US institutions. "Not reported" means a school did not release that information to the US Department of Education. A more detailed description of the OSR process can be found on the methodology page.