Since there may not be many job listings for an art historian, those interested in the topic may be left wondering, why study art history at all?
Is it really worth the time, effort, and money required to pursue a degree, when job prospects are slim? The fact of the matter is, this couldn't be farther from the truth.  Art history is not only a great major for personal enrichment, it teaches skills and disciplines applicable to any number of careers.
More than anything, though, to understand the history of art is to understand the history of humanity: what motivates us now, what inspired us in the past, and what may guide us in the future. In this article, we'll examine five reasons why art history is a great degree, based on the experiences and feedback from a real-life art history major.
What Is Art History?
Let's begin by briefly defining what art history even is. Yes, it's the study of art, and the history of art, but it's more than just that. Art history puts art in the context of the time it was made, including the creative period in which it came from, and the critical and popular reaction to the work in the time it was produced—taking into account any economic, social, or environmental factors that might have influenced the art and the artist. 
Art history encompasses ancient art from every corner of the globe, but also contemporary art, and everything in between.  All sorts of mediums are accepted, and in every kind of genre: including painting, drawing, photography, animation, and more. To study the history of art is to study sociology, anthropology, economics, and history, and students of art history learn critical thought, and gain a deeper understanding of what makes us tick, in the past, in the present, and possibly going forward.
Education design expert Karen Aronian, Ed.D. graduated in 1993 from the UW-Madison with a BA in art history. Art history, she says, "is a lens through which to see the world; it's a language." Aronian goes on to say that art and its study reveals world history, cultures, innovation, beauty, and devastation. "In every aspect of every field, I can see artists' works as parallels or inspiration," she says.
Art history, she continues, "stretches the mind; it broadens its students beyond borders and time into artists' timeless messages embedded in their canvases. Art history is a unique amalgam study combining languages, architecture, religion, history, anthropology, economics, ethnography, and more," she says. 
Here are five additional reasons why art history could be the right degree for you:
1. Art Historians Are Like History Detectives
Through art history, you'll be able to examine an image or work of art and find the message hidden just beneath the surface. Sure, this includes the work of art as art itself: how it was made, and by whom, and from what the work was influenced. From that, art historians extrapolate a snapshot of society as it was, and what it was like for people who lived at that time, across class, race, and gender, and in every part of the world. With a degree in art history, you'll never look at art the same way again.
2. Art History Is About More Than Just Painting
Quick, imagine an art history class: are you picturing a boring lecture sitting in a dark classroom as an instructor shows you slides of boring old paintings, expecting you to memorize who the painter was, but also when and where the painting was created? Yes, this is part of art history, but degrees in art history teach you about more than just painting, offering insight and education in any number of mediums, including sculpture, textiles, drawing, photography, animation, and the emerging world of digital art.
3. Art History Offers Transferable Skills
With a degree in art history you'll be able to identify and name great works of art from history and from every corner of the globe. You'll also be able to provide biographical context to the work related to the artist who made it. But these are not the only skills you'll learn studying art history. Art history also teaches:
Visual analysis

Written communication

Critical thinking
In our world visual literacy is more important than ever and that seems unlikely to change. For this reason, an art history degree prepares students to work in or pursue continuing education in any number of communication and design-related industries.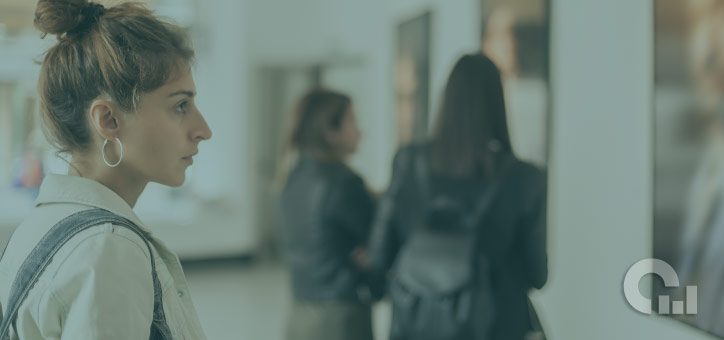 4. Visual Literacy is in Demand
Related to our last point, consider how often we rely on visual literacy in our everyday lives: from our cell phone interface to Youtube videos, and from commercial design and advertising to appraising and dealing in tomorrow's great works of art. Increasingly, it's a visual world and although written communication will always be important—and you'll get a good education in that, too, with an art history degree—provable visual literacy is a great and transferable job skill to have on your resume.
5. Art History Is Human History
What's the one thing in common in art from African to Asia and from the Salons of Paris to the galleries of New York? That's right, all art is made by humans—just like you—and so studying art history is to study your history, offering broader cultural understanding and perspective on who you are and where you came from. Art history allows the past to come alive from the pages of a history book; history takes a real and tangible form in beautiful objects touched by human hands that sometimes lived centuries ago.
Conclusion
To study art history is to study much more than just art, and through art history, students learn many transferable skills, including critical thought, visual literacy, and written communication. Art history degrees are multi-faceted, encompassing economics, sociology, anthropology and more. For these reasons and more, art history degrees are a great choice to both grow as a person and have a fruitful future.