If you have skills in more than one language and want to apply that to a career, then check out these online certificates in translation.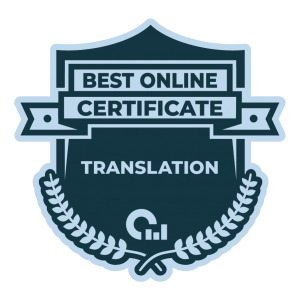 Maybe you speak more than one language, have the ability to understand the nuances and cultural implications of converting information from one language into another, and are looking for a new career opportunity. If those elements describe you, look no further than the schools described below for details on the instruction and certification offered that can expand your opportunities in the translation field. Review these details to see if an online certificate in translation could provide the instruction you need to open a new career opportunity or expand your existing skill offerings.
What Is an Online Certificate in Translation?
As national economies become more global and industries reach into more international markets, the demand for multilingual professionals will continue to increase. A certificate in translation offers students an opportunity to learn how to convert written text from one language into another or multiple other languages. Certificate programs can elevate the expertise and career of an existing corporate professional, offer a new career opportunity, or allow a job applicant to catapult their resume to the top of the stack.
How Much Can You Earn With an Online Certificate in Translation?
With a certificate in translation, you'll see an increase in job opportunities in both the public and private sectors. Earnings will vary and can range from $30,000 to more than $50,000 annually. Professionals with translation skills and a certificate can work as linguists, cultural and bilingual liaisons, medical or healthcare interpreters, or freelance contractors. In 2019, the Bureau of Labor Statistics reported that interpreters and translators made about $51,830 annually. According to the BLS, translation work in the medical field earned about $50,980 annually. Occupations that also required a bachelor's or master's degree with the translation certificate can earn more.  
What Is Required for an Online Certificate in Translation?
 Applicants for an online certificate in translation must be bilingual or multilingual. In some instances, universities will require an interview or proficiency exam to substantiate applicants' skills. Any translation experience you've earned in your industry will also be helpful during the application process, and some programs prefer an undergraduate degree in a separate or coordinating field to apply. If a bachelor's degree is required, a minimum GPA of 3.0 or higher is customary. A key benefit of most online programs is their flexibility in hours per semester, allowing students to work full or part-time while they advance academically. 
What Are the Best Online Certificates in Translation?
OSR uses six data points: three school-wide and three program-specific. For school-wide, OSR uses Student Satisfaction, Admission Rates, and the number of programs the school offers online. For program-specific, OSR checks the Median Debt of graduates from that program, how many degrees are offered within that program's umbrella department, and what percentage of students at that school graduated from that department.
The six statistics are displayed by each school. The sliding bar under each statistic represents how that school compares to other US institutions. "Not reported" means a school did not release that information to the US Department of Education. A more detailed description of the OSR process can be found on the methodology page.
University of Minnesota-Twin Cities

Quick Facts

Tuition: $12,800(in state) / $24,986(out of state)

Choose a one- or two-language specialization certificate program 

Medical, legal, and educational interpreting specialties  

High school diploma and fluency in at least one additional language required 

Program Level

Programs in Department

Not Reported

Popularity at School

2.18%

You can earn your certificate in interpreting from the University of Minnesota with day or night classes, or online. This program operates as a stand-alone certificate, so students can earn just the certificate or while also working toward an associate's, bachelor's, or master's in another area. Students have up to four years to complete the certificate work and must take 18 credit hours to specialize in one interpreting area or 24 credit hours for two.

University of Massachusetts-Amherst

Quick Facts

Tuition: $15,030(in state) / $33,096(out of state)

Total of 15 credit hours 

All courses are multilingual for students speaking different languages 

Fluency in at least two languages is a requirement

School Wide

Student Satisfaction

Not Reported

Program Level

Programs in Department

Not Reported

Popularity at School

2.05%

The University of Massachusetts Amherst offers students an online certificate of credit in translation and interpreting that includes a focus on the fundamentals of interpreting, ethics, and standards of translation, as well as advanced interpreting skills development. Audiovisual, medical, technology, and legal specialty courses ensure that students experience training and exposure to a variety of translation opportunities in a global market.

Adelphi University

Quick Facts

Tuition: $35,430(in state) / $35,430(out of state)

Total of six courses 

Complete in six to eight months 

Optional live chat once per week available

Program Level

Programs in Department

Not Reported

Adelphi University offers a non-credit certificate in English to Spanish Translation studies that allows students to complete work on their own schedule through an online, instructor-led program. Graduates of this program will be equipped with the correct knowledge to take the American Translators Association (ATA) certification exam. This program is open to bilingual students worldwide and does not require any test scores or transcripts. 

University of California-San Diego

Quick Facts

Tuition: $11,502(in state) / $39,516(out of state)

Entrance exam required

15- to 30-month duration based on hours per quarter 

21 credit hours required 

School Wide

Programs offered online

Not Reported

Program Level

Programs in Department

Not Reported

For a professional certificate in Spanish/English translation, consider the University of California San Diego's complete online program. Students are required to be bilingual in Spanish and English and must pass an entrance exam before beginning their studies. Specialized course work will focus on medical, legal, and business translation that includes both the theory of translation and its practice.

University of Wisconsin-Milwaukee

Quick Facts

Tuition: $8,091(in state) / $19,370(out of state)

21 semester credits for completion 

Program options for French, German, English, Spanish, or Russian

Bachelor's degree with a 3.0 GPA from an accredited university required

Program Level

Programs in Department

Not Reported

The University of Wisconsin-Milwaukee's graduate certificate in translation is designed for students with an existing undergraduate degree. Students select from five language concentration choices and must complete three courses of work in that focus area. In addition, students select three elective courses to complete, plus the three core translation courses of literary and cultural translation, computer-assisted translation, and an internship in translation and interpreting.