Take your financial investment skills to the big leagues. Earn an online Master's in Finance at one of the best schools in the nation.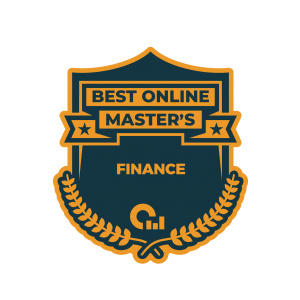 A bachelor's degree can only get you so far in business. If you're serious about stepping up your game and rising to the top of the heap in finance, then a master's degree is the obvious next step.
An online Master's in Finance will allow you to balance school and work at the same time. You'll be ready for a promotion the day you graduate. In a job that is preoccupied with good investments, why not start with this one?
What is an Online Master's degree in Finance?
The world of finance is full of lots of abbreviations: CPA, CFA, MBA . . . the list goes on. So what do all of these letters mean? Well, in short, they signify end-goal careers for folks in finance.
Most of the programs on this list are MBA programs, meaning a Master in Business Administration. This indicates that you want to jump head first into hands-on business practices. You'll study foundational business theory, capital markets, investment tactics, and more.
CPA (Certified Public Accountant) and CFA (Certified Financial Analyst) are two common certifications that students can earn after they graduate. Most programs orient their curriculum around preparing students for these exams. Graduates of the programs below go on to become Chief Financial Advisors, Financial Managers, Accountants, and more.
How much can you earn with an Online Master's degree in Finance?
A career in finance is a financial win. That's no surprise, though. No matter how you slice it, an online Master's in Finance degree will yield a good-looking paycheck each month.
Based on the figures at the Bureau for Labor Statistics, Financial Managers make an average of $125,000 per year. Payscale reports that Portfolio Managers make around $103,000 annually and Chief Financial Officers make upwards of $172,000.
The numbers also look good for a future in finance. According to market demand, careers in finance will increase by 15-19 percent in the next seven years. You'll find job security and financial security in one fell swoop!
Fancy a little detective work? A career in Forensic Accounting might be your speed. If you're looking for a more general degree, consider the Best Master's in Accounting.
What is required for an Online Master's in Finance degree?
The admissions process for an online Master's in Finance can look different for every program. But they all follow a similar requirement list. You should anticipate checking off the following boxes:
Undergraduate degree in business
GMAT or GRE exam scores
Application (and associated fee)
Recommendation letters
Once you're accepted into a program (your first choice, hopefully!), you'll spend the next 12 to 24 months taking online classes. The credit hour requirements range from 30 to 55 credits. Some programs allow to you specialize within finance, while others are more general. Choose whichever program fits your needs!
What are the best Online Master's degrees in Finance?
OSR uses six data points: three school-wide and three program specific. For school-wide, OSR uses Student Satisfaction, Admission Rates, and the number of programs the school offers online. For program specific, OSR checks the Median Debt of graduates from that program, how many degrees are offered within that program's umbrella department, and what percentage of students at that school graduated from that department.
The six statistics are displayed by each school. The sliding bar under each statistic represents how that school compares to other US institutions. "Not reported" means a school did not release that information to the US Department of Education. A more detailed description of the OSR process can be found on the methodology page.