Learn how to appropriately convey different concepts and business practices with one of the 30 best online master's in communications degrees!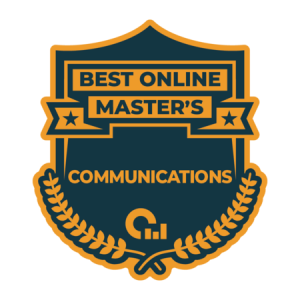 Pursuing your master's in communications is a great idea if you've studied communications or are interested in certain aspects of the field and how it applies to your current career. If you want to be a leader in the field of communications, a master's degree will get you there. 
In this list of online master's in communications programs, you'll find one that's flexible enough to fit your schedule but also extensive enough to lead you to success. Whether you're new to the field or a seasoned professional, an online study format will allow you to juggle whatever you may have on your plate. Do you want to be on the fast track towards change in your professional life? Find plenty of options by browsing through our 30 best online master's in communications programs.
What Is an Online Master's in Communications Degree?
A graduate-level communications degree can be obtained either through a Master of Arts or Master of Sciences program. If you opt for an MS degree, your education will more than likely prioritize theory and research. An MA degree, on the other hand, will be more creativity-driven, focusing on certain subjects like media and journalism. 
An online master's in communications is a diverse degree, preparing students for a wide variety of jobs. Students with this graduate degree can either work toward a career that is more socially-focused, like public relations and human resources, or can choose a more strategic route by becoming a marketing consultant or research analyst.
Whichever path you take, the application of research, writing, and presentational skills will be at the forefront of your education.
How Much Can You Earn With an Online Master's Degree in Communications?
Depending on how you use it, an online master's degree in communications can score you a high-paying career.  
The variety of jobs available for graduates of a communications master's degree makes for a variety of potential incomes. According to Payscale.com, an academic advisor usually brings in an average salary of $42,000, whereas the salary of a product marketing manager averages at $104,000, and a master's in communications can land you either of these positions. 
After comparing the wide range of careers in communications, however, the median yearly income rests at $62,000.
What Is Required for an Online Master's in Communications?
The admissions process for an online master's in communications truly depends on the program itself. Some programs don't require any prior communications experience, whereas others require a bachelor's degree with extensive undergrad credits pertaining to communications or related topics.
With that said, most programs will share similar requirements, which often include:
GMAT or GRE exam scores
A cover letter and a personal essay
An application (and an associated fee)
Recommendation letters
Once enrolled in your program of choice, online students can expect anywhere from 12-24 months of coursework, depending on the number of credits taken each semester. Typically, students will be required to complete 30-45 credits in order to graduate. The credit requirements directly affect the time it will take to complete your degree, as will the expectations (or lack thereof) of a final project or thesis. 
What Are the Best Online Master's Degrees in Communications?
OSR uses six data points: three school-wide and three program-specific. For school-wide, OSR uses Student Satisfaction, Admission Rates, and the number of programs the school offers online. For program-specific, OSR checks the Median Debt of graduates from that program, how many degrees are offered within that program's umbrella department, and what percentage of students at that school graduated from that department.
The six statistics are displayed by each school. The sliding bar under each statistic represents how that school compares to other US institutions. "Not reported" means a school did not release that information to the US Department of Education. A more detailed description of the OSR process can be found on the methodology page.