In the digital era, the best online Master's in Entrepreneurship Degrees are more attainable than ever.
No longer do you need to be lucky enough to have a worthwhile university in your hometown to get the knowledge necessary for your startup. Instead, you can attend class online and learn all you need to be the next Zuckerberg, Jobs, or Musk.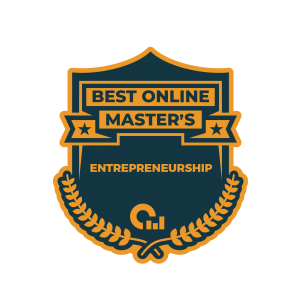 Master's in Entrepreneurship degrees aren't just about starting a business in your basement. They're also about providing a good foundation for smart business decisions. It takes more than guts to be a good businessperson. That's why the right university is crucial.
What is a Master's in Entrepreneurship Degree?
At its core, a Master's in Entrepreneurship gives you the training and tools to launch and develop your own business, especially a startup. While related to traditional business degrees in some sense, entrepreneurship degrees focus more on finding and developing smart new business plans and ideas.
You'll learn how to research business ideas and plans, then turn those plans into action with an entrepreneurship degree. In addition, entrepreneurship degrees teach you to fundraise and manage the economics of a new or growing startup.
Want to dive all the way into business? Get one of the most versatile and respected business degrees, a Master's in Business Administration.
How Much Can You Earn with a Master's in Entrepreneurship Degree?
The limit to potential earnings from a person with a Master's in Entrepreneurship is heavily dependent on personal direction and ambition. Most who pursue the field can expect to make around $100,000 per year, with bonuses and additional income being possible as your startup grows.
Your salary will be tied to your actual position in the company; CEOs, of course, will make more than Project Managers. (But if management is what you're looking for, these are the Best Online Master's Degrees in Project Management.)
Thanks to the flexibility of the degree, growth is always a constant. Remaining agile when it comes to which business you work within will allow consistent upward mobility.
What is Required for a Master's in Entrepreneurship Degree?
The exact program requirements vary depending on your chosen program. But most Master's in Entrepreneurship degrees will require you to persist through one year of study at a minimum. Many will require up to two years atop your four years in school to receive a bachelor's.
Common classes in entrepreneurship programs include:
Economics
Social Marketing Strategy
Social Branding
Venture Capital
Launching Startups and More
Entrepreneurship programs may also require you to participate in running businesses across variable fields and interests. This will provide you with valuable hands-on experience. More importantly, networking through your workplaces will set you up for success upon graduation.
What Are the Best Master's in Entrepreneurship Degrees?
OSR uses six data points: three school-wide and three program specific. For school-wide, OSR uses Student Satisfaction, Admission Rates, and the number of programs the school offers online. For program specific, OSR checks the Median Debt of graduates from that program, how many degrees are offered within that program's umbrella department, and what percentage of students at that school graduated from that department.
The six statistics are displayed by each school. The sliding bar under each statistic represents how that school compares to other US institutions. "Not reported" means a school did not release that information to the US Department of Education. A more detailed description of the OSR process can be found on the methodology page.