It takes a doctor to save a patient, but it takes the best Master's in Health Care Administration to run the hospital effectively.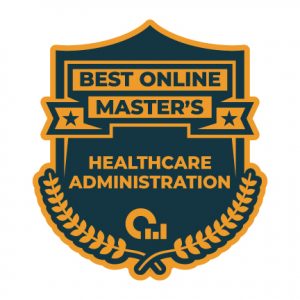 In fact, making sure that medical facilities and the people who staff them are provided with the right materials and use correct policies is crucial for patient health and for the good of the hospital in the long term.
Hospitals, clinics, and nursing homes need administrators with specialized skill sets that take them above and beyond the medical knowledge of a nurse or doctor. Health Care Administration degrees provide administrative leaders with the tools and knowledge they need to promote their hospital and ensure that it runs efficiently 24 hours a day and seven days a week.
Health care administrators focus on guiding hospital programs rather than individual patients. It's a full-time job, but it's rewarding in a way separate from attending to patients directly.
What is a Master's in Health Care Administration Degree?
A Master's in Health Care Administration degree sets up graduates for success in leadership roles in the health care industry. While many health care degrees focus on training students to become doctors or other medical practitioners, master's degrees in health care administration focus more on managing, organizational, and business knowledge.
A master's degree in health care administration can also prepare you to lead pharmaceutical companies, nursing homes, and health insurance companies. Health care administration incorporates business knowledge with health care specializations.
How Much Can You Earn with a Master's in Health Care Administration Degree?
The exact salary for someone with a master's degree in health care administration can vary from position to position. This is because the leadership roles that someone with this degree takes incorporate different levels of responsibility. In addition, some organizations are worth more money which will necessitate a higher paycheck.
The Bureau of Labor Statistics indicates that medical and health services managers, which is a broad term for administrators in health care organizations or facilities, have a median salary of $99,730 per year. However, you only require a bachelor's degree to become a health care facility leader.
Earning a master's degree will necessitate a pay increase and may lead to a higher salary cap. Also, the number of administrative positions in health care is increasing by 18% per year, which is faster than the national average. This leads to higher demand, which traditionally favors employees as they can negotiate higher salaries than in inundated fields.
Earning a master's degree in this field may be particularly valuable according to the BLS. It's known that medical and health service managers a master's degree make up only 24% of the workforce compared to 32% with a bachelor's degree, making those with master's degrees more valuable. The median annual wage premium for those with a masters' degree is up to $20,000, meaning you may be able to work the same job as a person with a bachelor's degree but to earn more due to your master's expertise.
Professionals with a master's degree in health care administration may also become human resources managers, who have a median salary of $113,300 per year. This may require additional specialization in human resources and some experience in that field to be considered for the position.
What is Required for a Master's in Health Care Administration Degree?
To get into a master's program for health care administration, you must first have a bachelor's degree in a related field. Because health care administration is a field that focuses on both the business and health care aspects of the industry, having a degree with either of these focuses may be acceptable depending on the university you are applying to.
Your degree must also have several prerequisites that may or may not have been completed based on the degree's focus. For instance, graduates with a bachelor's degree in business may need to take several health care or scientific prerequisite courses to qualify for a health care administration program.
Other requirements may or may not include several letters of recommendation, a GPA of 2.5 or higher, a history of your work experience, and a personal essay detailing your plans for the future and explaining why you want into the program.
Once in the program, you'll study classes ranging from health care specifics to broader business fundamentals. Classes will include subjects like:
Biology
Communication
Business administration
Management
Marketing
Financing
International Relations
Psychology
What Are the Best Master's in Health Care Administration Degrees?
OSR uses six data points: three school-wide and three program specific. For school-wide, OSR uses Student Satisfaction, Admission Rates, and the number of programs the school offers online. For program-specific, OSR checks the Median Debt of graduates from that program, how many degrees are offered within that program's umbrella department, and what percentage of students at that school graduated from that department.
The six statistics are displayed by each school. The sliding bar under each statistic represents how that school compares to other US institutions. "Not reported" means a school did not release that information to the US Department of Education. A more detailed description of the OSR process can be found on the methodology page.