Will you be ready when disaster strikes? Learn what it takes to respond to any crisis. Here are the Best Online Master's in Homeland Security!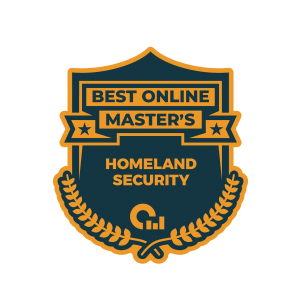 Do you have a natural instinct to protect the people around you? Do you want a career in which you'll potentially save tons of lives? A career in homeland security may be perfect for you! Those with an analytical mind, a natural curiosity, and a cool, calm, and collected attitude will really thrive in this fast-paced industry. You'll need to anticipate both man-made and natural disasters and create innovative and safe ways to mitigate such risks.
What is a Homeland Security degree?
The United States Department of Homeland Security was founded in 2002, shortly after the 9/11 terrorist attacks. Since the creation of this department, a number of universities have created degree programs in the area of homeland security. These programs are designed to teach students how the nation prepares for potential risks and what to do if a man-made or natural disaster strikes.
From securing our borders to protecting our airports and seaports, homeland security professionals are critical for our nation's safety. Not only will you learn how to protect the nation's citizens with this degree, you'll also discover planning prevention methods that create sustainable safety and secure environments. It's an important job with a lot of responsibility, but it also provides plenty of stability and opportunity.
Check out the Best Online Master's in Criminal Justice for a degree with broader career applications.
How much can you earn with a Homeland Security degree?
The average pay for homeland security graduates varies greatly as there are a number of different employers within the industry. In fact, homeland security professionals work on land, in the air, and even at sea! Those who choose to work for the federal government will earn the highest salaries, starting at a base salary of $40,000 per year with the opportunity to move up quickly.
Individuals who pursue employment in policymaking or other prestigious fields may also earn higher starting salaries. This field is expected to grow rapidly, with jobs in the federal sector growing the quickest – up to 17 percent within the next few years!
What is required for a Homeland Security degree?
Many of the below programs require applicants to have a bachelor's degree. While you don't necessarily need to have a background in law enforcement or security, applicants who do are preferred. Most GPA prerequisites for the below programs range from 2.5 to 3.0.
Some of the programs require students to complete a capstone or final project equivalent in order to receive their degree. Many online master's degrees on this list can be completed in just two years or less.
What are the best Homeland Security degrees?
OSR uses six data points: three school-wide and three program specific. For school-wide, OSR uses Student Satisfaction, Admission Rates, and the number of programs the school offers online. For program specific, OSR checks the Median Debt of graduates from that program, how many degrees are offered within that program's umbrella department, and what percentage of students at that school graduated from that department.
The six statistics are displayed by each school. The sliding bar under each statistic represents how that school compares to other US institutions. "Not reported" means a school did not release that information to the US Department of Education. A more detailed description of the OSR process can be found on the methodology page.