If you enjoy working in a hands-on environment, helping people, and troubleshooting on-the-job problems, getting an online certificate to become a plumber could be a great career opportunity for you.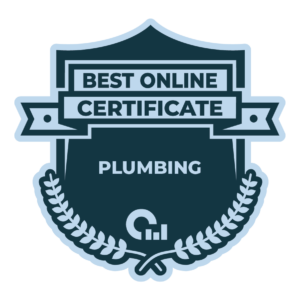 Whether you have mechanical skills, can maintain or fix plumbing issues, or have the desire to expand your knowledge and explore the career opportunities within the plumbing field, the colleges listed below can educate, train, and put you on the track to certification for a successful career in plumbing.
Take a look at the qualifications, scope of study, and pathway to a technical plumbing certification that an extended education can offer through some of the best online programs. Choose from a variety of educational opportunities to customize the program that will meet your specific instructional needs.
What Is an Online Plumbing Certificate?
Plumbers are skilled in fixing pipes, repairing many appliances, and installing new fixtures, as well as making sure that fixtures are up to code. With that said, becoming a plumber requires technical instruction and testing after proper apprenticeship training. To develop appropriate skills, knowledge, and the ability to complete the necessary licensing to become a plumber, an online certification program can deliver the flexibility and instruction you'll need to get licensed.
Online plumbing certificate education typically includes classes on pipe cutting, plumbing codes, draining, venting, and water heating systems.
How Much Can You Earn with an Online Certificate in Plumbing?
A certificate in plumbing can be a starting point for new workers interested in apprenticing and ultimately becoming a skilled plumber. Certificate programs can also add specialized skills and training for an existing plumbing professional interested in mastering codes, regulations, and designs for specialized structures.
In 2019, the U.S. Bureau of Labor and Statistics reported that plumbers, pipefitters, and steamfitters made about $55,160 annually. Since most states require an exam and licensing for plumbers to work, check your local requirements for more information on your state's board procedures. In addition, most professional plumbers are expected to complete four to five years of apprenticeship under a master plumber. Plumbing unions, trade associations, and businesses typically will provide this instruction, and candidates can earn about 2,000 hours of paid, on-the-job training and instruction annually.
What Is Required For an Online Plumbing Certificate?
Obtaining an online plumbing certificate is all about completing the industry-specific coursework and mastering technical skills. You'll start by completing a high school diploma, GED, or similar academic equivalent. Since many plumbing certificate programs are condensed to feature the knowledge and skills needed for mastery of the craft, having the ability to focus full-time hours on completing the program can be key. Some programs offer flexibility, but many require a full-time commitment. Most states require licensing for plumbing professionals, which includes sitting for an exam.
What Are the Best Online Plumbing Certificates?
OSR uses six data points: three school-wide and three program-specific. For school-wide, OSR uses Student Satisfaction, Admission Rates, and the number of programs the school offers online. For program-specific, OSR checks the Median Debt of graduates from that program, how many degrees are offered within that program's umbrella department, and what percentage of students at that school graduated from that department.
The six statistics are displayed by each school. The sliding bar under each statistic represents how that school compares to other US institutions. "Not reported" means a school did not release that information to the US Department of Education. A more detailed description of the OSR process can be found on the methodology page.