Make the leap toward higher education with one of the most affordable online bachelor's in health and wellness.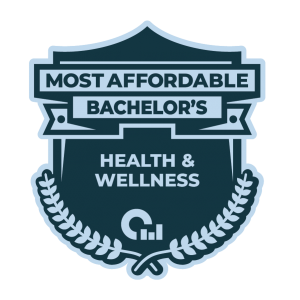 Do you feel inspired to inform your community about the role of health as it relates to physical, mental, and emotional wellness? If so, the colleges listed below can help prepare you with the knowledge you need to make a difference. Keep reading to see if an online bachelor's degree in health and wellness may be right for you.
What Is an Online Bachelor's Degree in Health and Wellness?
Although an online bachelor's degree in health and wellness can be applied to a broad span of careers, the underlying goal of these programs is universal. A degree in health and wellness will equip you with an understanding of how our general health affects us in a physical sense and beyond. 
These programs outline prevalent health concerns in modern-day society as well as how they can be improved. Through these programs, students will gain applicable insight that they can then share with future patients, clients, or the general public. 
How Much Can You Earn With an Online Bachelor's Degree in Health and Wellness?
A bachelor's degree in health and wellness can apply to a plethora of occupations, so earnings vary quite a lot. For example, anyone pursuing a job as a personal trainer, health educator, nutritionist, or medical professional can benefit from this degree. 
According to the U.S. Bureau of Labor Statistics, athletic trainers made a median salary of $48,440 in 2019. Many health and wellness careers stay around this range, with exercise physiologists earning an average of $49,170 annually, and health technicians typically reaching $42,630 a year. With that said, some health and wellness careers offer salaries that are significantly higher than these numbers. For example, health services managers make about $100,980 per year. 
What Is Required For an Online Bachelor's Degree in Health and Wellness?
In order to obtain an online bachelor's degree in health and wellness, you're typically looking at four years of schooling for completion. With that said, online programs often offer more flexibility, meaning this frame of time may be shorter or longer depending on your schedule.  Financial aid may also be available.
What Are the Best Online Master's Degrees in Human Services?
OSR uses six data points: three school-wide and three program-specific. For school-wide, OSR uses Student Satisfaction, Admission Rates, and the number of programs the school offers online. For program-specific, OSR checks the Median Debt of graduates from that program, how many degrees are offered within that program's umbrella department, and what percentage of students at that school graduated from that department.
The six statistics are displayed by each school. The sliding bar under each statistic represents how that school compares to other US institutions. "Not reported" means a school did not release that information to the US Department of Education. A more detailed description of the OSR process can be found on the methodology page.