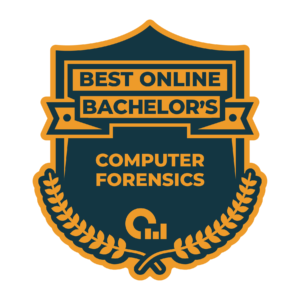 If you're a true crime junkie and also happen to love technology, a bachelor's degree in computer forensics could be the perfect way to turn your interests into your new career.
This degree combines crime-fighting with a modern technology twist. You'll get to learn all about the different types of crime that take place online and how to fight against them. When you graduate, you'll be ready to help solve and prevent crimes that occur in the digital world.
Online Schools Report is an advertising-supported site. Featured or trusted partner programs and all school search, finder, or match results are for schools that compensate us. This compensation does not influence our school rankings, resource guides, or other editorially-independent information published on this site.
What Is an Online Bachelor's Degree in Computer Forensics?
Computer forensics degree programs teach students the ins and outs of cybercrime. They're also called cybersecurity or digital forensics degrees. These degrees teach basics about the legal system and have courses on forensic science. It also wouldn't be a computer forensics degree without classes on computer technology. You'll learn all about different kinds of computer software and hardware.
With a computer forensics degree, you can get a job in a variety of areas. People with computer forensics degrees often work at local, state, or national law enforcement agencies. They can also get jobs at private investigation firms or large national companies. Wherever they work, computer forensic analysts gather evidence to help solve all kinds of digital crimes.
How Much Can You Earn With an Online Bachelor's Degree in Computer Forensics?
The computer forensics field is growing fast. This means that the salary potential is only going up from here.
According to ZipRecruiter, the average computer forensic analyst can make about $100,000 a year. The salary can be as low as $25,500 or as high as $152,000. With such a wide range, this field has lots of room for salary growth. Factors like years of experience and location can put your salary on the high end of the range.
The Bureau of Labor Statistics predicts that computer-related jobs will grow 6% between now and 2029. This ensures that you'll have lots of opportunities for career growth.
What Is Required For an Online Bachelor's Degree in Computer Forensics?
Computer forensic degree requirements focus on computer technology and forensic studies. Most programs have courses on:
criminology
operating systems
and investigative techniques
There are also some important skills required for a computer forensics degree. You'll need to understand common computer programs and have good critical thinking skills. Certain programs may also have you pick a concentration or do an internship. These experiences will make your resume extra competitive.
What Are the Best Online Bachelor's Degrees in Computer Forensics?
OSR uses six data points: three school-wide and three program specific. For school-wide, OSR uses Student Satisfaction, Admission Rates, and the number of programs the school offers online. For program-specific, OSR checks the Median Debt of graduates from that program, how many degrees are offered within that program's umbrella department, and what percentage of students at that school graduated from that department.
The six statistics are displayed by each school. The sliding bar under each statistic represents how that school compares to other US institutions. "Not reported" means a school did not release that information to the US Department of Education. A more detailed description of the OSR process can be found on the methodology page.
Frequently Asked Questions
What kind of jobs can you get with a computer forensics degree?
A computer forensics degree can lead you to a job in a variety of settings. If you'd like to work for a large national company, you could work as a computer systems analyst or an information security analyst. Companies hire these analysts to protect their software and data. You could also work as a malware analyst and study cyber threats.
Law enforcement jobs are also a popular option. You could work in a state or national law enforcement office, or even for a private investigator. In this role, you might help to gather evidence or find lost files. You can also be responsible for finding out where a cybercrime originally occurred. Some people in this field even testify in court cases.
People with computer forensics degrees can also work as consultants. Do you get bored easily or do you like the sound of working for yourself? Companies can hire consultants on a short-term basis to help solve specific security problems. This gives you the opportunity to change jobs after finishing a certain project. Consulting jobs also may allow you to choose your own duties and schedule. These roles are a perfect fit for people who like to be independent.
Is computer forensics in demand?
Technology is becoming a bigger part of our lives every day. It's ingrained into just about everything we do. Unfortunately, this means that crimes related to technology are on the rise too.
Last year, the FBI's Internet Crime Complaint Center received almost 800,000 reports of cybercrime. These crimes fall into two categories. They either target networks or use devices to take part in criminal activity. Common cyber crimes include viruses, stalking, illegal content, and identity theft.
As cybercrimes increase, so does the need for people with computer forensics degrees. The U.S. Bureau of Labor Statistics projects forensic science technician jobs to grow 14% by 2029. This is much faster than the average job growth rate. So while demand is already high now, it's only going to increase.
Companies are also spending more money to prevent and solve cybercrimes. According to Gartner, the global information security market could reach $170.4 billion in 2022. This is great news for you! It means more available jobs that come with even bigger salaries.
Getting a bachelor's degree in computer forensics can set you up for major success. In a world that sees technology in every aspect, the need for people to combat cybercrimes is increasing. With any of the above programs, you'll learn all about how to prevent and solve cybercrimes. When you graduate, you'll be well prepared to fight all types of cybercrime head-on. Your computer forensics bachelor's degree will prepare you for a high-paying job in a growing field. Since demand will only increase from here, you'll be set with a job that has endless opportunities.