The most affordable online bachelor's in computer science is a great opportunity.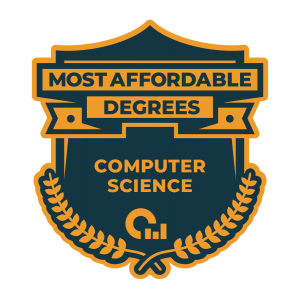 Getting a college degree is one of the best ways to improve your earning potential in your adult years. But it's no secret that college is expensive and time intensive. It can be even more difficult to go to a good school if you aren't in a state with lots of excellent universities for your chosen subject.
Today, we'll look at the 10 most affordable online bachelor's in computer science programs so you can complete your education from a distance without breaking the bank.
See Also: How Hard is it to Get a Job in Computer Science?
What is a Bachelor's in Computer Science Degree?
A bachelor's degree in computer science is one of the most sought out and valuable degrees you can hold these days. The degree revolves around information technology and may include courses about coding, programming, cybersecurity, and networking.
Bachelor's degrees in computer science are so valuable because they are versatile certifications. You can hold many lucrative jobs with a degree in computer science. In addition, a computer science degree is a great "gateway degree" that can lead to further education in a more specialized field or a master's in the same subject.
How Much Can You Earn With a Bachelor's in Computer Science?
With a bachelor's degree in computer science, your earning potential is almost unlimited. While your actual salary will vary from job to job, the computer science professions in general are high earning. The Bureau of Labor Statistics reports that the median annual wage for all computer and information technology occupations is $86,320. Many of these jobs can be acquired through a bachelor's in computer science.
But your earning potential may be even higher. Some jobs, like computer network architects, can earn up to $109,020 each year. Software developers are similarly lucrative, earning a median annual wage of $105,590.
Suffice to say that a bachelor's degree in computer science is a great investment. If you're not as concerned with price, we've also ranked the best overall computer science programs.
What is Required for a Bachelor's in Computer Science Degree?
A bachelor's degree in computer science will often require a host of core IT classes, such as:
Programming
Networking
Coding languages
Math
Statistics
Calculus
You may need to take certain classes about specific programming languages in order to graduate from certain programs or qualify for some jobs.
What Are the Most Affordable Online Bachelor's in Computer Science Degrees?
These are the most affordable computer science programs, sorted by the Average Net Price for attending the school. Net price factors in fees and financial aid.
OSR displays six data points for each school: three school-wide and three program specific. For school-wide, OSR uses Student Satisfaction, Admission Rates, and the number of programs the school offers online. For program-specific, OSR checks the Median Debt of graduates from that program, how many degrees are offered within that program's umbrella department, and what percentage of students at that school graduated from that department. Because this is a ranking based on affordability, these data points are not factored into the score.
The six statistics are displayed by each school. The sliding bar under each statistic represents how that school compares to other US institutions. "Not reported" means a school did not release that information to the US Department of Education. A more detailed description of the OSR process can be found on the methodology page.