If you want to get a master's degree in computer science, then you already know that computer science is a complex field of study that opens the door to a variety of career opportunities.
Earning your master's degree in computer science will set you apart from your peers and move you forward in your career possibilities.
With that said, graduate school is no piece of cake. It requires a lot of effort to earn this degree. It takes time, too. How long does it take to get a masters? Well, that depends on a number of factors, which we'll discuss in a moment…
But there are plenty of degree programs that will work with you on balancing your full-time work schedule while still managing your graduate requirements.
To be considered for a computer science graduate program, you'll need to have an undergraduate degree in computer science or a related field of study. Some graduate programs might require a certain amount of years of experience before entering a higher education program. However, with so many programs available online and in-person, you will be able to find a program that fits your needs, level of experience, and interests.
See Also: Ultimate Guide to Computer Science
How Long Does It Take to Get a Masters Degree in Computer Science?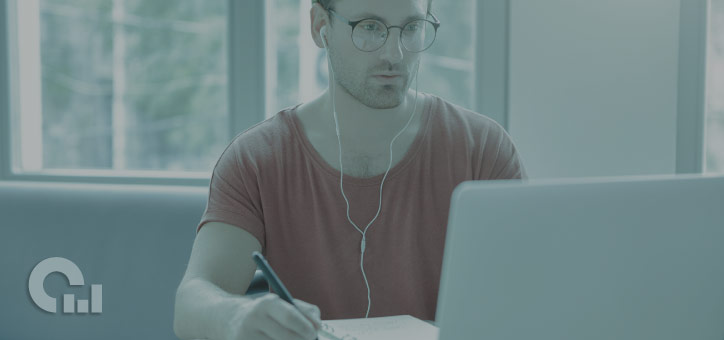 At the forefront of your mind is likely the question, "how long does a masters in computer science take?"
On average, it will take two years to earn your master's degree in computer science. There are different degree tracks offered at every university, so it's important to consider how much time you have to complete the degree program before enrolling.
But, questions like "how long does it take to get a computer science degree?" or "how long does it take to get a master degree?" don't have a definitive answer. That's because each student and program is a little different.
For example, some programs offer accelerated learning. This allows you quickly complete coursework and graduate within as little as one year. Other programs offer self-paced learning, which allows you to take courses at your own pace and study part-time. Graduate students who decide to study for their degree part-time typically graduate within three to five years. 
If you like the idea of an in-person experience but can't commit to attending your classes on campus full-time, there are programs that provide hybrid learning opportunities. This means some of your courses will be online and others will be on campus. Whatever your situation may be, there is a master's program out there for you. Most graduate programs have exceptional academic advisors to help guide your degree track and set you up for optimal success.
See Also: How Hard is it to Get a Job in Computer Science?
How to Get a Masters in Computer Science
As noted above, many graduate programs in computer science require you to have an undergraduate degree in this field or a closely related one. For example, if you don't have a degree in computer science, a degree in data science would likely suffice.
Usually, schools require that your undergraduate degree is from an accredited institution. If you're unsure if your degree is from a school that's accredited, check with your school to determine its accreditation status. If it's accredited, great! If not, you'll likely have some work to do.
Additionally, if you have a bachelor's degree but it isn't in a closely related field to computer science, you'll have to take some prerequisite courses before enrolling in a graduate program. In some cases, you might be admitted to the graduate program, with the caveat that you first complete the prerequisites. In other cases, you might not be accepted to the master's program of your choice until you have the basic undergraduate courses completed.
Other common admissions requirements for a master's in computer science program include:
Submitting official undergraduate transcripts
Having a certain minimum undergraduate GPA (e.g., 2.5 on a 4.0 scale)
Letters of recommendation from undergraduate professors
Evidence of relevant work experience
You might find that some master's degree programs in computer science require you to take the Graduate Record Exam (GRE) and pass with a satisfactory score. Some programs might also require you to submit a personal statement or participate in an interview with an admissions committee.
You'll obviously need to submit an application and pay required fees, too.
Assuming you meet the admissions criteria and you're accepted to the program, you can set about finishing enrollment and doing the required coursework to get your masters in computer science. Remember, how long does it take to get masters degrees depends on many factors, not the least of which are the degree requirements and if you're a full-time student (taking 9 or more credit hours per semester) or a part-time student. Try not to get wrapped up in thinking about how long does it take to get your master's degree, and instead focus on completing your graduate-level studies one semester at a time.
Is a Master's Degree in Computer Science Worth It?
When you earn your undergraduate degree in a specific field, you're studying that field on a very broad level. When you decide to further your education and enroll in a graduate degree program, you get the opportunity to study that field in much more depth. A master's degree allows you to hone in on the specific areas of study that interest you the most within the general discipline. When you decide to study at this level, your course requirements will most likely reflect a certain concentration of your choice. An example of a concentration within a computer science degree is software engineering. Another example might be computer security.
You'll take highly specialized classes, too. For example, in your MS degree program you might study:
data structures
information technology
operating systems
computer programming
algorithms
Beyond mastering a specialization, another great benefit of completing your graduate studies is the increase in income. Earning a Master of Science in Computer Science puts you in a different salary bracket and can lead to advancement in your career. You will qualify for higher-paying positions and may find yourself managing or guiding others within a leadership role. Needless to say, a master's degree in computer science is a smart investment in your future.
Questions like, "how long does it take to get a master's degree?" and "how long does it take to get your masters?" should be quickly followed by "how will my knowledge and skills improve over that period of time?" As we've already discussed, master's programs aren't easy, and they can take years to complete. But, it's often worth it because of the advanced level of skills you develop.
How Much Can You Make With a Master's in Computer Science Degree?
Since computer science is such a vast industry, career opportunities are practically endless. According to PayScale, the average salary for a master of computer science graduate is around $100,000.
Specializing in software engineering is the most common path for an MCS graduate. However, software engineering is just one of the many specializations available throughout these programs. Other specializations for computer scientists include:
artificial intelligence
game design
networks
information security
data science
programming languages
computer systems
theory
computer engineering
software development
machine learning
There are many more, too! Your career path might take you in one of these directions, or career goals might lead somewhere else.
Specializing in a niche of computer science can often lead to an even higher income. For example, computer scientists that specialize in information security or cybersecurity might make more than $150,000 per year. A data scientist can earn in excess of $136,000 per year.
As you can see, getting a masters in computer science provides you with the opportunity to specialize while making you a much more valuable asset within the workforce. You'll increase your salary, qualify for expert-level roles, and narrow your job duties to the skills that interest you most.
Related Reading: