In an era where environmental sustainability has become an urgent global priority, institutions of higher education have stepped up to play a pivotal role in shaping a greener future. Across the United States, colleges and universities are leading the charge in adopting environmentally conscious practices, embracing renewable energy, reducing waste, and fostering a culture of environmental stewardship among their students and staff. As we navigate the challenges posed by climate change and resource depletion, it is increasingly crucial to recognize and celebrate the efforts of these educational institutions that are not only providing top-tier academic experiences but also leading the way in sustainable campus management.
In this article, we will explore the most environmentally conscious colleges and universities in America, highlighting their innovative initiatives, commitment to sustainability, and the profound impact they are making on both their local communities and the planet at large. To further clarify, we researched specific qualities that we required of these institutions before including them in our list. These qualities include:
A percentage of their food being grown within 100 miles of campus
Having a CSA
Having a garden on campus
Having removed wasteful dining materials
Recycling programs
Student sustainable food groups
It's also important to note that the incredible green colleges on this list are not being presented in ranked order. Join us on a journey to discover the greenest campuses in the nation and gain inspiration from their dedication to a more sustainable future…
5 of the Most Environmentally Friendly Colleges:
University of California, Davis
University of Vermont
University of California, Berkeley
Warren Wilson College
University of Oregon
1. University of California, Davis
At the forefront of environmental consciousness, the University of California, Davis, often referred to as UC Davis, proudly showcases a commitment to sustainability that echoes through every aspect of campus life. A cornerstone of their eco-friendly ethos is their sustainable food program, where an impressive portion of the university's meals are thoughtfully sourced from within a 100-mile radius of campus, reducing food miles and supporting local agriculture. Beyond food sourcing, UC Davis takes hands-on sustainability to heart, fostering an environment of active engagement through their own campus garden and a student-run farm. These initiatives not only promote sustainable agriculture but also offer students invaluable opportunities to connect with the land they spend so many hours on.
However, UC Davis's dedication to eco-consciousness doesn't stop at food sourcing and farming. The university has implemented substantial waste reduction strategies, including composting and recycling programs, reducing the use of single-use plastics, and promoting reusable dining materials. This has significantly curbed their environmental footprint. Furthermore, the ethos of sustainability is deeply intertwined with campus life, with various student groups at UC Davis taking the reins in spearheading impactful sustainable food and environmental initiatives. All of this and more reaffirms the university's status as a leader in the realm of environmentally conscious higher education.
2. University of Vermont
Nestled in a region renowned for its commitment to local and sustainable cuisine, the University of Vermont, also known as UVM, sets the standard remarkably high for environmental consciousness within a college institution. UVM recognizes the importance of supporting its community and reducing its ecological footprint, sourcing a substantial percentage of its food locally to strengthen connections with regional farmers and reduce food miles. UVM also proudly maintains a thriving campus garden and actively supports community-supported agriculture (CSA) programs, fostering an educational environment where sustainability takes root in practice.
Additionally, UVM impressively maintains a thriving campus garden, supports community supported agriculture (CSA) programs, majorly reduces waste through composting and recycling programs, and even has various student-run organizations that are dedicated to promoting sustainability on and off campus. It's more than clear that the University of Vermont cares about it's people and the planet.
3. University of California, Berkeley
The University of California, Berkeley, or UC Berkeley, is a shining example of environmental responsibility on a college campus. At the heart of its eco-conscious approach is a commitment to sourcing food locally and sustainably. They accomplish this by only buying from farms that are located under 100 miles away. Not only does this reduce food miles and ensure fresh food for students, it supports local farms that have a positive environmental impact. The Berkeley Student Food Collective, a vibrant student-led initiative, further pushes the university's sustainable food practices by offering a diverse array of locally sourced, eco-friendly options to the campus community.
Additionally, UC Berkeley is dedicated to waste reduction by offering composting and recycling programs and working hard to minimize single-use plastics. Their commitment to sustainability extends beyond the administrative level, with several passionate student organizations at Berkeley that actively fight for environmental causes and driving forward sustainable food initiatives. UC Berkeley's certainly holds status and respect as a trailblazer in the list of eco-consciousness institutions.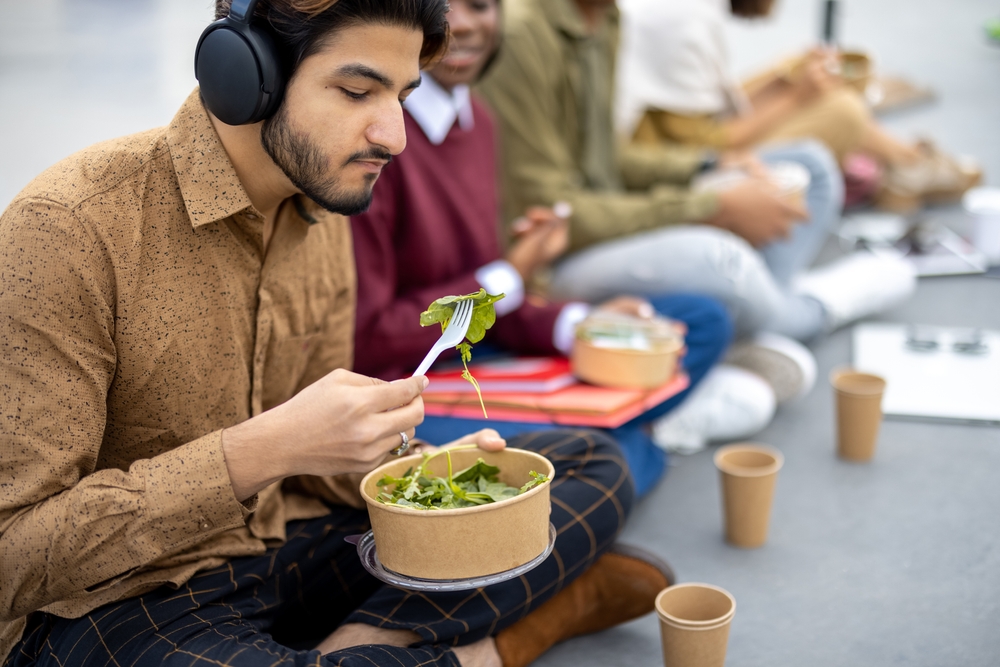 4. Warren Wilson College
Warren Wilson College, located in the heart of North Carolina, is well known for their dedication to environmental consciousness, with their sustainability efforts extending far and wide across their campus. One of their most impressive efforts is food sourcing. Warren Wilson College operates its own farm and garden, which provides a substantial portion of the institution's food needs, reducing its dependence on distant supply chains and fostering a deeper connection between the community and the land.
Their other sustainable food practices that many other colleges should try to mimic include waste reduction and recycling programs that are thoughtfully woven into all of the campus's daily operations. Beyond this, Warren Wilson's vibrant and green campus community actively engages in discussions and initiatives related to sustainable food, the overall ethos of ecological responsibility and establishing themselves as true promotors of environmental conscientiousness within the world of education.
5. University of Oregon
The Pacific Northwest has long been known for it's appreciation of the great outdoors and actively caring for our planet. With that being said, it comes as no surprise that the University of Oregon stands as a gleaming example of sustainability and environmental conscious within higher education. Rooted in a dedication to local and sustainable food sourcing, the university's dining services prioritize the importance of reducing their carbon footprint while nourishing the campus community. Further pushing this commitment, the university maintains a thriving campus garden and actively promotes sustainable agriculture through diverse initiatives. This seamlessly creates a connection between academia and sustainable practices which hopefully students will carry with them long after they graduate. Waste reduction is also a cornerstone of the University of Oregon's sustainability practices, with impressive composting and recycling programs throughout the campus. Notably, the university's student body is an active catalyst for change, with student groups passionately advocating for sustainable food practices and broader environmental sustainability. All of this and more only reiterates the institution's role as a leader of positive change.
Paving the Way for a Sustainable Future
In a world where the urgency of environmental sustainability cannot be overstated, the remarkable efforts of these environmentally conscious colleges and universities in America serve as beacons of not only inspiration, but hope. From the farmlands of California to the lush green landscapes of Vermont and beyond, these institutions have embarked on a journey towards sustainability that extends far beyond the classroom walls.
Through innovative practices such as sourcing a significant portion of their food from local farms, fostering community-supported agriculture, cultivating campus gardens, eliminating wasteful dining materials, implementing recycling programs, empowering student led sustainability groups, and more, these institutions are redefining the way we think about the relationship between education and the environment. They have demonstrated that the driver behind knowledge is not separate from, but intimately connected to, our responsibility to protect the planet. By accomplishing all of these qualities that deem them environmentally friendly, these institutions are not only reducing their ecological footprint but also nurturing a culture of environmental consciousness among their students, faculty, and staff, cultivating the environmental leaders of tomorrow.
Related Resources: