During college, students develop and change personally, professionally, socially and, of course, academically. That's why we've put together this guide to student success in college, so each and every college student can know how to lay the groundwork for success while attending university.
Though success may look different to everyone, these 12 steps will help anyone stay on the right track throughout their college career. From knowing how to communicate effectively to trying new things, read on to learn how to be the most successful student possible.
Table of Contents:
5. Ask for Help
10. Get Social
12. Try New Things
1. Develop a College Plan
One of the best ways to start on the right foot in college is to develop a "college plan." This is essentially a map of what future semesters will look like so you're one step ahead when it comes to class registration time.
Take a look at what's required for your degree, including course, certification and internship requirements (if any). Using that information, plan out what classes you'll need to take and when in order to graduate on the timeline that works best for you. Though this won't be set in stone and some things are likely to change over time, having a plan to guide your registration choices will help you stay on track.
It's generally recommended that to graduate in four years, you should take roughly 15 credits (or five three-credit hour classes) per semester. Of course, this will vary based on transfer or AP credits, as well as different classes required for a major and minor.
One of the biggest issues that prevents college students from graduating in this timeline is impacted majors, or majors (often at state schools) that are at max, or even over, capacity of students that can take given classes. For students in these majors, certain classes they need to graduate could be filled up before they have a chance to enroll—pushing their graduation timeline back by a semester or worse, by a year.
If this sounds similar to your major, be sure to take these classes as soon as you can. Talk to an advisor or classmate in the same major to see if you have any classes that need to be taken in a specific order or at a specific time. Once you discover if you do or not, you can build your schedule around those classes to ensure you graduate on time.
We've included an example college plan here — of course, yours will completely depend on your major, courses and preferred graduation timeline. Personalize away!
See Also: Best Study Apps for College Students
2. Set Achievable Goals
Many people go to college and dream of their post-graduation life and career. While having this overall goal is important to drive and motivate your decisions, it's just as important to set smaller, more achievable goals as well.
First start by identifying your dream of dreams, what you're working through college to do. Once you've identified what that is, you can ask yourself: what can I do in the short- and long-term to achieve that?
SMART goals are a great place to start. These parameters help you set smaller goals that will help you achieve your big one. SMART stands for:
(S)pecific: Is this goal clearly outlined? Is it vague or well-defined?
(M)easurable: How is this being quantified? Are you using data to achieve this?
(A)chieveable: Is this something you can reasonably do? Is it easy, difficult, hard or impossible?
(R)elevant: Is this goal related to your larger one? How will it help you achieve it?
(T)ime-bound: Does your goal have a start and end date? Is there a time you want to have it accomplished by?
For example:
Big goal: Move to Los Angeles and work for a big movie studio.
Smaller goal: Intern at a production company in the summer.
Check the SMART goal parameters to see how it works.
Specific: You've outlined when and where you want to intern, being as specific as possible. Check!
Measurable: This is a goal you can clearly measure: either it gets done, or it does not. Check!
Achievable: This is something you have the skills and the means to do. It may be difficult, but it's not impossible. Check!
Relevant: This goal will help you achieve your larger dream down the line, as it's in the same field as your big goal and will look great on your resume. Check!
Time-bound: This isn't an open-ended goal. You've outlined a time frame you want to achieve this by. Check!
Now that you have what you need to ensure your smaller goals are setting you up for success to reach your larger one, be sure to ask yourself: is this goal SMART?
3. Stay Organized
Does this scenario sound familiar? At the beginning of the semester you have a new planner, brightly colored pens for each class and your computer desktop is neatly organized with folders for each class. Despite your best efforts, halfway through the semester, you're behind on a few assignments, have to stay up late to finish an essay you forgot was due and your desktop is a mess.
Staying organized is the key to success in college. If you struggle with keeping track of everything, try bringing in some outside resources. There are a number of online planner and homework tracker apps that help users see their assignments and due dates at a glance; check out Asana, Google Calendar and Chipper. These can help you stay on top of due dates and remove the unpleasant surprise of a deadline sneaking up on you.
Studies have shown that an organized space is a happy and productive space, which is why it's important to maintain a neat computer and physical space. Use Sunday evenings as a time to both relax and get ahead for the week, and put all of your online (as well as physical) documents in their assigned spots. Not only will this save you time when studying time comes around, but you'll feel less stressed when you're organized.
4. Study, Don't "Study"
When thinking about studying for tests in college, it seems that "cramming," or staying up late the night before an exam to study, is the encouraged norm. This isn't the case, and could actually be harming you in the long run. Procrastinating to the point of needing to cram for a test may happen once or twice in college, but it should be avoided when not absolutely necessary.
Not only have studies shown that cramming information doesn't encourage long-term retention, but can also lead to increased, unhealthy stress levels. In fact, in a study conducted at the University of California, Los Angeles, researchers found that spaced out studying was more effective than cramming for 90% of participants. Active studying — which means actively reviewing the material, testing yourself on it and ensuring you're retaining the information — is more likely to be effective than passive studying. Passive studying entails only reading the textbook, highlighting a few sentences and reviewing notes a few hours before the test.
Instead of cramming or studying passively, try an active study method that will help you retain the information and not stay up late the night before. There are many online study tools you can utilize, from study guides and flashcards to practice quizzes. If you learn best with a study buddy, find someone in your class to study with and bounce ideas off of. Get to know your personal study style and see what works best — then stick with it for ultimate studying success!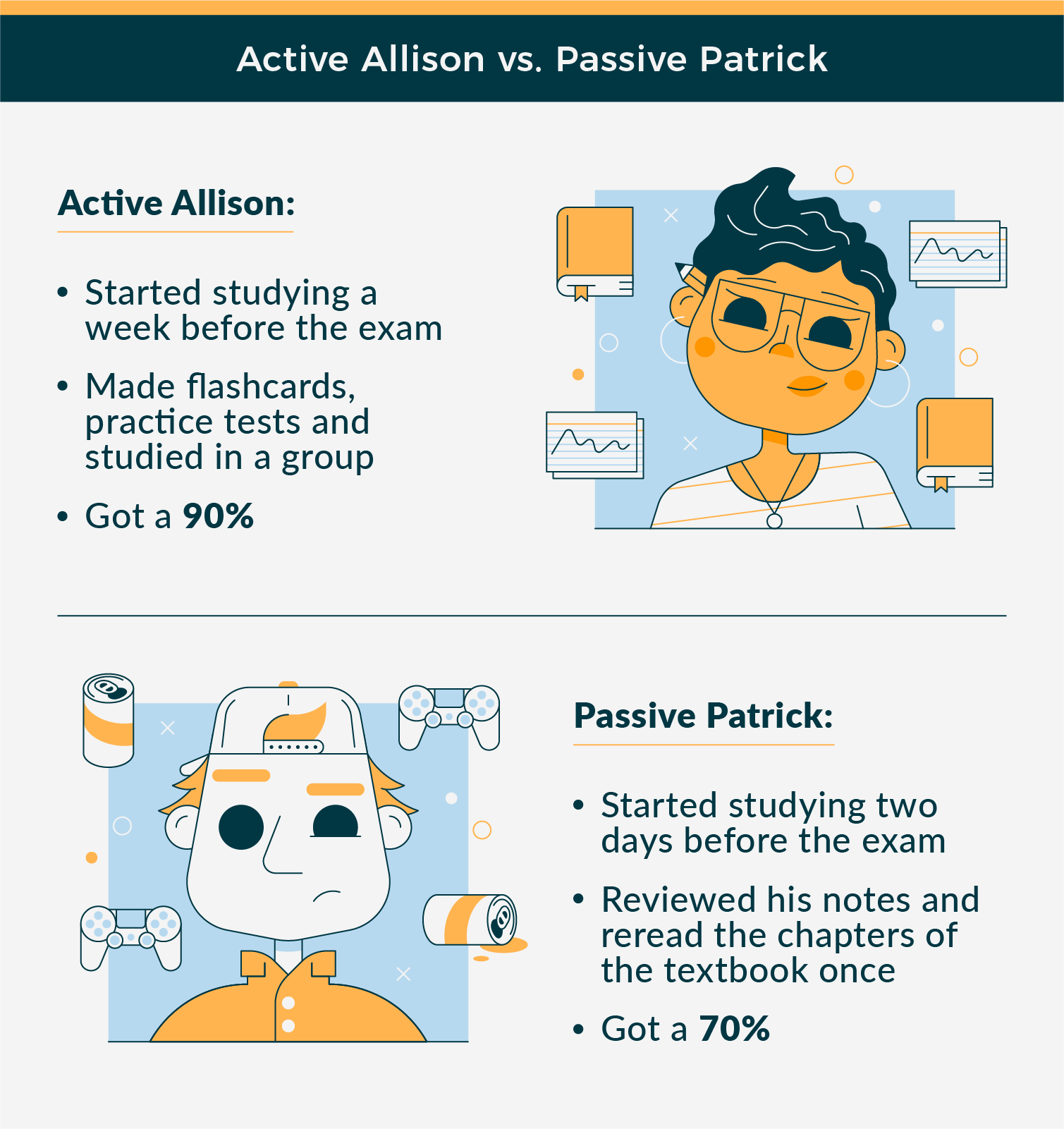 5. Ask for Help
At some point during your college career, you'll need help with something. Whether it's an extension on an essay, a perplexing question on a test or an assignment you truly don't understand, the time will come when you'll need some assistance.
Luckily, you will have access to many resources to help you along your way: not only your classmates, TA and professors; but also campus resources including career centers, tutors, writing centers and student services.. The old cliche rings true: if you're confused or have a question, odds are someone else is, too. Don't be afraid to ask a question when you need clarification — it could help out someone else in the room, too!
As intimidating as it can be to need help from a professor, that's what they're there for: to help you succeed. If you're nervous about asking for help or an extension, we're here to help! Below you'll find email templates you can copy, paste and customize to your needs whenever you need to draft a question to a professor.
How to Ask for Clarification:
Subject line: Question regarding [class] assignment
Hi Professor [Name],
My name is [Your Name] and I am a student in your [Class name and section number]. I had a question regarding [assignment] due on [due date], which I was hoping to get some clarification on.
[Ask question]
Thank you so much for your time; looking forward to hearing from you and seeing you in class!
All the best,
[Your Name]
How to Ask for an Extension:
When asking for something, like an extension or letter of recommendation, it's often best practice to ask face-to-face during their office hours or after class. If you're in an online setting or can't make their hours, we've got you covered with a template.
Subject line: Extension request for [Assignment]
Hi Professor [Name],
I'm wondering if it would be at all possible to turn in [Assignment], originally due [Date], on [New Date] instead. [Give reason for extension request].
This extension would give me adequate time to ensure that I am turning in my best work for your class. Thank you very much for your consideration, and I'm looking forward to hearing from you soon.
Thank you,
[Your Name]
6. Manage Your Time
One of the biggest system shocks when transitioning to college is that no one tells you what to do or how to manage your time — that's completely up to you. Depending on how many courses you're enrolled in, extracurricular activities you're a part of or outside responsibilities, it can be easy to lose track of time, prioritize one "fun" class over another or worse: procrastinate until the night before something is due.
Managing your time effectively and efficiently is an easy way to be successful and stay organized. One way to manage your time effectively is to put away or limit time wasters — these include your phone, social media and other tempting distractions. Try a browser lockdown app or timer that locks everything on your computer except what you're working on; this way, you'll be sure all of your time is spent on the task at hand. To avoid burnout and unnecessary stress, follow a timeline: work for 45 minutes to an hour, then take a 10-minute break by going to the bathroom, taking a quick walk or standing up to stretch.
It's also important to know when to switch from one assignment to another. Being enrolled in multiple classes means you'll be juggling various timelines and tasks. This means it's important to know what to prioritize, along with your unique working style.
Do you prefer to work on tasks a little bit at a time, or dedicate yourself to one until it's finished and repeat? Once you know this, you can take a look at the due dates for your projects and see how best to work on them each day until completion (without waiting until the night before).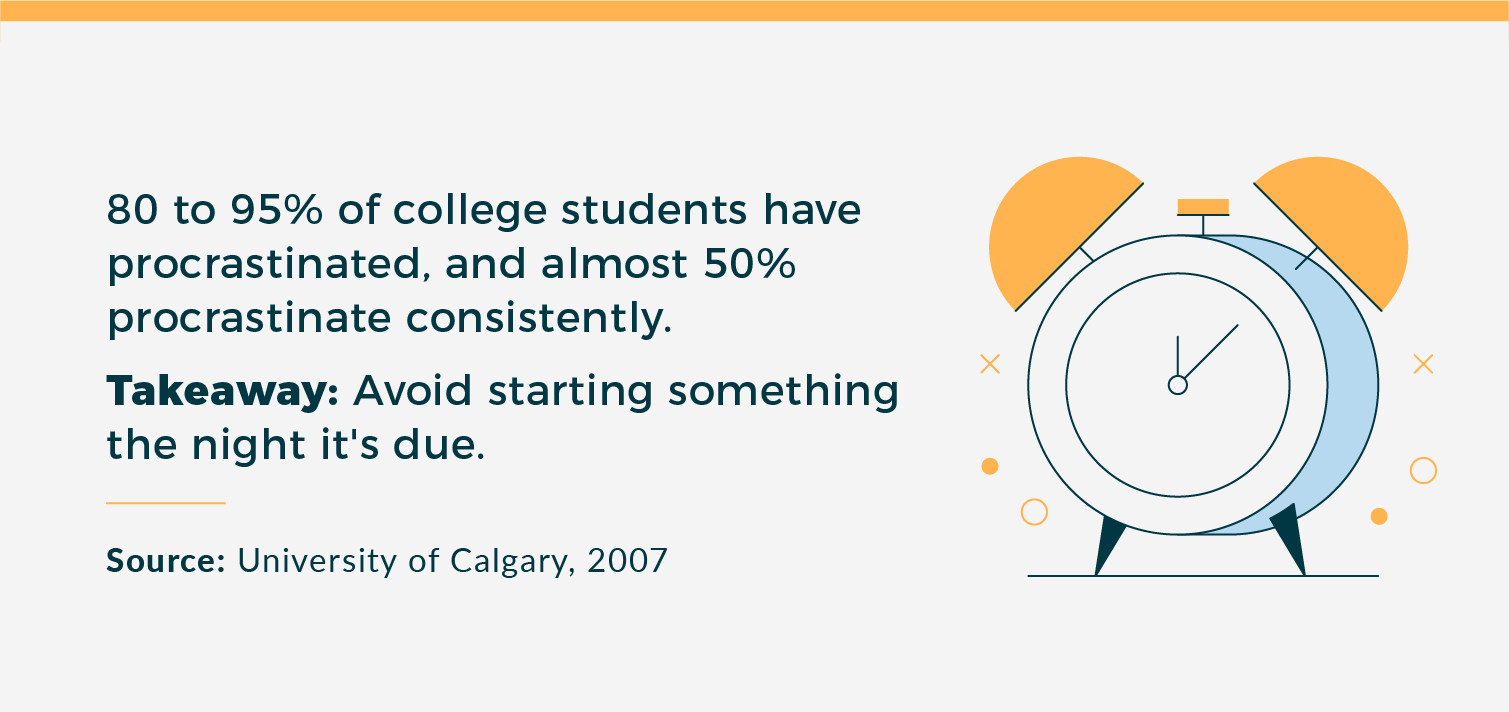 7. Manage Your Finances
Whether you work a part-time job, are on work-study or go to class as your full-time occupation, college is a great time to get your finances in order. Establishing good financial habits early ensures that when you have a salary and more money to manage, you'll be able to do so intelligently. It's just like any other hobby or skill — the more practice you have, the better you'll be at it.
Considering that over 70% of Americans have reported feeling stress about money and finances, establishing smart financial habits in college is a smart thing to do. We've identified some easy things that any college student can do to start building money skills.
Follow a Budget
Budgets may sound like a scary way to keep you from spending any sort of money. While budgeting may sound intimidating, the basics are easy. Simply take a few hours to sit down and see how much money you have coming in every month, whether from a paycheck, scholarship or allowance. Subtract essentials, like food, rent and utilities, and see how much money you have left for non-essentials (clothing, restaurants and going out).
Try and set aside some of that incidental money in a savings account, and limit and track the amount of money you're spending on non-essential items. That doesn't mean you can never go out to eat again or splurge on new shoes — it just means you're wisely limiting the amount of times you do that based on the amount of money you have coming in.
Use Credit Cards Wisely
Many financial advisors say that college is a great time to start building up credit, and encourage opening one or two accounts. While it's true that building credit while you don't have many expenditures is wise, you should be very careful with how you use a credit card.
For instance, look for a card that has a low (if any) yearly fee and annual percentage rate, or APR. There are many "starter" student cards that have low yearly interest rates that will accept an applicant with little to no preexisting credit, which are a great place to start building credit. An essential aspect of your credit score is the length of time your various line(s) of credit have been open. So open something now with no annual fee, and keep it open even if you don't use it much or even at all.
Once you have a credit card, avoid spending money that you don't have, which is a mistake many eager new credit card users make. It can take months, or even years, to pay back one or two trips to the mall. Swipe your credit card on smaller things, like gas, groceries or monthly fees like utilities. This way, you're building up credit and showing you're responsible without racking up thousands of dollars in debt.
Keep Track of Expenditures
Though "balancing a checkbook" may seem like a foreign concept, it's still vital to ensure that you're keeping track of where your money goes. Establish the habit of checking your bank's monthly statements when they're released, and ensuring you recognize all of the fees on there. Many scammers don't drain your bank account; they'll make small enough purchases to fly under the radar.
Check your withdrawals against your bank's records to make sure they're all accounted for by keeping receipts and ATM withdrawal slips. Many stores and banks will now send you a receipt online, so you no longer have to worry about having a receipt-stuffed wallet.
8. Use Your Resources
One of the perks of being a college student, whether virtual or residential, is the number of resources your college provides that you have at your disposal, day or night. Some of the resources include:
Libraries: Not just a place to study or check out books, but also hosts databases and tools you'll likely never have access to again, as well as rentals for DVDs, CDs and other tech equipment for free or very cheap.
Health Services: Among other things, student health services offer immunizations, checkups, prescriptions and mental health services.
Recreational Services: Campus gyms and rec services will often offer online or in-person workout classes, clubs and trips.
Academics: If you're struggling in a class, you can make an appointment with any number of tutors, writing coaches or other forms of one-on-one or small group academic assistance.
Career Services: Many career services offices offer resume and cover letter advice, practice interviews, internship and job listings, a closet of professional clothing options to rent and more.
Advising: To help you succeed, you can visit an advisor for help with scheduling, class overrides, financial aid questions and more.
That just scratches the surface when it comes to student resources. Be sure you're making good use of all that your university has to offer before you graduate!
9. Know Your Limits
Some students go to college with just the goal to graduate, while others want to do as much as they can, by joining clubs, extracurriculars and generally immersing themselves in college life. Though getting involved and trying new things is a part of the college experience, it's especially important to know your limits and know when to say "no."
It might be easier to say "yes" to friends, classes and other obligations. But if you've stretched yourself too thin, you could be facing the harsh consequences of burnout — which includes anxiety, exhaustion, stress, losing motivation and more.
Be sure you're prioritizing yourself and your long-term success by knowing your limits and that it's okay — and encouraged — to say "no." You can't do great things for others if you aren't feeling great about yourself, so be sure to know and respect your limits.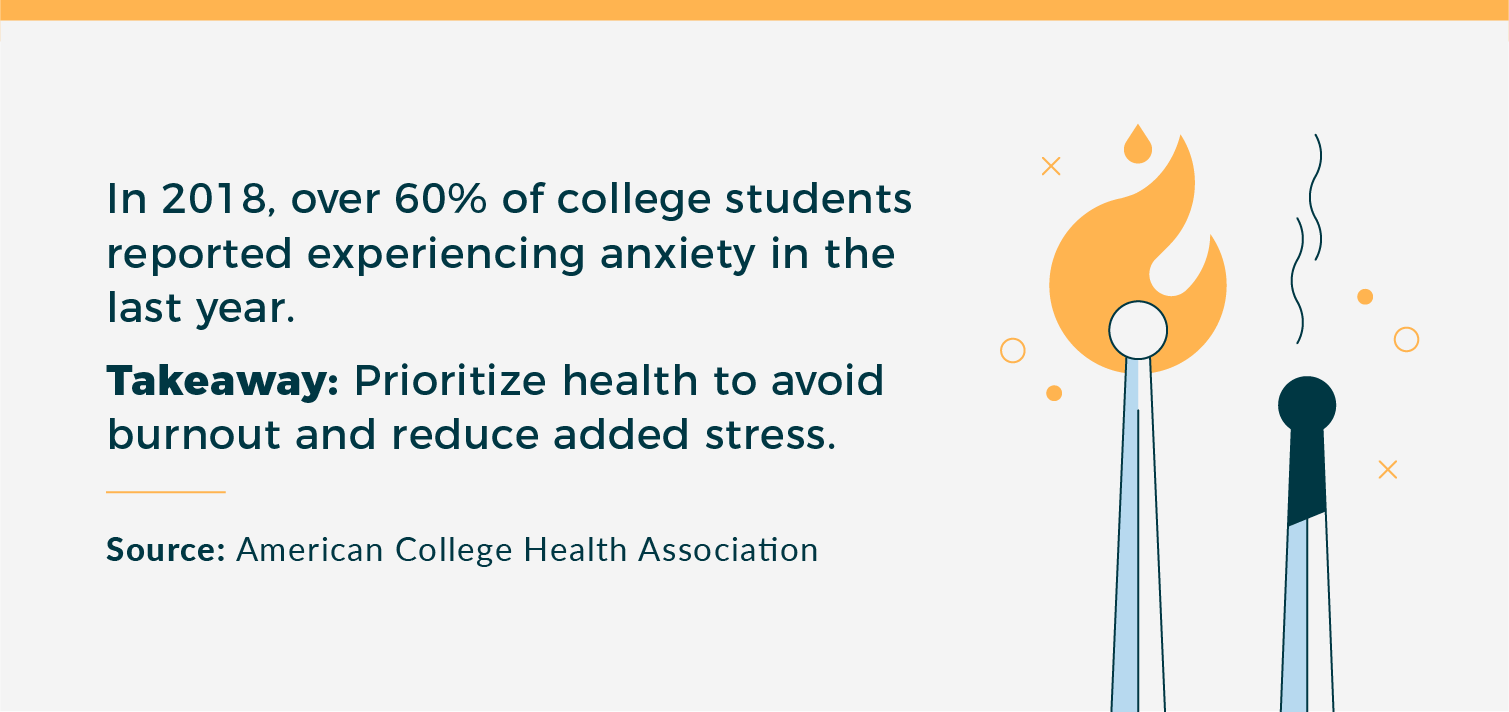 10. Get Social
So, while saying "No" to over-extending yourself is critical, keep in mind that college isn't all about academics and studying — a lot of the fun of college is meeting new people with common interests. Many students meet lifelong friends through a study group or in a lecture hall.
Friends in college aren't just helpful for having someone to study for finals or get coffee with. Studies have shown that having friends in college can help motivate and support you, making you more likely to succeed academically. This includes having friends to study or be in class with, complete projects with, practice internship interviews with, bounce ideas off of and generally just be around for moral and academic support.
Be warned: this data shows that while some friends can help you succeed, others do the opposite. Be sure you're building a strong, supportive network of friends and colleagues who help you, not hurt you.
11. Prioritize Communication
Among other life lessons you learn in college, a big one is how to effectively communicate, both one-on-one and in a larger group. No matter the scenario, a time will come during your college career where you'll need to speak up — and you'll need to do it effectively.
Being able to speak your mind coherently and professionally is important throughout life, and college is an important crucible for honing these communication skills. Whether you're chasing down an unresponsive group project member or asking a professor to change your grade, it's important to be able to ask for what you want directly and politely. Though times will come where you feel like flying off the handle, being able to take a step back to articulate your feelings is a skill that will be developed (and tested) numerous times throughout your college career.
One way to ensure you're communicating accurately and professionally is to ensure you remove combative language. Try to not use "you" statements, and be as objective and fair as possible, despite the emotions you may feel.
Instead of: You didn't do your part of the assignment and it caused all of us to get a bad grade.
Try: When we went to turn in this project, I didn't see your section in there. Did you get a chance to add it to the assignment and turn it in to our professor? We'll be penalized as a group if not.
Instead of: I should get an A in this class, and it's unfair for you to not give me one.
Try: Hi Professor [Name], I believe that the work and effort I have given to this class throughout the semester is deserving of a higher grade. If you take a look at my past assignments, you'll find the same effort throughout which, according to the university's grading system, is consistent with a higher semester grade.
12. Try New Things
One of the most exciting things about college is the ability to try new things and experiment with classes, majors and interests. You don't need to feel married to the major you declared when you started school — in fact, one in 10 college students in 2017 changed their major multiple times. College is all about figuring out what you like and are interested in, which could look very different than when you enrolled.
This is when it's important to branch out, both academically and socially.
Academically:
Elective courses, which are required for many majors, are a great opportunity to see what interests you outside of your chosen area of study. Colleges offer yoga, classes analyzing comics, art history courses and more. Spend some time with a course catalogue and see all of the options that are out there — they may surprise you!
Socially:
In college, there seems to be a club for almost everything! From science to architecture, movie watchers to animal lovers, there are clubs, organizations and societies for every interest, passion and person. Many colleges offer a club fair at the beginning of every semester for students to see just how many organizations they offer.
These clubs are often available for distance learning students as well, with virtual meetings instead of in-person. If you're looking to be more active on campus, meet new people or explore some new interests, getting involved is a great place to start. Your college should have their clubs listed on their website, which you can explore and see what piques your interests.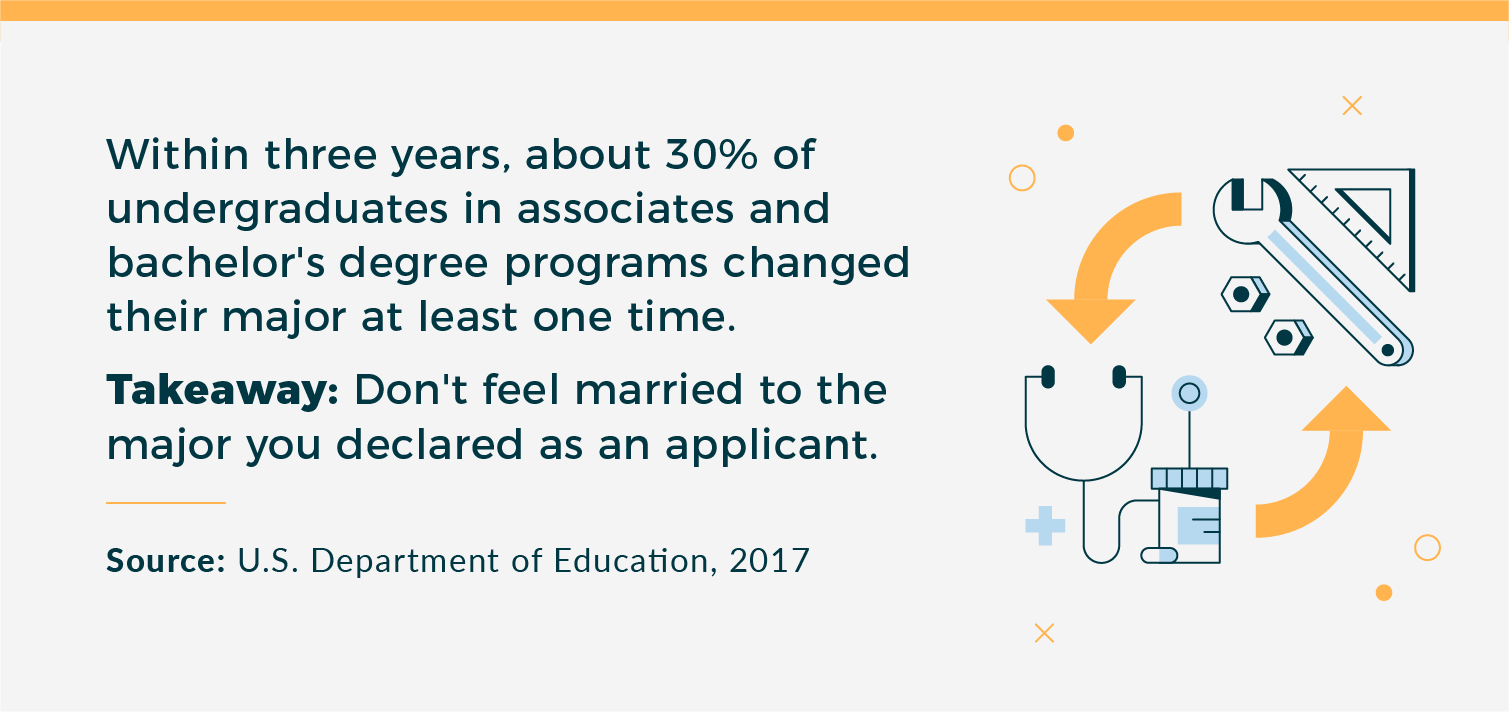 College is a time to learn, grow and change as a student and as a person. While success is measured differently by everyone, these 12 steps will help any college student find success in the classroom. Both online and off, we're here to help college students find success.
Sources: EduTopia | The New York Times | American College Health Association | BBC | NCES | Rochester Institute of Technology | Mapping Your Future | American Psychological Association