Want to be in charge of creating and managing the content of a company website? Check out the 5 Best Online Master's in Web Development.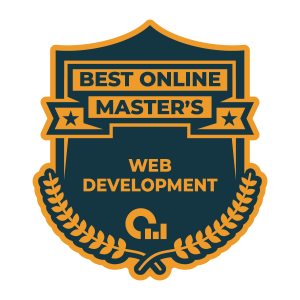 Perhaps you're a tech-savvy individual with a keen interest in computer servers, technical programming, content management, and website design. If so, the colleges listed below can help train you for the unique challenges in today's website development and management arena. 
Keep reading to see if an online master's degree in web development might be the next level of career enhancement you're looking to achieve.
What Is an Online Master's Degree in Web Development?
You can customize most online master's degree programs in web development to focus on your specific interests or skills. However, a web development master's degree typically integrates expertise in inventing and designing new approaches to computing technology and creating innovations in existing platforms, languages, and technologies.
These programs can elevate the expertise and career of any type of web programmer or developer, including computer programmers, network architects, computer support specialists, and web designers. With this degree, you can increase your knowledge, technical skills, and integrations, or even specialize. 
See Also: How Hard is it to Get a Job in Computer Science?
How Much Can You Earn With an Online Master's Degree in Web Development?
A master's degree in web development can apply to numerous occupations, so earnings vary. For example, pursuing a career in web development frequently means a job in information technology. These career options include computer and information research scientists, computer network architects, computer support specialists, and computer programmers.
According to the U.S. Bureau of Labor Statistics, computer programmers made a median salary of $86,550 in 2019. Alternatively, computer network architects earned a median salary of $112,690, but both of these salaries only consider bachelor's degree holders. Computer scientists and information research scientists that earned a master's degree are at the top of the scale, making $122,840 annually in 2019. 
What Is Required For an Online Master's Degree in Web Development?
Obtaining an online master's degree in web development typically requires a four-year bachelor's degree in a related field first. Upon completion of the bachelor's program, most programs require a minimum of 30 credits in an accredited master's program to earn your degree. 
Two and a half years is the standard timeframe to get a master's in web development, but online programs offer more flexibility for shortening or extending the program timeframe for working professionals and part-time students.
What Are the Best Online Master's Degrees in Web Development?
OSR uses six data points: three school-wide and three program-specific. For school-wide, OSR uses Student Satisfaction, Admission Rates, and the number of programs the school offers online. For program-specific, OSR checks the Median Debt of graduates from that program, how many degrees are offered within that program's umbrella department, and what percentage of students at that school graduated from that department.
The six statistics are displayed by each school. The sliding bar under each statistic represents how that school compares to other US institutions. "Not reported" means a school did not release that information to the US Department of Education. A more detailed description of the OSR process can be found on the methodology page.
Academy of Art University

Quick Facts

Tuition: $23,568(in state) / $23,568(out of state)

Total of 35 credits 

Final portfolio review for degree completion  

GPA of 2.0 to graduate 

School Wide

Student Satisfaction

76.80%

Programs offered online

32

Program Level

Popularity at School

5.14%

You can earn your master's degree in web design and new media from Academy of Art University to elevate your skills and creativity on the digital web platform. Students will learn critical user experience principles, web design, motion graphics, and become fluid on the most current technology and software. This program incorporates creative expertise development as well as mastery of technical design and software utilization skills.

University of Denver

Quick Facts

Tuition: $47,520(in state) / $47,520(out of state)

No GRE or GMAT required 

Complete coursework in as little as 18 months 

Knowledge of JavaScript, jQuery and Ajax are suggested

School Wide

Student Satisfaction

73.20%

Program Level

Popularity at School

2.67%

The University of Denver offers a master's in web design and development program that delivers hands-on training in information architecture and web design as well as UX principles. You will work with the most modern program frameworks and languages to deliver satisfying results and efficient server interfaces. After graduation, all alumni are given access to a student job database to help them in their job search. 

University of Florida

Quick Facts

Tuition: $10,770(in state) / $27,335(out of state)

Total of 37 credit hours 

Cumulative-guided by top industry advisory council

Networking opportunities with instructors, peers, guests, and alumni

School Wide

Student Satisfaction

76.60%

Programs offered online

15

Program Level

Programs in Department

Not Reported

Popularity at School

1.18%

If you're looking for a master's in mass communications with a specialization in web design, the University of Florida offers an excellent program that focuses on coding, design, and strategic communications. Utilize your elevated academic skills and knowledge to secure employment as a brand manager, digital media director, senior web producer, web designer or a UX designer/manager.

Fort Hays State University

Quick Facts

Tuition: $3,497(in state) / $9,961(out of state)

Total of 30 credit hours 

Project completion required to graduate

Bachelor's degree transcript required for application 

School Wide

Student Satisfaction

71.20%

Programs offered online

22

Program Level

Programs in Department

Not Reported

Popularity at School

3.94%

For a web and mobile applications development master's program, Fort Hays State University offers a fully online degree program. Online students will focus on design, programming, and front-end, back-end, and mobile web development. In addition, a graduate internship worth three credit hours is available as an elective course towards graduation. 

Boston University

Quick Facts

Tuition: $50,980(in state) / $50,980(out of state)

40 credits for completion 

Courses developed and taught by PhD-level, full-time faculty

Seven concentration choices offered

School Wide

Student Satisfaction

74.60%

Program Level

Popularity at School

2.99%

Boston University features a Master of Science in Computer Information Systems program with a concentration in web application development. The program presents both the client-side and server-side of development as well as the fundamental concepts of web applications. Graduates will acquire proficiency in one or two server-side web languages or platform-specific technologies, such as Java and .NET.