Are you good at maintaining an image? The Best Online Bachelor's Degrees in Public Relations may be perfect for you.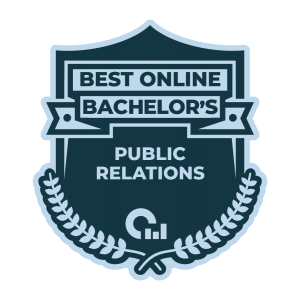 The field of Public Relations is even more relevant now than it has been back in the day. One bad Twitter story about your product could harm your image. That's where you come in.
You have the option to work in a variety of different settings including private companies, government agencies, or even educational institutions. You can even earn this degree online in the convenience of your own home. PR specialists make a healthy median salary of $60,000 per year.
What is a Public Relations degree?
Becoming a professional in PR requires story-telling, sometimes damage control, and strategic planning. Writing should definitely be one of your strong suits. Your primary focus is on communicating with the media and shedding a positive light on your company.
There are several career options in this field including social media manager, marketing coordinator, or media relations specialist. You're likely to focus on developing social media programs to promote businesses. This degree is for people who are good at handling social media questions and concerns.
How much can you earn with a Public Relations degree?
The salary for this field may surprise you as it is higher than the average bachelor's salary of $50,556. The median salary for PR specialists as of 2018 was $60,000 per year according to the Bureau of Labor Statistics.
The forecasted growth for this field is 9 percent from 2016 to 2026, higher than the average growth rate of 7 percent. Those working in the federal government earned the most with a median salary of $64,530. Those who are working in the education sector still earn a healthy median salary of $55,790.
Public Relations from a financial angle is Marketing. For a broad business degree, your best bet is one of the Best Online Business Administration Degrees.
What is required for a Public Relations degree?
There are certain requirements you must fulfill in order to get your Bachelor's in PR. Before getting admitted into the program, you must submit your ACT/SAT scores. You may also need to provide a personal statement and letters of recommendation.
You'll typically take courses in public speaking, media ethics and law, as well as public relations writing. Down the road, you may want to seek voluntary PR certification and accreditation. This is done through different groups who require several years of experience and examination.
What are the best Public Relations degrees?
OSR uses six data points: three school-wide and three program specific. For school-wide, OSR uses Student Satisfaction, Admission Rates, and the number of programs the school offers online. For program specific, OSR checks the Median Debt of graduates from that program, how many degrees are offered within that program's umbrella department, and what percentage of students at that school graduated from that department.
The six statistics are displayed by each school. The sliding bar under each statistic represents how that school compares to other US institutions. "Not reported" means a school did not release that information to the US Department of Education. A more detailed description of the OSR process can be found on the methodology page.